Donald Trump
Tish James' Trump cards
The AG's biggest cases against the president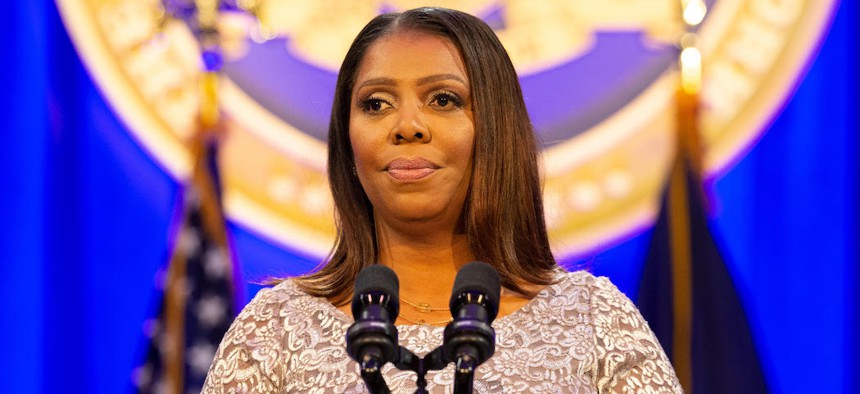 New York Attorney General Letitia James has sued the Trump administration 20 times in the first 11 months of 2019. She was the lead plaintiff on 15 of those cases, covering everything from emission standards to healthy school lunches.
James also continued litigation on many other cases first brought by her predecessors. Here are some of the highlights.
The Donald J. Trump Foundation
Filed June 14, 2018
In a case originally brought by James' predecessor, BarbaraUnderwood, New York accused Trump's personal charity of self-dealing and breaking campaign finance laws. The foundation was dissolved in December 2018 and the case was closed in November, with Trump ordered to pay $2 million in damages to legitimate charities.
The Trump Organization
Investigation first reported March 11, 2019
James opened an inquiry into The Trump Organization, the president's holding company, and subpoenaed Deutsche Bank and Investors Bank for records in order to investigate whether he lied about the value of his assets. James hasn't spoken publicly about the case, and no lawsuit has been filed.
ICE arrests
Filed Sept. 25, 2019
James sued U.S. Immigration and Customs Enforcement and the Department of Homeland Security to block the practice of making immigration arrests in and around courthouses. A ruling is expected before the end of the year.
RELATED: How Tish James is taking on Big Tech
Conscience rule
Filed May 21, 2019
James led a lawsuit with nearly two dozen other states and cities to block a new federal rule making it easier for health care professionals to deny abortions on religious or moral grounds. The states won the case and a judge blocked the rule in November.
Public charge
Filed Aug. 20, 2019
James challenged the federal immigration rule that would deny entry and green cards to immigrants who might rely on public assistance like food stamps. James won a preliminary injunction in October to block the rule, but lawsuit continues.
Trump tax returns
Filed July 23, 2019
James has defended New York against a lawsuit from Trump challenging a state law that was passed to allow certain U.S. House of Representatives committees to request the president's state tax returns. While Trump's lawsuit was dismissed, the case may not be over and his tax returns have yet to be made public.