New York State Senate
Brooklyn state Senate race may be broader referendum
State Sen. Velmanette Montgomery's retirement sets up a new type of battle between the old guard and leftists.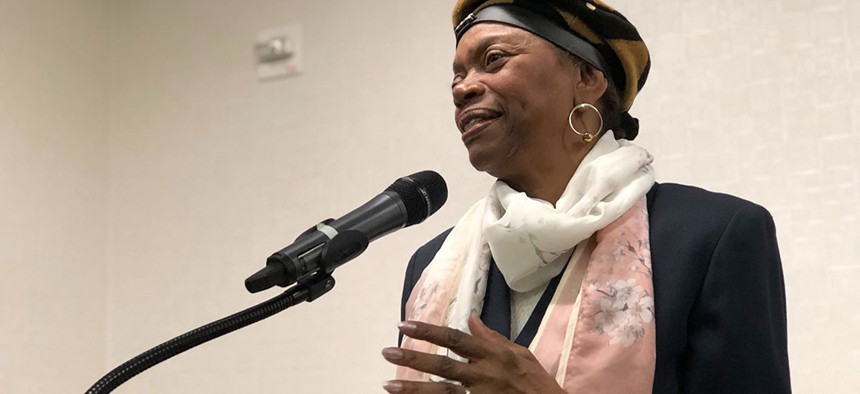 Following state Sen. Velmanette Montgomery's announcement on Saturday that she is not seeking reelection and is throwing her support in the race for her seat to Assemblywoman Tremaine Wright, voters will in the 25th state Senate District – which stretches across a swath of western and Central Brooklyn from Boerum Hill to Bedford-Stuyvesant and down to Red Hook and Sunset Park – will have to decide what sort of change they want. There is the type favored by the party establishment, which joined Montgomery on Jan. 11 in announcing its support of Wright as her successor. Then there is choice offered by public school teacher Jabari Brisport, a DSA-backed challenger who is aiming to push Senate Democrats further to the left on issues like housing. A third candidate, former Montgomery staffer Jason Salmon, is competing with Brisport for the progressive mantle.
The open race to replace Montgomery will be a purer test of the voters' preferences for old school liberalism versus democratic socialists, compared to other 2020 races featuring DSA-backed candidates in New York City. The Senate race is the only election where a democratic socialist is running for an open seat in the state Legislature, which means the election won't hinge on anti-incumbent sentiment. The race also provides an opportunity for the far left to consolidate its influence on state government by giving it leverage within a possible post-2020 Democratic supermajority in the state Senate. 
With Montgomery retiring, the Democratic primary is becoming a referendum on very different visions for the Democratic Party in New York. The dividing line already appears to run through issues like real estate donation, rent control and newly-implemented criminal justice reforms. "I think it's going to not be about personality," Democratic consultant Lupe Todd-Medina said of the campaign. "It's going to be policy and ideology." 
After Montgomery first won election in 1984 as a primary challenger with the backing of the head of the legislative Black and Puerto Rican Caucus at the time, then-Assemblyman Al Vann, she has become known as a reliable liberal vote who is nonetheless willing to work with ideological rivals. She lists Raise the Age – the law passed in a 2017 budget deal with state Senate Republicans and the Cuomo administration that removed 16- and 17-year-olds from adult jails and prisons – among her greatest accomplishments. The fact that she did this as a black woman in a chamber dominated for decades by the GOP attests to her ability to get things done, while still championing liberal causes, according to Vann. "She is probably one of the most effective legislators we have had," Vann said at the Jan. 11 event. "How politically astute can she be?"
Montgomery said she decided to back Wright as her replacement because of the two-term lawmaker's experience in elected office and a desire to maintain continuity within the district. Wright's relationships with the political establishment was reflected by the endorsements received on Jan. 11 from Brooklyn lawmakers, including state Sen. Kevin Parker, Assemblywoman Richardson, Assemblyman N. Nick Perry as well as state Sen. John Liu of Queens.
Wright advocates for a centrist approach to politics that contrasts greatly with the progressive wing of the party. She is open to taking campaign donations from the real estate industry and other political interests that are anathema to some left-leaning voters. "I don't have any problem with people taking money from wherever," she told City & State. She opposes a "good cause eviction" bill that would limit rent increases for tenants across the state because she says it would place too many restrictions on building owners. Her willingness to consider changes to the newly-implemented limits on cash bail is another example. "I don't think it's a foregone conclusion that it's done," she said. While her positions are broadly liberal – she supports single-payer healthcare at the state level, for example – they aren't as radical as the politics promoted by the DSA and some other lefty insurgent grassroots groups, such as Justice Democrats.
But rather than attack her by painting her as a tool of big business and the political establishment, a strategy that DSA-backed candidates have used in other races, Brisport – who previously ran as a Green Party candidate against City Councilwoman Laurie Cumbo in 2017 – declined to comment on her entrance into the race. His campaign released a statement on Jan. 11 touting how its volunteers have knocked on 5,000 doors in the district. "Hundreds of volunteers" will help him reach the number of voters he would need to win a Democratic primary for the state Senate, the statement claimed. Results from 2018 suggest that a candidate for state Senate would need about 20,000 or so voters in a Democratic primary. For now at least, his campaign is focusing more on messaging that emphasizes grassroots politics than a direct challenge to an establishment favorite. The Prospect Heights native also has deep roots in the community, which will allow him to avoid accusations of being a newcomer with few ties to the district he wants to represent – an issue for Rep. Alexandria Ocasio-Cortez and state Sen. Julia Salazar in their races. 
Ocasio-Cortez and Salazar won their races to a substantial degree because of the disproportionate support in gentrifying areas of Western Queens and North Brooklyn. The DSA base's tendency towards being younger and whiter than the electorate as a whole also extends to the volunteer base that powers grassroots organizing. 
The 25th State Senate District includes gentrifying neighborhoods like Fort Greene and Clinton Hill, where a leftist insurgent could expect to do relatively well. But there are also minority-heavy pockets throughout the district where Wright might be expected to have deeper support, including large public housing complexes and sections of eastern Crown Heights and Bed-Stuy. The district overall has a higher percentage of black voters and slightly higher median household income than the rest of Brooklyn. "These communities have changed dramatically over the last 15 years," said Democratic political consultant Evan Stavisky. "The old guard is not necessarily more conservative, but it tends to be more traditionally African American and older and the progressives tend to be younger and newer to the community." 
The race for the open Senate seat – which also creates an open race for Wright's Assembly seat – in Brooklyn though is different from the other DSA-backed challenges in Legislature races this year, which are all for Assembly seats, both because of its stature and that it now lacks an incumbent. State Senate districts have about twice as many people as those in the Assembly. A senator tends to have more legislative sway because there are both fewer members in the chamber and more funding for staff to carry out a member's legislative agenda. With Democrats aiming for a super-majority in the state Senate after the 2020 elections, the presence of two avowed socialists in Salazar and Brisport could mean the difference between Democrats having the 42 votes they would need to overcome a gubernatorial veto. This would give the DSA a type of legislative leverage they would not have in the Assembly even if they had all four of their Assembly candidates win this year. But first, they've got to beat the establishment again. 
Powered By
NEXT STORY: NYCHA's list of unresolved issues grows