New York City
Cuomo's proposal to divert Cy Vance's money for discovery reform
New funding to help district attorneys comply with discovery reforms would come at the expense of the Manhattan district attorney.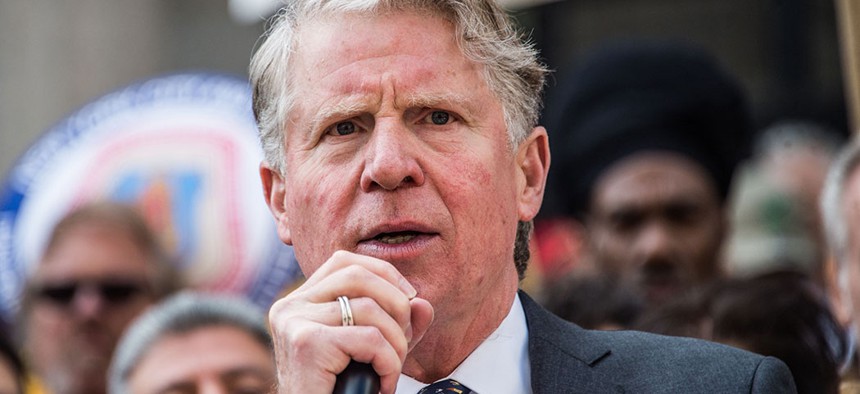 Discovery reform was not explicitly mentioned in the budget address that Gov. Andrew Cuomo delivered on Jan. 21, but it did get some attention within the legislation that the governor proposed alongside his financial plan.
Cuomo is pushing for a new discovery compensation fund that would direct $2 million to prosecutors statewide, to help them comply with the newly enacted changes to criminal discovery laws. The new criminal justice reforms, which took effect on Jan. 1, require prosecutors to turn over evidence to defendants within 15 days after arraignment and limit cash bail for most non-violent offenses. The proposal is a response to criticisms that the state has not provided enough money to help district attorneys comply with the new requirements – though prosecutors say more money would be needed to assuage such concerns.
But there is one local district attorney, Manhattan District Attorney Cy Vance, who stands to lose if lawmakers eventually approve the new fund. The bill requires that the Manhattan DA's office provide the $2 million in funding from the deferred prosecution agreements it has made with defendants. District attorneys in all five boroughs would also have to report to the state how much money they receive from such agreements. The legislation would also limit how much of that money the district attorneys could hold onto moving forward, while diverting the rest into a state-controlled fund. 
As the district attorney of a county that includes Wall Street and many of the biggest companies in the world, Vance has accumulated hundreds of millions of dollars in funds to spend largely as he sees fit. A 2015 investigation by The New York Times found that that three banks – HSBC, Standard Chartered and BNP Paribas – alone paid a total of $808 million in criminal penalties to avoid a trial over their alleged violation of U.S. sanctions against Sudan, Cuba and Iran. Vance has used the money to fund a variety of programs, including grants for rape test kits across the country and seed money for a new institute at John Jay College of Criminal Justice. 
A spokesman for Vance, Danny Frost, said that the district attorney's office has sent $2.3 billion to the state and $1.2 billion to New York City in recent years from the funds it has received from such settlements. "We will review the proposal, which comes as news to us," Frost said. 
At a time when the state is facing a $6 billion budget shortfall, this money has attracted the attention of Cuomo, who appears to be killing two legislative birds with one stone. The new reporting requirements and limits on the money New York City prosecutors can hold onto from deferred prosecution agreements would allow Cuomo to say that he is addressing equity concerns surrounding the money that district attorneys such as Vance can acquire from such agreements. The governor's office could not provide comment by publication time, however, on why the legislation would not require prosecutors outside the city to also turnover settlement money.
The proposal might also help mollify complaints that the new discovery law is financially burdensome for district attorneys without requiring additional state funding. "The district attorneys raised concerns over costs and these ill-gotten gains are an available resource for reinvestment into the criminal justice system," said Rich Azzopardi, senior advisor to Cuomo. 
David Hoover, president of the District Attorneys Association of New York, has suggested that district attorneys across the state would need an estimated $100 million to comply with the new requirements. He did not respond to a request for comment by publication time. 
Separate from cost, some prosecutors object to the criminal justice reforms themselves. "At best the attempt to address this unfounded mandate by taxing Cy Vance is a day late and several dollars short," Albany County District Attorney David Soares, a former president of the statewide association, said in a statement. "The poorly drafted and ill-conceived reforms can only be fixed when those with common sense find common ground."
The legislation states that the new fund would be jointly controlled by the state comptroller and the commissioner of the Department of Taxation and Finance. Appropriations for "digital evidence transmission technology" would be made by the Legislature and allocated by the state budget director. District attorneys of counties within cities with more than 1 million people – legislative parlance for New York City – would be able to keep 10% from such agreements that total $25 million or less, 7.5% up to $50 million, 5% up to $100 million and 1% of any settlements larger than that. While $2 million from the Manhattan district attorney would go to the fund, counties and the state would split the rest of the funds received from city district attorneys moving forward. 
It is unclear whether the state Legislature will pass Cuomo's proposal. Representatives for state Senate Majority Leader Andrea Stewart-Cousins and Assembly Speaker Carl Heastie did not respond to requests for comment by publication time. 
Republicans have sought to reap political gain from the ongoing controversies surrounding the new criminal justice reforms. "This is a band-aid on a bullet wound. Spreading $2 million across more than 50 offices will hardly make a dent in the disruptions caused by discovery reform," Assembly Minority Leader William Barclay said in a statement. "We've called for full repeal because new laws weren't handled properly the first time around. We need to go back to the drawing board." 
District attorneys, law enforcement and Republican lawmakers have criticized the new discovery law by claiming that it requires police and prosecutors to move faster in turning over evidence without providing additional funding for compliance. "The men and women in my office are working days, nights and weekends to be able to comply with the new discovery requirements," Saratoga District Attorney District Attorney Karren Heggen said at a Jan. 15 press conference in the Capitol. 
She told City & State on Jan. 22 that complying with new requirements has been challenging from a technological standpoint. Some law enforcement agencies use different proprietary programs to handle evidence. Transferring audio and video files can be challenging with different web browsers. Her office server has a limited ability to handle it all. Whether or not the governor's latest proposal will improve the situation remains to be seen, according to Heggen. "Some money is better than none," she said. "But it should be meaningful amount that should be made available to the 62 district attorneys offices across the state." 
Powered By
NEXT STORY: Can Cuomo's budget co-opt his critics?