New York City
Developers won't like Scott Stringer's new housing plan
The New York City comptroller wants to require affordable units in all new developments and eliminate 421a.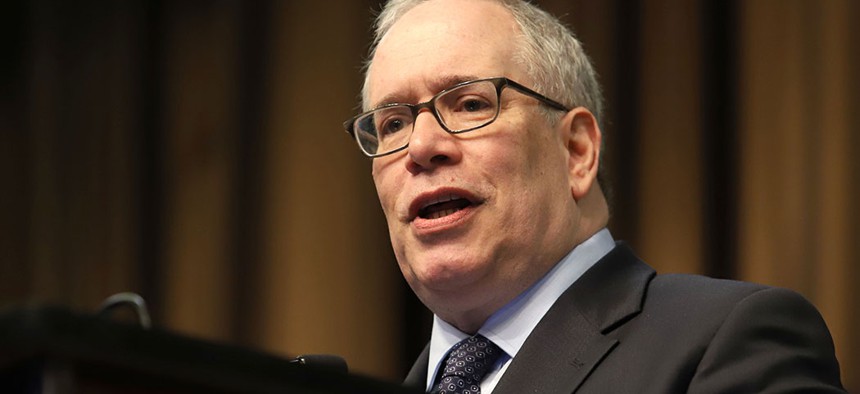 On Wednesday, New York City Comptroller Scott Stringer unveiled a comprehensive housing plan which aims to ease the city's housing shortage and prevent homelessness by creating affordable housing for low and middle-income families. In his fairly ambitious plan, Stringer proposes making 25% of all new construction developments – with ten units or more – affordable for low-income families. It also calls for turning the city's vacant lots into low-cost housing, ending the 421a tax break and expanding programs that can help increase homeownership.
"We need to fundamentally change the bargain between the city and the real estate industry," Stringer said while unveiling his plan at a press conference, Wednesday. "We can't keep spending billions and billions getting so little affordability in return."
The comptroller, who is running for mayor in 2021, also took a couple of jabs at Mayor Bill de Blasio's housing policies during his conference, alleging that he hasn't created enough affordable housing and criticizing his botched rezoning efforts.
De Blasio spokeswoman Freddi Goldstein fired back on Wednesday evening, calling Stringer a hypocrite and arguing that his opposition to turning the Elizabeth Street Garden renovation into low-income housing for seniors discredits the plan he's outlined. "We understand the comptroller is looking for his next job, but actions speak louder than words: opposing affordable homes for seniors in downtown Manhattan and releasing reports where the math doesn't add up make it clear his vision is nothing more than talking points," Goldstein told the New York Post.
While Hizzoner's administration may not be pleased with the plan, some advocates for low-income communities are thrilled by it. "Comptroller Stringer's plan is a paradigm shift – it will ensure new affordable housing is actually affordable to the most vulnerable New Yorkers and that all communities have skin in the game," Afua Atta-Mensah, executive director of Community Voices Heard, told QNS. "This is the housing we need across the five boroughs." 
Affordable housing is certain to be a key issue in the 2021 mayoral race. With former U.S. Sec. of Housing and Urban Development Shaun Donovan entering the race and Brooklyn Borough President Eric Adams complaining about gentrification displacing longtime residents, Stringer may be trying to prevent one of his competitors from claiming the issue as their own. 
Stringer's proposals reflect his strategy thus far of running to the left, by asking developers to automatically produce affordable units and removing a tax break they've enjoyed for decades. Here's a brief overview of the comptroller's housing plan to help you get a better grasp of what it entails.
Universal Affordable Housing
One of Stringer's boldest proposals, "Universal Affordable Housing," would mandate that 25% of all new as-of-right developments – which follow the zoning code and do not require a special permit – be designated for low-income families. (Under de Blasio's current policy, only developments seeking to build more than the zoning code normally allows and certain areas that have been recently upzoned require affordable housing.) Additional units created under this new policy would be fixed at 60% of the Area Median Income for the metro region defined by HUD.
Creating housing on vacant lots
The comptroller proposed building thousands of permanently affordable housing on city-owned lots for people making 30% to 50% of the Area Median Income, with the help of nonprofits and community organizations. However, as The Real Deal previously reported, not all of the city's vacant lots are viable options for the construction of housing, due to infrastructure and flooding concerns. 
Stringer suggests that funding for the affordable housing could come from redirecting money allocated for housing investments in the city. City capital dollars would also be used to fund the production of permanently affordable apartments for "extremely and very low-income households."
Getting rid of 421a
The comptroller called for eliminating the Affordable Housing New York program, also known as the 421a tax deduction which primarily benefits housing developers. Stringer estimates that the program costs the city about $1.6 billion in property tax revenue annually. (421a was created to incentivize developers to build new housing despite the fact that the city's property tax structure means the tax burden falls more heavily on rental buildings.) 
However, subsidies would be given on a discretionary basis if funds were necessary to create moderately priced units, increase the affordability of housing developments, or provide jobs that pay well. 
Some more conservative critics find it difficult to see how this would be feasible."The inequities of the property tax system are such that it is nearly impossible to build rental buildings because of the tax rates," Sean Campion, Citizens Budget Commission analyst, told the Post.
Increasing homeownership
Stringer also wants to expand the Department of Housing Preservation & Development's Homefirst and Homefix programs – which provide qualified buyers up to $40,000 in loans for down payments on a home – to make their services available to middle-income city dwellers as well.
Property transfer and mortgage recording taxes would also be waived for first time home buyers. And tenants would be given the first right of refusal – allowing them the option to buy their unit if they wish, ahead of other buyers – should their building get sold or go into foreclosure. 
All community land banks and trusts would also be allocated for the development of co-ops and condominiums for middle-class families, that would allow for the building of limited equity.
Powered By
NEXT STORY: Cynthia Nixon's campaign has yet to file January disclosure