Alexandria Ocasio-Cortez
NY mag: AOC passed on mayoral, could challenge Schumer or Gillibrand
How would the congresswoman fare against these veteran lawmakers?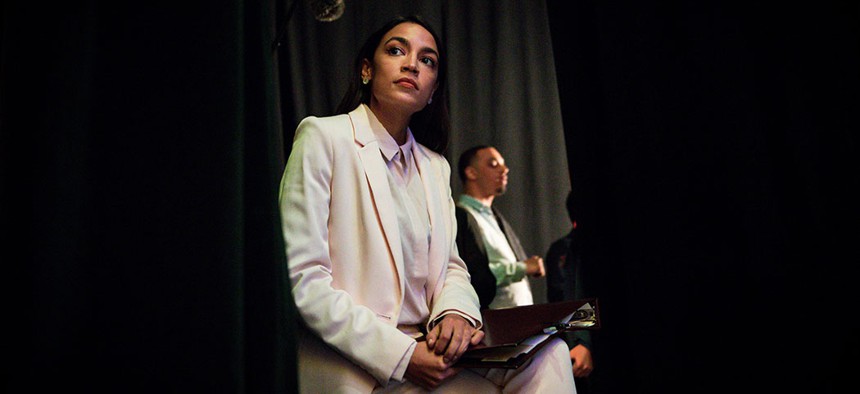 It was reported on Monday that Rep. Alexandria Ocasio-Cortez raised $2 million in the last three months of 2019 and $5.3 million over the entire year. The freshman congresswoman is expected to have entered into 2020 with $3 million at her disposal. 
Ocasio-Cortez will be running for re-election and remains popular within her district. Despite a few Republican challengers and at least one Democrat hoping to unseat her it's likely she'll win once again. Her enormous pool of campaign funds, however, has people wondering what her next big political move will be. 
There has been plenty of speculation regarding a potential presidential run for Ocasio-Cortez in 2024 or 2028 – after she's turned 35-years-old. 
But, according to longtime New York political journalist David Freedlander, a run for Senate is a lot more probable in the near future. 
The subject of Ocasio-Cortez running for Senate came up briefly in Freedlander's New York magazine's profile of her, which is in the current print issue and published online last week. In the profile, it was mentioned that "people close to" the congresswoman considered having her toss her hat in New York City's 2021 mayoral race but ultimately decided against it and that she might look statewide instead.
"People close to her discussed a possible run for mayor of New York in 2021 but decided against it; a statewide run, probably for the Senate, is likelier," Freedlander writes. "That would mean challenging Chuck Schumer in 2022 or Kirsten Gillibrand in 2024."
It was also suggested by a few "top Democrats" on "Axios on HBO" in June 2019, that Ocasio-Cortez could primary U.S. Sens. Schumer or Gillibrand in the future. 
But would the congresswoman fare well in a state-wide race against these veteran politicians? Probably not, according to Lupe Todd-Medina, president and founder of the political public relations firm Effective Media Strategies, who isn't convinced AOC would attempt to take on either senator.
"Respective of approval ratings, both Senator Schumer and Senator Gillibrand's approval ratings are way too high statewide for Rep. Ocasio-Cortez to engage in a kamikaze mission to unseat either; she is too politically smart to take on an incumbent challenge where the downsides are so high," Todd-Medina told City & State in an email. "However, the fact that we are even having the conversation shows how deep into the minds of nervous Democrats and many incumbents Rep. Ocasio-Cortez has inserted herself."
Todd-Medina has a point. According to a Quinnipiac University poll conducted from Jan., 2019, Schumer had a 52% approval rating and Gillibrand had a 46% approval rating among New York state voters, while Ocasio-Cortez had a 34% favorability rating. And after the Amazon HQ2 deal fell through in Feb., 2019, the congresswoman's approval ratings fell to 31% among New York voters, according to a Siena College poll from March.
Ocasio-Cortez wasn't the only one who saw a dip in their approval ratings, a Siena College poll from Feb., 2019, reported that Schumer's approval rating had dropped to 47% among New York voters – an all-time low for the senator, who has aggressively courted upstaters and suburbanites with weekly trips around the state to tout mostly uncontroversial, often locally focused, proposals. 
"Just before Schumer became U.S. Senate Minority Leader, he had a 67-23 percent favorability and was far and away the most popular New York pol," Siena College pollster Steven Greenberg said in a press release. "At that time, Republicans viewed him favorably 55-37 percent. Today, he has a breakeven favorability rating with all voters, and Republicans – New York Republicans – view him unfavorably 84-15 percent. He remains popular with Democrats, 63-31 percent, and independents are evenly divided."
While Ocasio-Cortez has become a major fundraiser since coming to Congress, Schumer is a well known fundraisingpowerhouse. And in 1998, Schumer won a competitive race due in large part to his sizeable funds.
Schumer's cozy relations with moderate Democrats makes him the incumbent senator that Ocasio-Cortez would be most likely challenge, considering Gillibrand veered more to the left during her presidential campaign and has views more in line with New York's growing progressive movement.
Plus, the Senate minority leader has been criticized for having major Wall St. connections – which tend to lead to very generous campaign donations – and not taking a firm enough stance against Trump in recent years. And as recently as Jan. 4, demonstrators arrived outside of Schumer's Brooklyn apartment for an anti-war protest. So it's very possible that leftists in New York would want to rally behind the democratic socialist congresswoman should she challenge Schumer. 
But winning over leftists isn't all that's required to win a statewide election, according to Robert Yale-Shapiro, a political science professor at Columbia University. "A lot depends on the 2020 election regarding the direction the Democratic Party and national politics takes," he told City & State in an email. "If it is a liberal-wing victory year, she (Ocasio-Cortez) could have a shot. But in general she might do well to build up her reputation as a member of Congress and wait a bit longer. One cautionary note is ... she could win in (a) primary (but) she might be vulnerable to a moderate Republican in a general election. She needs moderate Democrats fully behind her."
It's no secret that Ocasio-Cortez hasn't exactly won over or even tried to play ball with moderate Democrats, unlike Schumer, who's able to make friends with politicians on both sides of the aisle. But if the congresswoman can rack up 6.2 million Twitter followers, maybe she'll be able to win over some moderates. 
Powered By
NEXT STORY: Are the Assembly and state Senate working together?