Health Care
Coronavirus is coming. Is New York ready?
How health officials are bracing for a large-scale outbreak.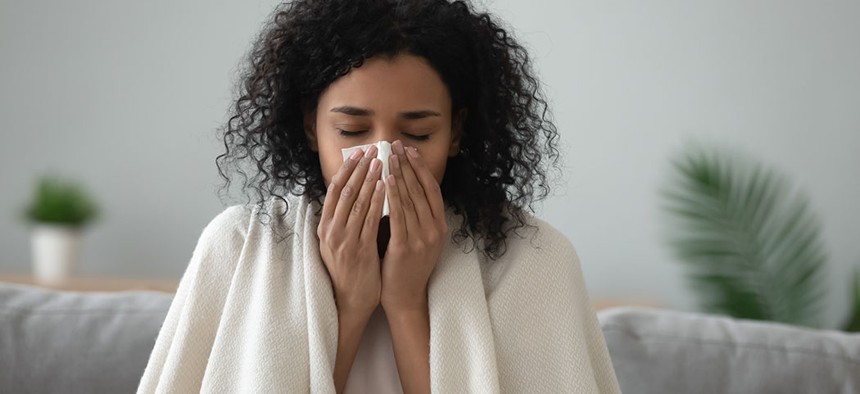 When the coronavirus outbreak began in China, government officials there initially sought to deny that there was any public health issue. One doctor in Wuhan, the Chinese city hardest hit, noticed early warning signs of a potential epidemic, but was confronted by police and pressured to keep quiet. Eventually, after aggressive quarantine efforts by the government, the number of new cases in China peaked, but doubts remain as to how reliable China's official figures are.
Now, as COVID-19, the new coronavirus that first appeared in Wuhan, spreads to other countries – including South Korea, Iran and Italy – public health officials in New York are bracing for the worst. Even though there have been no cases documented locally yet, public health officials have been open about the threat for weeks. And unlike in China, New York City's health department has been transparent about the still small number of people who have been tested and the results of those tests.
But will it make a difference? 
"It's not a matter of if, but when, we'll see cases of coronavirus in our city," New York City Mayor Bill de Blasio said on Jan. 24. "We are prepared and we need you to take precautions as well."
While much remains unknown about the disease, whose flu-like symptoms range from resembling the common cold to life-threatening conditions, it appears to be more contagious than the related respiratory syndromes SARS and MERS. According to the Centers for Disease Control and Prevention, infection with COVID-19 occurs through the air, in close contact of about six feet. Respiratory droplets are produced when an infected patient coughs or sneezes. These can land in the mouths or noses or are possibly inhaled into the lungs of people nearby.
Fast transmission is a particular concern in a population-dense city like New York, where infection seems more or less inevitable. "The important thing for New Yorkers to know is that in the city currently, their risk is low, and our city preparedness is high," said New York City Health Commissioner Dr. Oxiris Barbot on a Feb. 6 interview on NY1's Inside City Hall show. "We are monitoring the situation daily to determine if our plans to protect New Yorkers need to be adjusted accordingly." 
This would not be the first time the city battles an infectious disease. During the 2014 Ebola outbreak, the New York City health department implemented extensive screening procedures and training. After the death of Ebola patient Thomas Eric Duncan in Dallas, health officials in New York City set up isolation rooms in public and private hospitals. Bellevue Hospital Center was turned into the go-to facility with separate rooms with sliding glass doors, private bathrooms and a lab only for testing the blood of Ebola patients. Medical and maintenance personnel wore head-to-toe protective gear and underwent extensive drills to deter further contamination. Exercises included the proper removal of clothing, disposing of infected equipment, cleaning facilities and treating mock patients.
Hospital preparedness was put to the test when Dr. Craig Spencer tested positive for Ebola after returning from Doctors Without Borders in Guinea, marking the first case of Ebola in New York City. Spencer was immediately brought into isolation at Bellevue. The three people he came in contact with were quarantined, and the bowling alley he visited was closed and cleaned by health workers. The virus was ultimately contained, and Spencer was declared Ebola-free after less than a month. 
"It's not a matter of if, but when, we'll see cases of coronavirus in our city." - New York City Mayor Bill de Blasio
Spencer's case "is a good indication that it can be done," Dr. Stephen Morse, professor of epidemiology at the Columbia University Mailman School of Public Health, told City & State. "If you are careful and mindful of the fact that (infection) could happen, you make sure to look for those cases, whether it's Ebola or the 2019 coronavirus. It's a matter of having the right procedures and infrastructure in place and people who know how to act."
According to Syra Madad, the senior director for the systemwide special-pathogens program for NYC Health + Hospitals, the city's health facilities are practicing basic infection control to detect COVID-19 amongst New Yorkers. "The first thing staff in the ER asks is – 'Do you have fever, cough or rash?'" Madad told City & State. "If they do, patients are given a mask and escorted to isolation rooms right away to minimize the interaction with other patients." 
With the support of federal funding, Bellevue Hospital Center hosts in-service training to familiarize health workers with COVID-19. Medical personnel are taught how to identify cases and isolate them and undergo readiness and table-top protocols to ensure the system responds and functions properly should this outbreak worsen. "We drill all of our hospitals on what we call 'mystery patients' that may come in with respiratory illnesses to make sure that they are all at the same level of readiness," a spokesperson for the New York City health department said.
On Wednesday, de Blasio asked the federal government to allow the city's health department to test patients for the virus, arguing that it would allow the city to respond more quickly to a health emergency. Currently, the city has to rely on the CDC for testing.
If there is a surge of cases, NYC Health + Hospitals plans to address the situation from a four-S standpoint: staffing, supplies, space and system. This helps health officials ensure there are enough isolation rooms, masks and medical workers to accommodate infected patients.
While funding for the national Ebola preparedness program is set to expire early this year, individual medical systems can decide whether to continue funding the program. According to Madad, the NYC Health + Hospitals program will continue, but she voiced concern for health care programs around the nation.
"The unfortunate part is that funding was only for five years, and it actually expires in a matter of months – in 2020," Madad told New York magazine recently. "So this entire infrastructure that we've built across the nation is going to get dismantled in a couple of months, which is mind-boggling knowing we're in a potential pandemic situation and we're letting our guard down."
For now, travel restrictions issued by the Trump administration allow health officials to buy time and prepare for the worst. As of Feb. 2, foreign nationals who traveled to China within the past 14 days are no longer allowed to enter the United States. This does not apply to U.S. citizens who have recently been to mainland China. They are allowed to enter but may be subject to health screening and possibly 14 days of federal or self-imposed quarantine. CDC staffers evaluate travelers for fever, cough or heavy breathing, and if they show symptoms, they will be brought to a medical facility. Travelers who do not show signs of illness are allowed to complete their travel itinerary but are instructed to self-monitor their health for two weeks by staying home and avoiding contact with others. 
Should cases of COVID-19 be identified in the city, officials will likely expand airport screening beyond federal guidelines and CDC requirements. During the Ebola outbreak, Gov. Andrew Cuomo and then-Gov. Chris Christie of New Jersey issued a quarantine policy, ordering 21-day mandatory quarantine for all health care workers returning from Guinea, Liberia and Sierra Leone, and traveling through John F. Kennedy and Newark Liberty International airports. 
In the meantime, the city's health officials are doing their best to promote transparency. Cuomo recently allocated $40 million to the state Health Department to hire more staff and resources to combat the disease if and when it arrives. And while China failed to notify its citizens soon enough, as The New York Times reported, here in New York both city and state health departments are updating their websites daily. "We are putting out a steady stream of press releases, website updates of suspected cases," a spokesperson for the New York City health department said. "We are in constant communication with electeds, local health care providers and community partners to update them on the latest information."