Criminal Justice
Why the state Senate and Assembly are split on bail reform
Competing incentives for the different Democratic conferences.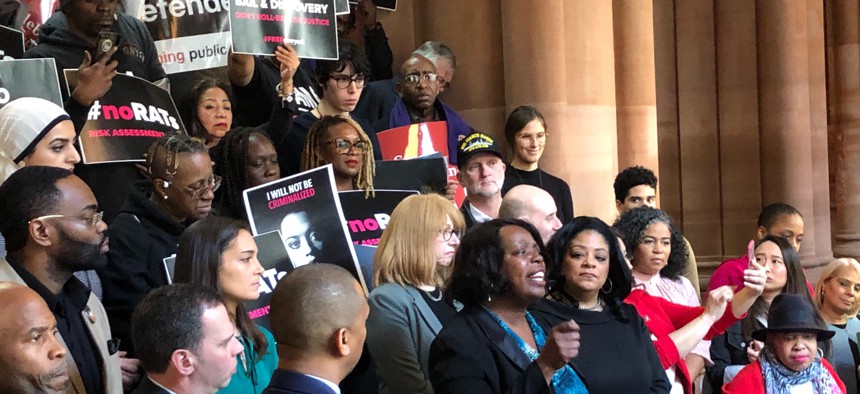 State Senate Democrats have reached a compromise among themselves on cash bail – but that does not mean that changes to recently enacted criminal justice reforms are happening anytime soon, in light of the opposition from Assembly Speaker Carl Heastie.
Cash bail would be completely eliminated and judges would be allowed to consider the dangerousness of criminal defendants when deciding whether they should be jailed pretrial, under a state Senate proposal first reported by Newsday on Feb. 12. Defendants could either be jailed pretrial, released on their own recognizance, or electronically monitored under the proposal. Such parameters are very similar to what Gov. Andrew Cuomo proposed last year. For state Senate Majority Leader Andrea Stewart-Cousins, that might be a compromise that bridges the divide between her liberal and moderate members. But Heastie is doubling down on his position that it is too early to consider changes to reforms that took effect on Jan. 1. The only way to get the Assembly on-board with revising the new law – if any exists – may be legislative horse trading between chambers and the governor during budget season. 
The two legislative leaders have conflicting electoral incentives when it comes to criminal justice reforms. Stewart-Cousins leads a majority that hinges on swing districts in the suburbs that the GOP is targeting in the 2020 elections. While New York City lawmakers make up the bulk of the Democratic conference, it is the suburban senators who account for the party's eight-seat majority in the 63-person chamber. These political realities factored into the creation of a working group of eight Democratic senators – five of whom are from New York City – that was tasked with finding common ground on the issue, City & State reported on Feb. 11. 
Criminal justice reform activists have urged lawmakers in both chambers to stand by the reforms they passed in the state budget last year, which eliminated cash bail for most nonviolent felonies and misdemeanors. New laws also required prosecutors to make the discovery process faster and fairer by providing defendants with evidence within 15 days after arraignment. Stewart-Cousins is trying to avoid left-wing backlash by presenting the new proposal as a step forward rather than backwards. "We are getting rid of cash bail completely," she said in a Feb. 12 statement. "We would give judges some discretion but with extremely strict guidelines and guardrails and almost all misdemeanors and non-violent felonies would not be eligible for remand." Specific legislation has yet to be introduced in the state Senate.
There still appears to be some apprehension in the Senate conference over allowing judges to determine who is too dangerous to release before they have been tried. "That has to be discussed with the conference in general," state Sen. Luis Sepúlveda, a member of the working group, said about the newest proposal. One Democratic senator said that it was developed by the working group as a show of force by the Senate Democrats that may or may not lead to an actual bill that would pass the chamber in the near future. Even if the state Senate does pass a bill in the upcoming weeks, that does not guarantee the Assembly will do the same. "I expect it will be in the budget," said state Sen. David Carlucci of Rockland County. But in order to make that happen, there have to be incentives to make Heastie overcome his objections to making changes so soon after the reforms went into effect.
Heastie for his part told reporters on Feb. 12 that there is not enough data after six weeks, only "cherry-picked stories" to substantiate the need for changes to the laws. "I can't say there will be a rollback or anything," he said. "It's so early to make that determination because nobody has given me real hard data about whether it is working." While Assembly members from the suburbs and politically moderate, mostly white parts of the outer boroughs have joined their Senate counterparts in advocating for changes, they too are waiting to see if the Senate takes more concrete action than merely announcing a deal. "I'd have to see the bill language to be honest with you," said Assemblyman Brian Barnwell, who is from Queens. 
Pressure from more than 100 activist groups, however, has become more vocal in recent days, at a time when Republicans have joined forces with law enforcement in highlighting media stories of criminal defendants who have been accused of committing additional offenses after being released pre-trial. "New Yorkers had worked hard to give Democrats the majority in both houses," said Stanley Fritz, political director of Citizen Action of New York, a left-leaning group that opposes changes to the reforms. "And now a couple of white dudes with buzz cuts and MAGA flags in their backyards and closets are mad at you, and you want to backtrack?" Such criticism may have less political sway in the Senate than in the Assembly, considering the dominance that liberal New York City lawmakers have in the lower chamber.
Electoral threats primarily come from the political left rather than the right in the Assembly. Candidates backed by the local chapter of the Democratic Socialists of America, as well as other left-leaning insurgents, are primarying several longtime incumbents in the Assembly. This includes Assemblyman Joe Lentol of Brooklyn – who chairs the Codes Committee that oversees criminal justice issues – as well as Assembly Assistant Speaker Félix Ortiz of Brooklyn. Heastie and incumbents targeted by primary challenges not only have a political interest in blocking changes on bail, they also say it's a matter of principle. "We have to remain firm in our convictions," Assemblywoman Tremaine Wright of Brooklyn, who is vying for an open Senate seat against two leftist opponents, told activists on Feb. 12 in a rally opposing any changes to criminal justice reforms.
Whether Senate Democrats pass a bill in the near term changing laws on cash bail and discovery remains to be seen. However, the new deal underscores a common talking point from Stewart-Cousins that her conference is taking the concerns of police, prosecutors and constituents seriously. The fact that the Senate Democrats have announced a conference position so early in budget season also reflects how important the issue is to a legislative conference that has been attacked by Republicans incessantly even before the laws took effect. Suburban senators like Anna Kaplan of Long Island, one of eight Democrats who flipped a Republican-held seat in 2018, can now breath easier now that the conference position on bail has tilted their way. "I'm very happy," she said of the proposal. "If it was up to me it would have been taken on yesterday." 
Cuomo has said he too favors changes to the bail laws, but the big question mark remains the Assembly. While Heastie may not want to budge on the issue, other concerns like school funding and Medicaid are in the mix during budget season. If the political pressures from the governor and Senate ultimately push Heastie towards making concessions on bail, then it stands to reason that he will have political leverage to use against the Senate and governor in budget negotiations on other important issues. Only time will tell how Heastie would want to use that to his conference's advantage.