Coronavirus
Coronavirus cases continue to climb and Flanagan retires
Rounding up the week's political news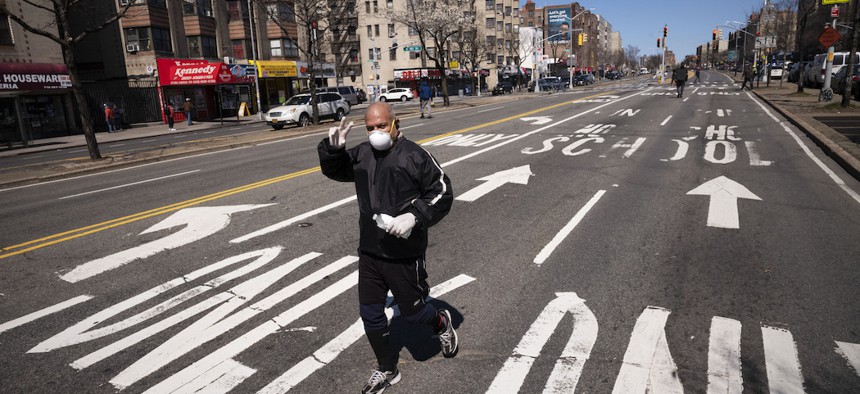 Things are looking bleak in New York as the state struggles to control the growth of the COVID-19 outbreak. People are losing their jobs and unemployment claims are hitting record numbers. The idea of hanging out with friends at a bar on a Friday night seems now like a distant memory of a happier time. Hospitals are already under immense strain, as the governor warns that the worst is yet to come. But at least in all this, we still have dogs, the happy, oblivious rays of sunshine that lighten up long days in isolation and uncertainty. In fact, New York City shelters are beginning to run out of pooches as more people look for quarantine companions. Always look on the bright side.
Coronavirus cases continue to climb
The number of COVID-19 cases in New York is still rapidly increasing, with tens of thousands of cases. The state, and specifically New York City and surrounding downstate areas, remain the epicenter of the country's outbreak. Gov. Andrew Cuomo has ordered all hospitals in the state to increase their capacity by at least 50%, and, if possible, to increase that to 100%. Cuomo said that experts project the state will need 140,000 hospital beds when the surge of cases hits its peak, up from the expected 110,000 beds originally thought necessary. The state currently has 53,000 beds. Cuomo also said that the state would need 30,000 ventilators and criticized the federal government for not sending enough to help address the need. After those comments, Vice President Mike Pence announced that New York would receive 4,000 new ventilators. Cuomo said that brings the number in the state stockpile to 14,000 – New York already had 4,000 and has independently purchased 7,000 in response to the pandemic.
Cuomo says federal aid is not enough
The Senate passed a landmark $2 trillion coronavirus stimulus package that includes billions for individuals in the form of personal checks and billions more to help small businesses. U.S. Senate Minority Leader Charles Schumer said that New York is slated to get $40 billion in relief money under the bill, touting it as a major win for the state. However, Cuomo said that it doesn't go nearly far enough because it includes only $5.8 billion directly for state and local governments in New York. He called that "a drop in the bucket" in the face of up to $15 billion in lost revenue that the state is projecting as a result of the crisis. Cuomo added that the money can only be used for coronavirus-related expenses, which he said is helpful, but does little to help the state balance its budget, due April 1. New York City Mayor Bill de Blasio, facing his own budgetary shortfalls thanks to the pandemic, also called the newly passed federal legislation "immoral."
Hospitals are already hurting
Although Cuomo said the peak in the state's COVID-19 cases is still weeks away, hospitals in New York City are already struggling. Elmhurst Hospital Center in Queens, a public hospital with roughly 550 beds, has so far been hit the hardest. According to Patch, it is already operating at 125% capacity, and recently had an "apocalyptic" 13 deaths in a 24-hour period as doctors and nurses attempt to keep up with both critical patients and long lines of worried New Yorkers awaiting testing. Cuomo said that the state is looking into how it can shift some of the hospital burden upstate, which has not been overwhelmed yet and has more hospital capacity. He added that he wants to open 1,000-bed overflow sites in all five boroughs as well as in Nassau, Suffolk, Westchester and Rockland counties to help treat non-coronavirus patients, while also looking at dormitories and hospitals as additional overflow locations.
Cuomo has said that for now, the state has enough personal protective equipment like face masks and gowns to keep hospitals supplied in the short term, but reports suggest otherwise. Nurses and doctors have said that they're forced to reuse what are meant to be disposable masks. At Mount Sinai West, nurses posted pictures of themselves dressed in garbage bags as their hospital ran out of protective gowns. An assistant nurse manager at the same hospital died after contracting COVID-19, which staff attributed at least in part to lack of personal protective equipment.
The MTA is straining amid crisis
The Metropolitan Transportation Authority reported that it is now losing $125 million a week. Although the MTA asked for – and expects to receive – roughly $4 billion as part of the new federal relief bill, officials said that will likely not actually be enough, as projections continue to worsen. And after weeks of continuing service uninterrupted, MTA Chairman Pat Foye announced that amid dramatic decreases in ridership and staffing shortages due to the coronavirus, the MTA would cut service across the agency. Subways and buses in New York City decreased service by 25%, while the Long Island Rail Road will see a 35% reduction and the Metro-North a 50% reduction.
John Flanagan is retiring
In a bit of non-coronavirus news, state Senate Minority Leader John Flanagan made the surprising announcement that he is retiring this year. The decision comes after he had previously announced he would run for reelection late last year. Flanagan is the top-ranking Republican in the state, but lost much of his sway in Albany when his party lost control of the state Senate in 2018. Flanagan has served in the state Legislature for 34 years and joins a slew of his colleagues who won't be returning to Albany.