New York City
Coronavirus spreads, NYC schools close and Albany keeps going
Rounding up the week's political news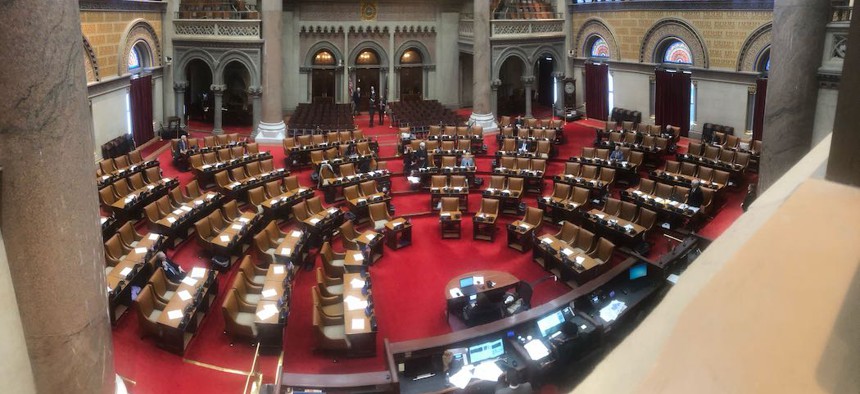 It seems that working from home will be the new normal for many New Yorkers for the coming weeks and even months. Anxiety about the way of the world in the time of coronavirus can seem overwhelming at times, so it's important to find ways not just to keep to a schedule at home, but to stay calm. For some, that means tuning into Gov. Andrew Cuomo's daily press briefings. The gov's cool-under-pressure and take-charge approach to the crisis has helped soothe some minds and has gained him considerablepraise. It's even made one journalist maybe fall in love with him. And if you're looking for creative ways to stay active, Cuomo can help with that too. People who turn on the governor's livestream a few minutes early will be greeted by wait music that slaps – perfect for a little impromptu dancing.
New York reels
As of Friday morning, the state had confirmed over 7,000 cases of COVID-19, an ever-growing number that Gov. Andrew Cuomo attributed to increased testing capability in the state. At the beginning of the week, Cuomo announced that bars, theaters, gyms and restaurants would close statewide, with the exception of takeout and delivery for food and alcohol. Cuomo coordinated his decision with the governors of Connecticut and New Jersey, and later Pennsylvania, who each announced the closings in their own states. All four states also jointly decided to close salons and tattoo parlors. Cuomo also banned social gatherings of any size on Friday, after previously limiting them to 50 people. Cuomo imposed a stricter work from home policy, mandating that businesses must have all employees work remotely, excluding essential jobs like health care workers, food service workers and grocery store employees. He urged everyone in the state to remain indoors as much as possible. Additionally, the state waived mortgage payments for 90 days, suspended student debt payments for at least 30 days and halted all evictions statewide for 90 days.
New York City closes public schools
Mayor Bill de Blasio decided to close schools on March 15, and schools closed their doors the next day. Early on March 15, Cuomo directed New York City as well as Westchester, Nassau and Suffolk counties to close their schools. In the first week that city schools were shuttered, teachers were trained on how to conduct their classes remotely, while students had those days off. Additionally, some schools remained open in order to provide free takeout breakfast and lunch, continuing the essential service of providing meals to students who need them. The city Department of Education also said that it would provide tablets with internet access to students who don't have a computer at home so that they can participate in online learning.
Empty Albany, work gets done
State lawmakers took a unique approach to legislating as they attempted to keep a safe distance from each other while still approving coronavirus-related bills. In the Assembly, legislators were only allowed into the chamber in small groups to cast their votes before returning to their offices. This comes after two Assembly members – Helene Weinstein and Charles Barron – tested positive for the coronavirus. After lawmakers left Albany, Assemblywoman Kimberly Jean-Pierre tested positive as well. In the state Senate, only party leaders were present in the chamber, with only those voting "no" allowed in, one at a time, to cast their votes. A quirk in the Senate rules allowed everyone else to have their "yes" vote counted without physically being there to cast it. The state Legislature passed two bills related to the epidemic. The first mandated that all large employers and public employers provide two weeks of paid sick leave for employees with COVID-19 or under mandatory quarantine. The other changed petitioning requirements, allowing candidates to appear on the ballot in upcoming state elections with dramatically fewer petition signatures than usual. Cuomo signed both bills on Wednesday.
NYC not fully shut down
De Blasio has continually raised the specter of a "shelter in place" order for New York City, but Cuomo has the final say on the matter and has confirmed multiple times that he has no plans to quarantine the city. De Blasio suggested using San Francisco as a model, which has prohibited people from leaving their homes except for getting groceries, going to work if necessary and exercise. At one point, the mayor said a decision could come within 48 hours. Cuomo repeatedly said that piecemeal quarantines make no sense, as people could simply go to another part of the state or region. He said that any such order would need to be carried out statewide for it to be effective.