New York City Council
Councilman Mark Gjonaj's many unflattering headlines
From alleged mob connections to suspicious uses of campaign funds, the list is long.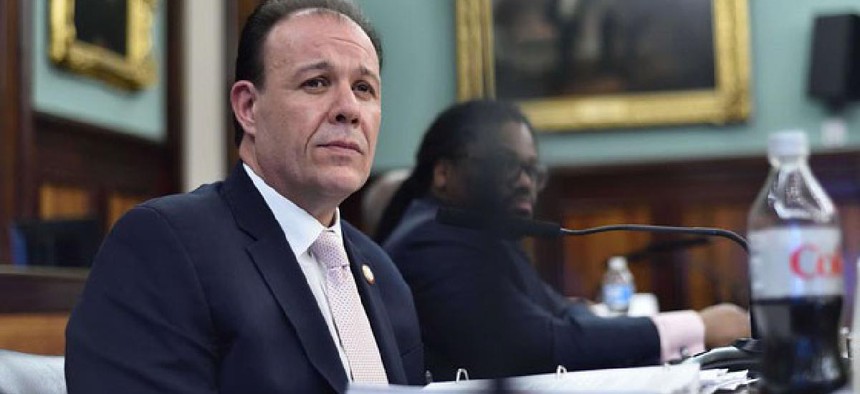 If you're not familiar with New York City Councilman Mark Gjonaj from the Bronx, well, you're about to get a "hell" of an introduction.
On Monday, the councilman received a subpoena from law enforcement authorities, though little is known about its contents.
In January, Gjonaj's legal adviser Edmond "Teddy" Pryor stepped down from his post after coming under fire for representing the Hells Angels Motorcycle Club. A week before Pryor left his post, it was reported that he had helped the group secure its new Bronx clubhouse, following a reported shooting outside their new hangout.
While details of Gjonaj's subpoena are still under wraps, it's hard to imagine anything that rivals his other unflattering headlines regarding his alleged mafia campaign donors, use of council funds and his own personal antics.
Here's a rundown of Gjonaj's biggest scandals, over the years.
He received donations from alleged members of the Gambino mob family 
Dec., 2019, it was discovered that Gjonaj accepted thousands in donations from two alleged affiliates of the Gambino mob family, Mark "Chippy" Kocaj and John "Smiley" Simonlacaj, who had recently been charged with a number of crimes by the feds.
A week after the news broke, City Council Speaker Corey Johnson said that Gjonaj should return the funds. "No one should be accepting money from the Gambino crime family," Johnson said. "I think anyone who takes money from anyone associated with organized crime should return the money."
Campaign contributions to build Bronx housing complex
Community activists attempted to halt the construction of a new housing complex in the Bronx after it was discovered that Gjonaj and Bronx borough president Ruben Diaz Jr. both received campaign donations from people with ties to the project's developer, Exact Capital, in September, 2019. 
Gjonaj received a $11,000 donation from people related to the owners of Exact Capital, while Diaz Jr. received $15,000 donations directly from Exact Capital's co-owner in 2014 and 2016. The councilman endorsed the project, which the City Council unanimously approved, and the borough president signed off on the development in 2018, despite two community boards being opposed to its construction. 
The pair was accused of driving public funds toward their donors. "I was not a supporter of it, but I crafted this into something that would benefit the community and the neighborhood and the surrounding neighborhood," Gjonaj told NY1. Diaz Jr. did not respond to NY1's requests for comment.
He gave campaign donors over $20,000 in City Council money 
It was uncovered that Gjonaj paid over $20,000 of his City Council office budget to a number of businesses connected to his campaign donors, in December 2018. One of the companies, Pro Design & Construction Corp., also happened to share the same address as his realty company, MP Realty Group Corp.
Uses campaign funds to sue city
In October 2018, it was discovered that Gjonaj was using two of his campaign funds to fuel a lawsuit against the city. In the suit, which was filed in 2017, the councilman alleges that the Bronx that the borough is overburdened with more than its "fair share" of homeless shelters and mental health facilities. Gjonaj's use of campaign funds to pay for his suit raised the question of whether or not he was violating any campaign finance laws. 
Ties to an unruly commercial trash company 
The Bronx trash collection company, Sanitation Salvage, had its service suspended by the Business Integrity Commission, which oversees the city's commercial trash industry, on Aug. 31, 2018, for causing two fatal accidents and a whole host of other issues, ProPublica reported. It was also discovered at the time that one of the company's co-owners, Rosemarie Isabella, a former principal of Isabella City Carting, had her carting license for Isabella City Carting revoked by the Business Integrity Commission in 2013.
Gjonaj, along with former state Sen. Jeff Klein and a few other Bronx politicians issued a letter in support of Sanitation Salvage, asking that its license be reinstated. It was revealed that Gjonaj had received $40,000 in campaign funds from the company's other co-owners, Steve and John Squitieri, since 2007. The notorious Squitieri brothers were tyrants of the city's commercial trash industry for years, until Nov. 2018, when Sanitation Salvage went out of business.
The brothers had also done business with Gjonaj's brother, Paul Gjonaj, in the past. Together they had shares in Jemi LLC that owned various dining establishments that included the Lighthouse, Vistamar Restaurant and Don Coqui on the Water. In 2017, when Gjonaj was a member of the New York Assembly he spent $72,000 in campaign funds at Don Coqui on the Water.
Yelling "shame" outside of Biaggi's campaign office
After watching a few too many episodes of "Game of Thrones," it seems, Gjonaj was filmed yelling "shame," repeatedly outside one of state Sen. Alessandra Biagi's campaign events on Aug. 31, 2018.
Is this your elected official pacing in the street, yelling 'SHAME' at young women?

He's Councilman @MarkGjonajNY.

I'm the young woman.

This is not okay. VOLUNTEER >> DONATE >> VOTE >> https://t.co/Ab2owq0oY4 #september13 pic.twitter.com/DoopZN6G5W

— Alessandra Biaggi (@Biaggi4NY) August 31, 2018
The councilman's chief of staff Reginald Johnson, told Gothamist that Gjonaj was protesting the Department of Transportation's Corridor Safety Improvement Plan on Morris Park Ave, which Biaggi supported. Though it's possible something else could have been at the heart of Gjonaj's public hysterics. At the time, Biaggi was campaigning to unseat then-state Sen. Jeff Klein, a good buddy of Gjonaj's.
Attempt to donate City Council money to an Albanian-American charity
Jul. 2018, the councilman attempted to give $130,000 of the City Council's money to the Albanian-American Community Association which he has close ties to. Several local reports alleged that Gjonaj was the organization's co-founder, according to the Daily News. 
Johnson, however, made sure that the money did not make it to the charity and instead redirected the money to other organizations that aid the city's Albanian-American community. The money Gjonaj tried to donate was from the Council's reserve of cash allocated for charitable donations.
Powered By
NEXT STORY: New York's political turncoats