Bernie Sanders
Hizzoner hops on the Bernie bro bandwagon
The New York City mayor's most recent tweets reveal he's transformed into the quintessential U.S. Sen. Bernie Sanders supporter.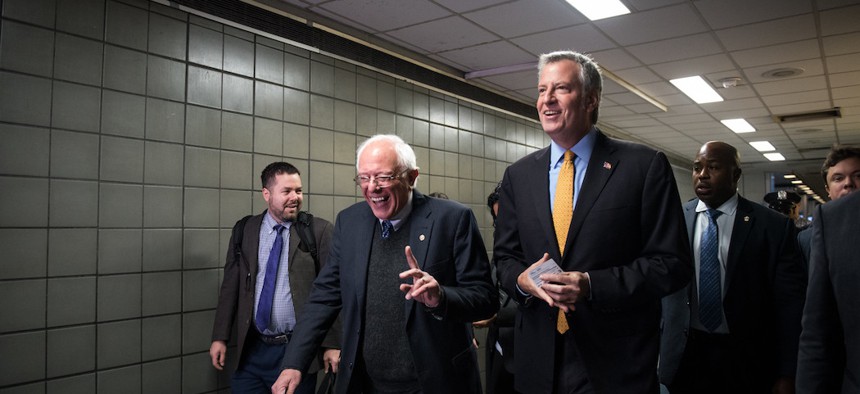 New York City Mayor Bill de Blasio has recently become a fervent supporter of Democratic presidential candidate U.S. Sen. Bernie Sanders. And true to form, he's a little behind schedule.
Hizzoner endorsed Sanders last month and since then he's been seriously leaning into his love for the Democratic Socialist, defending him on television and taking on current and former presidential candidates on Twitter. Most recently, on Wednesday, de Blasio took to Twitter to ask U.S. Sen. Elizabeth Warren to back Sanders, in the midst of the state's coronavirus crisis which many found irksome. 
Interestingly, the mayor endorsed former Secretary of State Hillary Clinton for president in 2016, despite Sanders also being in the running, although he did praise Sanders at the time. Of course, politicians are allowed to change their mind. But de Blasio took an awfully long time to change his, waiting for months after he dropped out of the 2020 campaign himself to endorse Sanders. His aggressive stanning for Sanders now feels a bit like someone showing up late to a house party and getting hammered while all the other guests are on their way out.
Here are some of de Blasio's tweets that chart his transformation into the ultimate Bernie Bro:
I deeply respect @ewarren. Tentire + our party is better + more progressive because of her leadership. Now our progressive movement needs her more than ever. Senator, if the shoe were on the other foot @BernieSanders would have already endorsed you. We have

— Bill de Blasio (@BilldeBlasio) March 10, 2020
I told @JoeNBC that @JoeBiden hasn't really been vetted. The video below is perfect evidence of that fact. How many Democrats know about Joe's passionate defense of freezing Social Security benefits? Not many. At the next debate: truth will come out, which favors @BernieSanders https://t.co/cQWfZqQKt0

— Bill de Blasio (@BilldeBlasio) March 10, 2020
Great conversation @JoeNBC @morningmika! Yes, campaigns have to constantly improve to win. But NEVER underestimate @BernieSanders. Dismissed in '16 + almost won nomination. Behind in '20, now 1 of 2 stlll standing. Bernie has made the impossible possible before + can do it AGAIN

— Bill de Blasio (@BilldeBlasio) March 5, 2020
Today they will tell u Bernie can't win. They will tell u it's all over. They want to discourage u. Don't fall for it! The voters + the delegate count tell a different story: 2-person race, clean slate, game on! If u want to change this country, work even harder 4 @BernieSanders

— Bill de Blasio (@BilldeBlasio) March 4, 2020
OK Boomer pundits: take a deep breath! The game has just begun. The 2 largest states in the nation haven't spoken yet tonight. And many big states in weeks ahead. It's a 2-person race, totally clear contrast. Debates loom large. And THAT is a very GOOD formula for @BernieSanders

— Bill de Blasio (@BilldeBlasio) March 4, 2020
.@JoeBiden, the lesson of 2016 was clear: DON'T focus on Trump's character. Working people don't want to hear it. They NEED to hear an honest vision for change in their lives. Stop acting like they are ok with the status quo - they are NOT. They need a champion: @BernieSanders

— Bill de Blasio (@BilldeBlasio) March 3, 2020
.@JoeBiden, wake up! The American people LIKE @BernieSanders because he actually wants their families to have health care. They don't want you guys talking about whether another country has it, they want to know when WE ARE GOING TO GET IT.

— Bill de Blasio (@BilldeBlasio) February 26, 2020
And hey @PeteButtigieg, try to not be so smug when you just got your ass kicked. You know how we form a winning coalition to beat Trump? With a true multi-racial coalition of working Americans: something @BernieSanders has proven he can do + you haven't. Dude, show some humility

— Bill de Blasio (@BilldeBlasio) February 23, 2020
.@PeteButtigieg, you clearly don't understand the movement @BernieSanders has built. It reflects the true values + hope of working people in America. They simply want a country that puts working people first. Your critique tonight speaks for the American elite, not the majority

— Bill de Blasio (@BilldeBlasio) February 23, 2020
I'm standing with @BernieSanders because he stands w/ working families & always has. Bernie is the candidate to take Trump on & take him down. I'm proud to endorse a true progressive leader who will fight for working New Yorkers & families across the country. https://t.co/Z3j2DQklri

— Bill de Blasio (@BilldeBlasio) February 15, 2020