Andrew Cuomo
How Donald Trump almost ran against Gov. Andrew Cuomo
A cadre of New York Republicans wanted the mogul to run for governor in 2014.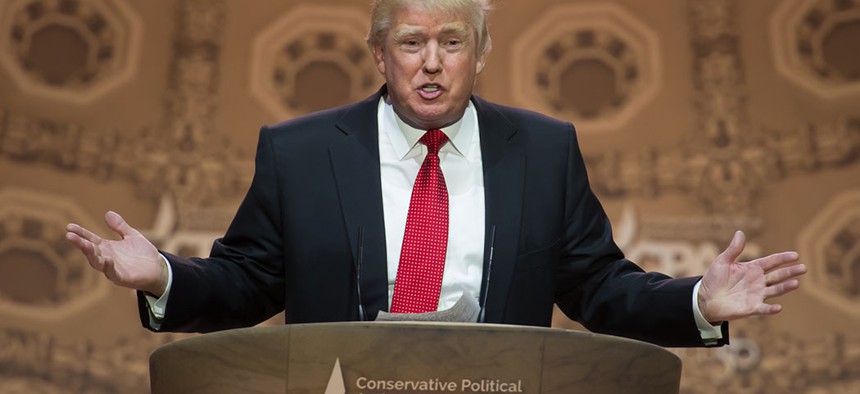 President Donald Trump has recently escalated his feud with his erstwhile home state by banning New Yorkers from joining the federal government's Trusted Traveler programs and halting an Army Corps of Engineers coastal resilience study for the New York City area. Trump and Gov. Andrew Cuomo have criticized one another over these and other issues, including Trump's defunding of the Gateway project to build an additional rail tunnel under the Hudson River and Trump's federal tax cut's favoring of low-tax red states over higher-tax states such as New York.
In fact, although they were once friendly, Trump and Cuomo have been on a collision course since 2013, when Trump considered running against Cuomo in the governor's first reelection bid, in what would have been the most closely watched and likely most expensive governor's race in the country.
Two Western New York freshmen Assemblymen, Bill Nojay and David DiPietro, and political consultant Michael Caputo nearly drafted Trump to run in the 2014 election.
"[Bill and I] started going through names and debating if they had a chance, and we came up with Donald Trump," DiPietro told me in my book The Method to the Madness: Donald Trump's Ascent as Told by Those Who Were Hired, Fired, Inspired — and Inaugurated. "Both our eyes lit up. We thought he would be a great candidate, self-funded, highest name recognition of anyone in the country, would make it a marquee race. We had to decide how to get in front of him."
Trump's thoughts during the fall of 2013 were elsewhere. He was in the nascent stages of planning a presidential run that few people outside Trump Tower took seriously. So Nojay drew up a memo that argued that Trump could run for governor as a stepping stone before running for president, which noted, "No one in U.S. history has ever won the White House without first holding high public office." It also analyzed Trump's appeal, playing to Trump's notorious vanity, by arguing, "In many respects Trump is not considered a Republican — he is his own brand an almost iconic figure of Rockefellerian proportions" referring to former New York governor. Nojay leaked the memo to the New York Post's Fred Dicker. 
Dicker asked Trump for comment and Trump initially said he had not thought about the office. Then Trump called back, slamming Cuomo for the state's high taxes and his failure to approve fracking and calling his father Mario "one of the worst governors in the history of the state."
Nojay's memo sparked Trump's interest and Caputo excitedly pressed Trump's political adviser Roger Stone for a meeting so the trio could make their case in person.
But Stone thought a contest against Cuomo would be more difficult than running for president because it is significantly harder for a Republican to win in New York State where Democrats have a voter registration advantage of nearly three million people.
 "Andrew Cuomo is a very tough, very mean, extremely well-funded opponent," Stone told me. "Frankly, the job was too small for him. He would hate living in Albany."
Trump's then-aide Sam Nunberg studied the numbers closely and thought the race was "unwinnable."
"He would not have got one fucking vote in New York City," Nunberg said. "He would've got 20 percent, 15 percent at the most, and Cuomo would've spent a lot of money."
Much like the developer and TV star's once-chummy relationship with the Clintons, Trump knew the Cuomo family socially since the early 1980s when Trump sought then-Gov. Mario Cuomo's support for a football stadium in Flushing, Queens. He even sent a teasing spoof video to the political scion's bachelor party. "Whatever you do, Andrew, don't ever ever fool around," Trump warned in the clip.
Once Cuomo was ready to run for statewide office, Trump donated generously: $26,000 spread over his 2002 and 2006 attorney general races and $38,000 for his 2010 gubernatorial bid, as well as $66,000 to the New York State Democratic Committee over a five-year period, according to state campaign records.
But Trump began to think of himself as a prospective candidate for president in 2011. Trump amplified the scurrilous birtherism theory, baiting President Obama in television appearances with a false rumor that the president was born overseas. By early April he vaulted to the top of the field in first or second place in polls of Republican primary voters. When Obama mocked him at the 2011 White House Correspondents Dinner, Trump slid from 26 percent to 8 percent in May and decided not to run because NBC offered him another season of The Apprentice.
After three years of being often dismissed as an unserious political dilettante, Trump was receptive to being told what a great gubernatorial candidate he would make.
"All these people started telling him he could win. Flattery always works with him," Nunberg said. "Trump would be happy people are talking about recruiting him for governor, which would then show he's a solid candidate with the potential to run for president."
Cuomo's campaign team didn't think Trump would run but the governor viewed the would-be rival warily. "He's been the guy who cried, 'I'll run for office' over and over, and he's never actually done it," Cuomo's then-campaign spokesman Matt Wing said. "Donald Trump is notorious for not writing checks. We certainly didn't take seriously any concept that he would actually self-fund in any seriously competitive way. We had $30 million at that point. Donald Trump, at the most, would maybe put a million dollars in."
But Trump told DiPietro and his friends he could spend at least $5 million to start — others he told $10 million — and asked detailed questions about strategy, voter turnout, and the issues that were resonating with upstate and suburban Republican voters. Stone had heard Cuomo's team was worried that they'd spend millions of dollars on the re-election campaign to fend Trump off. And Trump was relentlessly competitive.
"Trump was well-aware of my opinion," Stone said. "He would say, 'I can beat Cuomo. He'd be easy to beat. Everybody I know hates him. He's done nothing as governor.' Donald seemed to believe that he would easily defeat Cuomo."
There was only one problem: Westchester County Executive Rob Astorino also wanted to run and the party's upper echelon favored him.
Trump spent the next five months needling Cuomo and pleading with State Republican Party Chairman Ed Cox to force Astorino to bow out. He held pow wows with Staten Island Councilman Joe Borelli and SI Assemblywoman Nicole Malliotakis, Erie County Chairman Nick Langworthy, and former gubernatorial candidate Carl Paladino to seek their advice and convince them to pressure Cox and Astorino. Trump even asked Astorino to join the ticket as his lieutenant governor, an offer the Westchester leader rejected.
"He was adamant that he did not want a primary," Astorino aide Jessica Proud said. "He felt it would be giving an advantage to Cuomo. He would have to spend time and money, and he didn't want the fight. He said he was doing us all a favor if he chose to run. "
But Cox wouldn't wade into an intraparty fight. When Trump was the guest of honor at Langworthy's Erie County fundraising dinner in January 2014, Trump lost his temper and chastised Cox for not winning a statewide race as chairman.
Five weeks later, Cox flew to meet Trump at Mar-a-Lago, urging him to declare and put money into a campaign account, but Trump refused. On March 14, Trump tweeted he wouldn't run for governor and had "bigger plans ahead." Cuomo went on to defeat Astorino 54 to 40 percent.
What would a Cuomo-Trump campaign have looked like? Trump wanted to make natural gas extraction, taxes, and the loss of jobs upstate key issues. Cuomo could have challenged Trump on race and immigration, women's rights and health, and the frequently bankrupt tycoon's litany of business failures. There was certainly no shortage of controversies Cuomo's opposition research team could unearth and disseminate to a national media audience during an election with lower stakes than the presidency.
And failing to win the governor's race would severely handicap Trump's chances in 2016.
"If he ran for governor and lost, it would preclude a run for president a few years later," Stone said. "It never made any sense to me."
If Trump had run unsuccessfully for governor, perhaps a President Clinton or Cruz would currently be in the White House.
Some of the material in this story appears "The Method to the Madness: Donald Trump's Ascent as Told by Those Who Were Hired, Fired, Inspired — and Inaugurated" (St. Martin's Press: 2019) by Allen Salkin and Aaron Short. 
Powered By
NEXT STORY: Who are prominent New Yorkers endorsing for president?