Campaigns & Elections
Who are prominent New Yorkers endorsing for president?
These are all of New York's elected officials and other prominent public figures to endorse 2020 presidential candidates.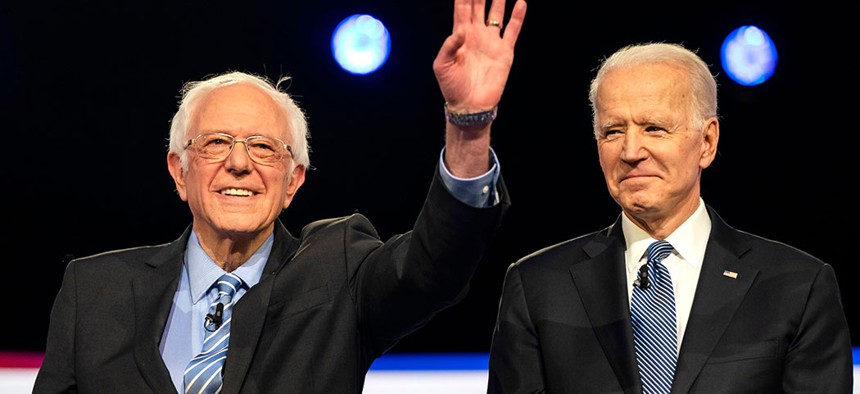 New Yorkers won't vote in the Democratic presidential primary until April 28, but dozens of prominent political experts and Empire State elected officials are already making their endorsements.
Former New York City Mayor Michael Bloomberg has dropped out of the race after a disappointing Super Tuesday performance and endorsed former Vice President Joe Biden.
In his first – and last – night on the presidential primary ballot, Bloomberg won the caucuses in American Samoa, a U.S. territory, but failed to place higher than third in any of the other 14 contests.
While he skipped the early caucuses and primaries in Iowa, New Hampshire and South Carolina, Bloomberg spent more than $500 million on ads and hired more than 2,400 staffers – making his run the most expensive presidential campaign of all-time – in order to make a big splash on Super Tuesday.
So many New Yorkers sought the Democratic presidential nomination this election cycle, including Mayor Bill de Blasio and U.S. Sen. Kirsten Gillibrand.
De Blasio gloated at his predecessor's failure to NBC News: "The fact that tonight he's won essentially nothing, justice (is) being served."
Now the primary race turns to Biden and U.S. Sen. Bernie Sanders as the two remaining front-runners. After Biden's victory in South Carolina, he performed better than projected on Super Tuesday and will likely be leading the delegate count after all the votes from Tuesday are tallied.
As the remaining Democratic candidates promote their agendas and continue to show their fundraising and polling prowess, City & State is keeping an eye on the endorsements. Check our endorsement tracker regularly to find out which candidates are getting support from which elected officials, unions and organizations.
Joseph Biden
Public figures: 
Gov. Andrew Cuomo
, 
Rep. Thomas Suozzi
, 
Rep. Sean Patrick Maloney
, 
former New York City Mayor Michael Bloomberg
, former Reps. 
Charles Rangel
 and Steve Israel, United Federation of Teachers President Michael Mulgrew, state Sens. Monica Martinez, Kevin Thomas, Leroy Comrie, Roxanne Persaud and Tim Kennedy, Assembly members Jeff Dinowitz, 
Alicia Hyndman
, Michaelle Solages and David Weprin, Albany County Executive Daniel McCoy, Congressional candidate Jackie Gordon.
Tulsi Gabbard
Bernie Sanders
Public figures: Rep. Alexandria Ocasio-Cortez, 
New York City Mayor Bill de Blasio
, state Sens. Michael Gianaris, Jessica Ramos Luis Sepúlveda (formerly endorsed 
New York City Mayor Bill de Blasio
), 
Julia Salazar and James Sanders, Assembly members Phil Steck
 and 
Ron Kim
, 
New York City Public Advocate Jumaane Williams
, New York City Council members 
Rafael Espinal
, 
Justin Brannan and Helen Rosenthal
, 
former Assemblywoman Christine Pellegrino
, 
Cynthia Nixon
, actor and former gubernatorial candidate, 
Zephyr Teachout
, anti-corruption scholar and former attorney general candidate.
Organizations: Make the Road Action
With reporting by Jeff Coltin, Maggie Garred, Jon Lentz, Rebecca C. Lewis and Zach Williams.