Michael Bloomberg
How Michael Bloomberg bought City Hall
Sabotage. Microtargeting. Mind games. Will the billionaire's playbook translate to the national stage?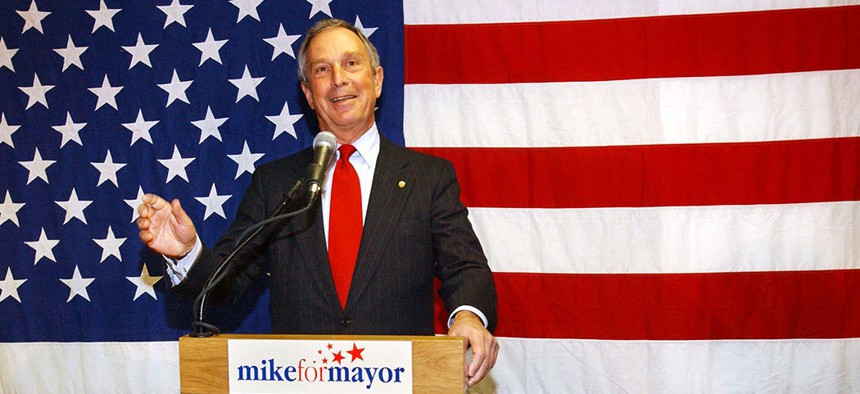 On Jan. 1, 2002, the richest man in New York City became its chief executive. For the next 12 years, Michael Bloomberg would lead an administration widely regarded as one of the most consequential in the city's history. And though he entered electoral politics as a complete novice, New York City's 108th mayor would go on to build a political apparatus the likes of which the city had never seen.
But can the playbook that succeeded in New York City be replicated nationwide? Can his vaunted political operation be scaled? With Bloomberg now emerging as a top-tier contender in the 2020 presidential race, these are multibillion-dollar questions.
Despite being the richest man in the city, Bloomberg was not particularly well known to ordinary New Yorkers in 2001. Nor did he possess the oratorical gifts that one would expect to see in a winning candidate. When the newly minted Republican got behind a microphone, he looked like a stiff billionaire, and sounded like one too.
The year before, however, he had broadened his philanthropic footprint, donating more than half a billion dollars to hundreds of organizations, including 79 first-time beneficiaries located within the five boroughs. Bloomberg also opened up his pocketbook for some of the best talent in the business, including the pollster Doug Schoen, who had worked on Bill Clinton's presidential campaigns, Kevin Sheekey, who had served as chief of staff to U.S. Sen. Patrick Moynihan, and the legendary political strategist David Garth.
New York City is a proudly Democratic town, and the path to City Hall for a Republican is typically narrow. Rudy Giuliani, Bloomberg's predecessor in office, had leaned heavily on white support in his successful mayoral runs, but from the outset Bloomberg signaled a clear intent to fight for votes within traditionally Democratic constituencies.
"The first ad that he put on television was actually a Spanish-language ad," recalled Bill Cunningham, a top adviser to Bloomberg in the 2001 campaign. "It was a way of announcing that he intended to compete for every vote in the city."
No self-funding businessman had ever launched a serious mayoral bid in New York City, nor had one Republican mayor ever succeeded another, and early polls showed Bloomberg trailing potential Democratic rivals by huge margins.
"He didn't start off strong with any group," recalled Jerry Skurnik, a Democratic consultant who worked in the Koch administration. "He did what a lot of campaigns do, but I guess he did it on steroids."
A lifelong Democrat, who switched party affiliation in order to circumvent a crowded primary, Bloomberg now reaped the benefits of that decision. "He was already running a November campaign in May and June," Skurnik said. While the Democratic candidates competed among each other, Bloomberg was able to boost his name recognition through paid advertisements that touted his business and philanthropic record. But even for a campaign looking ahead, there are some events that can't be foreseen.
The morning of the Democratic primary, two commercial airliners struck the twin towers. Even before the terrorist attacks, the city's economy had shown signs of weakening, and now, amid fears of a recession on the horizon, Bloomberg's business credentials became a compelling rationale for his candidacy.
"He did what a lot of campaigns do, but I guess he did it on steroids." - Jerry Skurnik, political consultant
In the aftermath of the tragedy, Giuliani saw his popularity skyrocket, but entering the final stretch of the campaign, "America's mayor" had still not given an endorsement. David Garth, in the end, persuaded the sitting mayor, who had been reluctant to support a losing candidate, and the Bloomberg campaign began flooding the airwaves with ads trumpeting his endorsement.
Throughout the campaign, Bloomberg's paid media had been omnipresent. Even during the week of the runoff between former public advocate Mark Green and Bronx Borough President Freddy Ferrer, his campaign spent more on advertisements than those Democratic rivals combined.
"It was dismaying that after years of raising money the hard way, ad rates rose so much in response to (Bloomberg's) massive spending that it diminished the impact of my expenditures," Green told City & State.
Green, who had accepted public financing, would end up spending $16.6 million on the race. Bloomberg would drop $74 million – $99 per vote – the most ever spent on a nonpresidential campaign at that time.
To the disbelief even of his own inner circle, the political rookie would eke out a 2-point win in November.
Green would later attribute Bloomberg's victory to a "perfect storm," including a racially divisive Democratic runoff, which likely factored into his Republican rival improbably winning almost half of the Latino vote, as well as quarter of the black vote.
Bloomberg, to be clear, was not the first New York Republican to woo Latino voters. "Rudy (Giuliani) tried by appointing Hispanics to posts in his administration, but let's face it: There are a hell of a lot of advantages in having unlimited amounts of money," said Serphin Maltese, a former Republican state senator who is now a Donald Trump supporter.
Bloomberg would spend more than $250 million of his personal fortune on his three mayoral elections. Between cycles, however, he would dole out at least another $200 million in charitable donations to civic and cultural groups, which at times served to offset budget cuts and, other times, provided a support structure to advance his political goals.
In the year leading up to his first reelection campaign (against Ferrer this time), Bloomberg donated between $10,000 and $100,000 to 200 local groups. In addition to his vast wealth, Bloomberg now enjoyed the power of incumbency. Mailing a $400 property tax rebate to homeowners in an election year likely didn't hurt his standing among a constituency of reliable voters. The mayor also negotiated a new contract with DC 37, the largest public employees union in the city, which would endorse him in the upcoming election, a considerable blow to the eventual Democratic nominee.
"Rudy tried appointing Hispanics, but let's face it: There are a hell of a lot of advantages in having unlimited amounts of money." - Serphin Maltese, former Republican state senator
Within the mayor's adopted party, however, a primary challenger emerged in Thomas Ognibene, a former New York City councilman who sought to galvanize the faction of conservatives that had never warmed to the former Democrat in City Hall. Bloomberg's campaign would eventually challenge his petitions and knock Ognibene off the ballot, a tactic that Bloomberg had denounced a few years earlier. (Ognibene did himself no favors by collecting an unusually small number of signatures for a mayoral race.)
With the Republican nomination all but assured, Bloomberg found himself in a position not unlike 2001: looking ahead to the general election while the Democratic contenders battled amongst each other.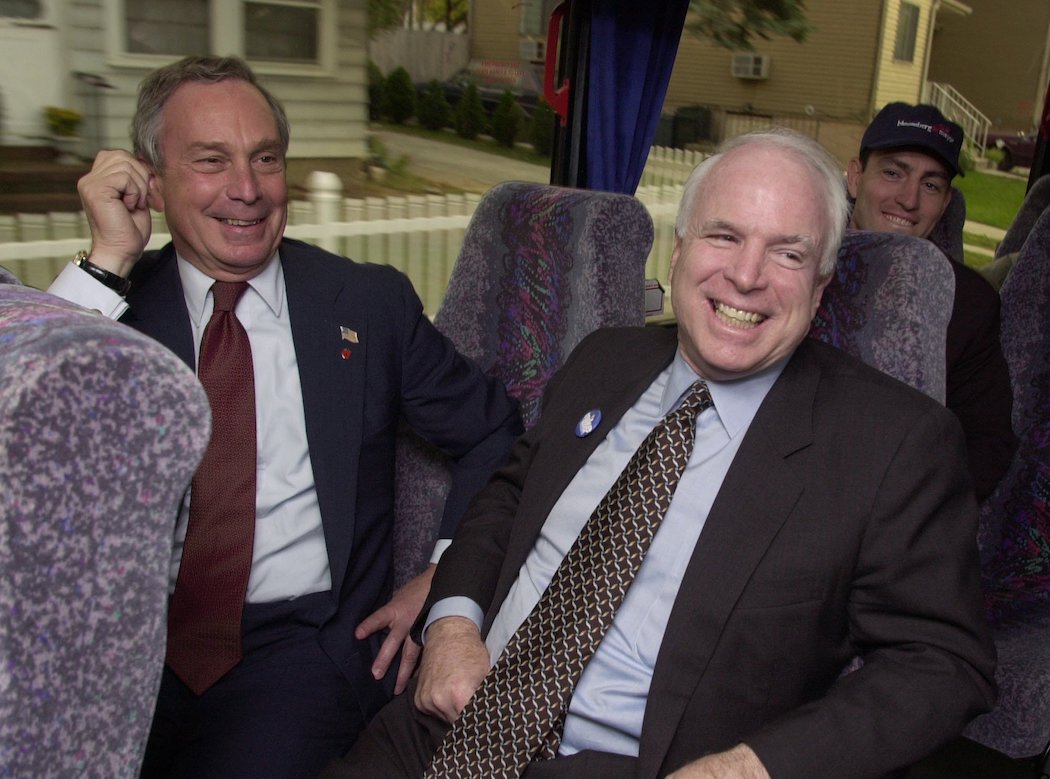 It was during his first reelection bid that Bloomberg's political operation became a powerhouse. The mayor invested more than $5 million compiling voter profiles in a database that included information on income, occupation, religious affiliation as well as personal interests, which enabled his campaign to identify issues that resonated with narrow slices of the electorate and tailor their message accordingly.
"Bloomberg's mayoral campaigns were known for cutting edge work in the infancy of microtargeting work by campaigns," said Bruce Gyory, an Albany-based political consultant.
The campaign began airing ads in Polish, Russian, Greek, Yiddish, Chinese, Haitian Creole and Korean, and its website could be accessed in multiple languages as well. Bloomberg also purchased ad space on a scale unprecedented in the community and ethnic media, a strategy that drove the mayor's message deeper into the electorate and, in some instances, garnered him some additional support. "There's no question that when you commit ad dollars to a sector that is in dire financial straits you are buying good will, and especially in a market where ethnic media has been routinely excluded, who wouldn't be appreciative?" said Sandy Close, the founder of Ethnic Media Services, an American nonprofit that promotes media in languages other than English. 
Along with its microtargeting, the Bloomberg campaign was carpet-bombing all media with paid ads. "When I would get up at five in the morning to look at the newspapers online, I would have to muddle through 10 to 15 ads from Bloomberg before I even got to a story about the campaign," recalled Roberto Ramirez, a top adviser to the Ferrer campaign.
"Bloomberg's mayoral campaigns were known for cutting edge work in the infancy of microtargeting work." - Bruce Gyory, political consultant
Prior to the race, Bloomberg hired Stuart Loeser, who had run opposition research for Green in 2001. Loeser would take the lead in leaking negative stories to the media about Ferrer, which successfully kept the former Bronx borough president on the defensive while dominating news cycles.
"(Bloomberg) assembled a talented group of operatives who weren't afraid to spill blood," said Matt Epperly, a Democratic strategist who served as an adviser to New York City Council Speaker Gifford Miller, a Democratic primary contender that year. "They skillfully fed the beast of New York dailies with hit pieces, and used unprecedented oppo research and data analytics to define competitors and shape the contours of campaigns early."
In 2001, Bloomberg won by the narrowest margin in a mayoral race since the city consolidated a hundred years earlier. In 2005, he would notch a nearly 20-point victory – the widest margin ever secured by a Republican – even as Democrats prevailed down the ballot. What made the victory all the more impressive were the headwinds coming from the nation's capital. President George W. Bush, whom Bloomberg had warmly embraced during his 2004 reelection campaign, was a deeply unpopular figure in the city.
"Somehow he was able to have Republicans think of him as Republican, but everyone else think of him as being more nonpartisan," Skurnik said. "He didn't really govern much as a Republican."
The 2005 cycle was the first in which non-Hispanic whites did not constitute the majority of the city's electorate, and Bloomberg's support among black voters rose to 47%, more than double Giuliani's best performance. He also received 30% of the Latino vote, despite running against a Puerto Rican candidate.
Ferrer spent $14 million on his campaign compared to Bloomberg's $85 million – or $112 per vote – a figure that does not include the private philanthropy that likely boosted the mayor's support in demographic groups that Ferrer needed to sweep.
"The Latino charities and nonprofits became very beholden to Bloomberg for their budgets, so he was able to get some of these people to do some of the mobilizing for elections," said Jose Sanchez, chair of political science at Long Island University Brooklyn, adding, "It was like a parallel political machine."
After dropping his Republican registration in 2007 and flirting with a presidential run, Bloomberg decided to seek a third term as mayor. There was just one problem: New Yorkers had twice voted – in 1993 and 1996 – in favor of term limits. Even Bloomberg's own inner circle opposed the idea, but the mayor succeeded in convincing editorial boards and other key stakeholders that the aftermath of the 2007-2008 financial crisis called for continuity. His political team, meanwhile, mobilized cultural and advocacy groups that had benefited from his philanthropic largesse over the years.
One path toward obtaining his desired third term would have been via referendum, but the mayor instead opted to go through the New York City Council, where many members would benefit from a term-limit extension for themselves. "The leadership class of the city of New York folded like an accordion," said Richard Brodsky, a former Democratic assemblyman from Westchester. "That was a consequence of years of benefits and threats in the way (Bloomberg) conducted his giving, and the way he extended his influence through the deployment of his resources."
As a state legislator, Brodsky faced off against the mayor over congestion pricing and the proposed West Side Stadium, and would witness the modus operandi of a mayor whose not-so-secret sauce was colored green. "(Bloomberg) used his charitable giving in ways that were clearly and explicitly connected to his political agenda," Brodsky said. "It doesn't make him a bad person, but it's a rich man's view of how you get to where you want to go."
"Somehow he was able to have Republican's think of him as a Republican, but everyone else think of him as being more nonpartisan." - Jerry Skurnik, political consultant 
People tend to notice when the most powerful man in the city demonstrates time and again a readiness to invest untold millions in the service of his political aspirations. "There are all the people who engage in what I call 'anticipatory genuflection,'" said Green, who is now an Elizabeth Warren supporter. "Anybody who deals with Mike Bloomberg is aware – though he would never say anything explicitly – that at some point in the future he might hire them or harm them with the weight of his money, which includes, by the way – although it's unspoken – some journalists."
With a one-time term limit extension in the bag, the mayor's political team got to work undercutting the opponent that it believed posed the greatest threat in a general election. During the 2005 Democratic primary, the Bloomberg campaign had not been shy about planting opposition research on potential foes in the media, but in 2009 the campaign didn't even wait for the primaries to kick off.
Anthony Weiner was another "Jewish guy with an Italian first name," Bradley Tusk, Bloomberg's 2009 campaign manager, would later write. The Democratic congressman, moreover, enjoyed a following among liberals and, through his wife-to-be, Huma Abedin, access to the Clinton donor network. "You have to pick your enemies whenever you can," Tusk wrote. "You have to strangle the baby in the crib."
The Bloomberg campaign began leaking negative stories to the press about Weiner's congressional voting record, campaign contributions he had received from foreign fashion models, and a favor that the Democrat had allegedly delivered to a donor. "It is just every single day," Weiner at the time vented. "It's surreal." 
Tusk, moreover, told The New York Times that the campaign would drop an extra $20 million on negative advertising should Weiner run. 
In the end, the would-be rival stood down, having never even declared his candidacy.
"In his reelection races, they used his advantage in resources to define opponents before they were as well-known and scare away would-be competitors," Epperly said. "Some of the campaigns that didn't make it to the general let out a collective sigh of relief. Bottomless resources poured against you in negative ads could have career-altering implications for your candidate when they come out at the other end of the buzz saw."
In anticipation of a general election against Bill Thompson, the city's African American comptroller, the Bloomberg campaign began hiring seasoned consultants who had previously worked for Thompson, notably Howard Wolfson and Hank Sheinkopf. In January, Bloomberg had also poached Democratic strategist Basil Smikle Jr. away from Weiner.
Not only did the mayor starve his Democratic opponent of top talent, he succeeded in denying him critical support within his core constituency. Through city contracts, political appointments and administrative assistance, Bloomberg had managed to forge, over his two terms in office, strong ties to a number of prominent black ministers. Some influential clergymen, who would give the mayor their endorsement, had accepted large charitable donations from him.
"If you are the leader of some sort of institution – cultural, religious or otherwise – and you are falling on hard times, and you just get an anonymous donation that is specifically timed, I think a lot of people made assumptions that they knew where the donation was coming from, and they could link it back to Mayor Bloomberg," said Christina Greer, an associate professor of political science at Fordham University. "That obviously decreases the number of detractors if you're the mayor, and so we saw just a lack of, I would say, real dissent for 12 years from a lot of leaders in the city."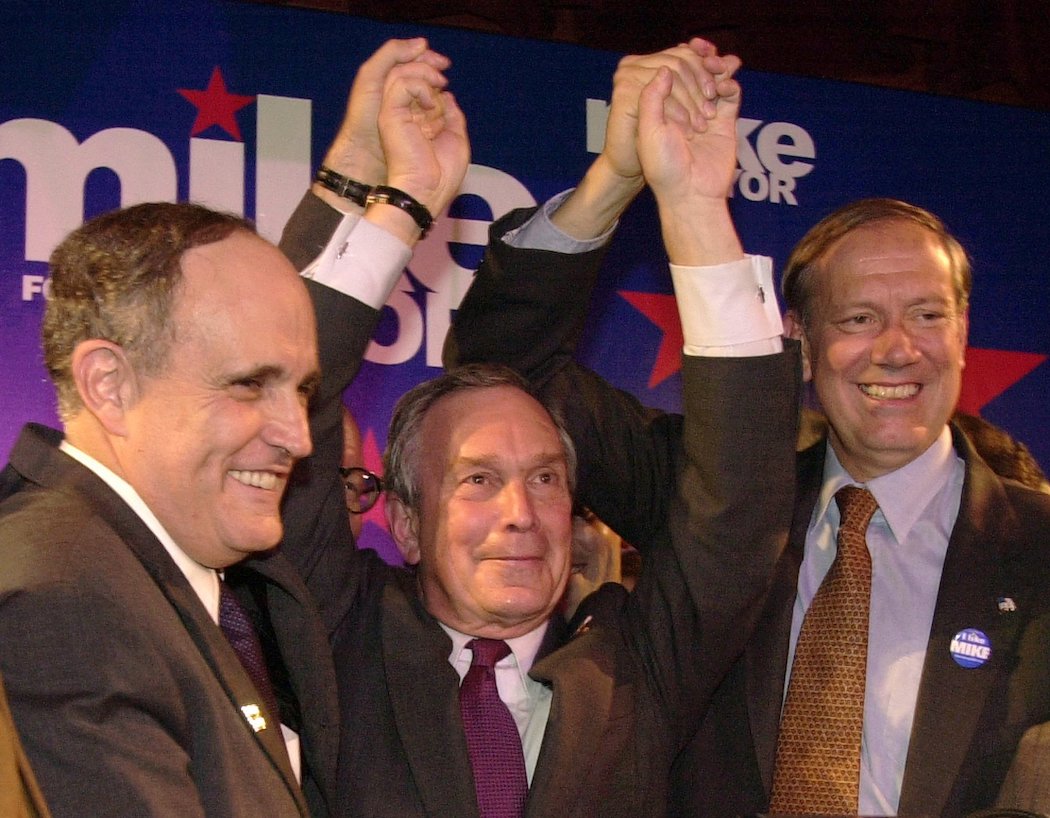 Throughout his two terms in office, Bloomberg had been credited with easing racial tensions in New York, and changing the tone coming from City Hall, following the more racially polarizing Giuliani administration. Two days after the 2001 election, Bloomberg famously shook the hand of civil rights activist Al Sharpton. In 2009, Sharpton's National Action Network reportedly received a $110,000 grant from a Bloomberg-funded nonprofit. Sharpton would support Thompson that year, but maintained an amicable tone with the mayor.
Bloomberg would ultimately win over 23% of black voters – and 43% of Latinos – en route to a 5-point November victory. The mayor would outspend Thompson 14 to 1, shelling out $174 per vote. Cultivating key allies in communities of color again helped Bloomberg cut into his rival's vote total among those traditionally Democratic constituencies.
Thompson's fundraising woes, as well as the low voter turnout that year, may be traced, in part, to the aura of invincibility that the Bloomberg campaign has been known to cultivate. "The perception that Bloomberg was a sure winner definitely helped him a lot," Skurnik said.
With a net worth estimated at more than $60 billion, Bloomberg is vastly richer today than he was in 2001. In its first three months, his presidential campaign spent $400 million, a sum easily exceeding the price tag of his previous races combined.
But campaign expenditures only constitute one part of the Bloomberg political operation, and in recent years his philanthropic spending has grown in both volume and geographic scope, topping off at more than $3 billion last year. (Bloomberg's entire net worth was estimated at around $4 billion in 2001.) 
And that does not account for campaign contributions to elected officials – a tactic straight out of the Bloomberg mayoral playbook. In the 2018 election cycle, Bloomberg was the largest Democratic donor. His $110 million helped flip the U.S. House of Representatives as well as the Virginia state legislature, which had been under Republican control for decades.
The massive scale of his giving has likely aided Bloomberg in assembling a national network of supportive mayors and community leaders, including among critical Democratic constituencies. Bloomberg has now received endorsements from more than 100 mayors across the country, according to his campaign.
Much was made of Bloomberg's late entry into the Democratic field, and his decision to skip the early primary states, a plan that hinges upon the race remaining fluid until March, and leaves him with little margin for error on Super Tuesday. Whether by design or not, the strategy mimicked, to a certain degree, the dynamic of his previous mayoral races, in which Bloomberg never faced a serious primary challenger, a luxury that allowed him to look ahead to the general election while outspending all the battling Democrats combined. And the present race started in much the same manner: Bloomberg was able to flood the zone with ads while building out his campaign organization in the delegate-rich prizes of Super Tuesday. He avoided direct confrontations with other Democrats while outspending all of them combined, with the exception of fellow billionaire Tom Steyer. As his name recognition and poll numbers improved, however, Bloomberg started taking flak from the other Democratic contenders (not to mention the incumbent in the White House).
"Mike has 10 to 20 times as much money as Trump, so there is nothing he can do to hurt Bloomberg." - Bill Cunningham, 2001 Bloomberg campaign adviser
With a rise thus far fueled by media – both paid and earned – questions remain as to whether Bloomberg will be able to connect with voters once he stands directly before them. His performance in his first presidential debates last month, for example, were widely panned. Yet even though Bloomberg is generally pedestrian behind a microphone, there are those who push back on the standard take that the former mayor of New York can't do retail politics.
"One thing that people forget about him is that he's a salesman," said Eleanor Randolph, a former New York Times editorial board member and Bloomberg biographer. "He was the one who really sold the Bloomberg Terminals. He went around to all the businesses and talked them into trying out this new gizmo that turned out to make him a very, very rich man – and also did a lot to change Wall Street. So he likes selling people on whatever it is that he thinks is important, whether it's climate change – or Michael Bloomberg."
In a normal election year, a billionaire interloper looking to leverage his personal fortune into the presidency might be too much for the Democratic rank and file to take. But in 2020, many Democrats only care about evicting Donald Trump from Pennsylvania Avenue, whatever the cost. And Bloomberg – who has always run superbly equipped and organized campaign operations – has been positioning himself as the only candidate capable of competing with the president's fundraising juggernaut, narrowing the digital edge that Trump's reelection campaign holds over the Democrats, and appealing to persuadable moderates.
It would make for riveting theater to say the least: one Manhattan billionaire with a win-at-all-costs mentality – literally and figuratively – versus another Manhattan billionaire with a norm-flaunting, no-holds-barred approach to politics.
Back in 2009, the Bloomberg campaign played mind games with Anthony Weiner: They sent canvassers to his neighborhood in April and bought up the entire inventory of digital advertising that the congressman would see when browsing the web from his home. According to TV journalist Katie Couric, the Bloomberg campaign is now hiring an expert on narcissism to pair with a comedy writer, just to get in the president's head.
On the stump, Bloomberg has said, "I've beenprettyblessed and there's nothing Donald Trump can do or say that can hurt me." His former communications director, Bill Cunningham, agrees. "Mike has 10 to 20 times as much money as Trump, so there is nothing he can do to hurt Bloomberg."
Early in his first mayoral race, when asked if he would consider spending as much as $30 million to win the election, Bloomberg replied:"At some point you start to look obscene." But maybe obscene is no longer a liability. And, in 2020, maybe a candidate lacking innate oratorical talent can get by carefully packaging his image across media platforms. Maybe a Wall Street-friendly, former Republican champion of stop and frisk can sell himself to the Democratic base as a data-driven technocrat and national leader on climate change and gun control.
It will not be easy: In New York City, Bloomberg never faced the level of opposition research and media vetting that surely awaits him.
But at the very least the former mayor has the financial standing to compete in the race as long as he wants. He won't have to leave the campaign trail to fundraise or end his presidential bid due to lack of resources.
"What's different is that in his mayoral races, (Bloomberg) had to create a reality, but by circumstance reality is coming his way right now, and by virtue of his money and his political skills he is now credibly arguing that he's the best shot at beating Trump," Brodsky said. "And he's going to use the same playbook that's always worked for him: buy as much as you can buy, be clear as to what you are going to do, and don't get deflected by anything."