Coronavirus
What to know about New York's COVID-19 response
Life has changed in a multitude of ways.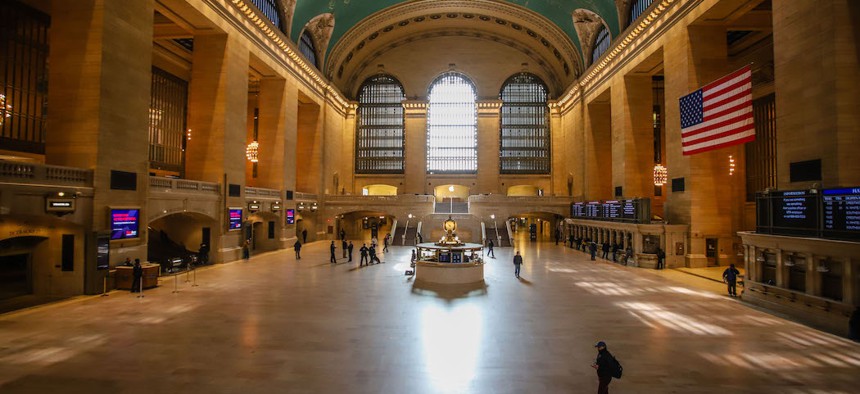 New York state confirmed its first case of COVID-19 on March 1, and in the weeks since then, life in the state has been turned upside down. Gov. Andrew Cuomo declared a state of emergency on March 7 and has signed 10 more executive orders since then that have reshaped the way that New Yorkers live. New York City Mayor Bill de Blasio declared a state of emergency on March 12 and has issued his own mandates. Here's everything you need to know about what's changed.
Nonessential businesses are shut down
Gov. Andrew Cuomo has progressively required more and more nonessential workers to stay home, until he finally mandated that all nonessential businesses close or otherwise shift entirely to working from home on March 22. After that announcement, Empire State Development provided guidance about what constitutes an essential business. Health care businesses, pharmacies, grocery stores, restaurants for takeout and delivery, banks, news media, laundromats, auto repair shops, public transportation and more were deemed essential. People can still buy groceries from their local supermarkets, pick up medicine, order food and take buses or trains. But they can't go shopping at department stores, for example, as many retailers are not essential. Other closed businesses include barber shops, spas, gyms and movie theaters.
In addition, a variety of New York City cultural institutions shuttered as well. All of Broadway shut down, as did the Metropolitan Museum of Art, Lincoln Center, Madison Square Garden, Barclays Center and more.
New Yorkers are asked to stay inside
While Cuomo has not issued a mandatory order for New Yorkers to stay inside, both he and de Blasio have directed people to minimize their time outside as much as possible. While there won't be a police officer ready to hand you a ticket the moment you leave your house or apartment building, going out for unnecessary reasons has certainly been discouraged. Cuomo has said that people can perform needed errands, as well as get some solitary exercise, although that time should be limited. Additionally, people on the street and in public parks – which remain open for now with fees waived for state parks – must be six feet apart from others. Cuomo has banned all nonessential social gathers, which ranges from weddings to pickup basketball games. In New York City, police have begun enforcing those social distancing rules in parks, where Cuomo said he observed people openly flaunting them on a recent Saturday. Of course, these rules don't apply to anyone living together and are already constantly exposed to each other. Also in New York City, de Blasio has suspended alternate side parking through March 31, meaning that city residents with cars won't have to leave their homes to move their vehicles.
Schooling has gone remote
Cuomo signed an executive order that all schools must close until at least April 1, forcing students and teachers across the state to turn to remote learning. As part of that order, the governor suspended the requirement that schools have to provide 180 days of instruction each year, meaning that they would not have to add on extra days in the summer to make up for lost time. On March 20, the state Board of Regents called off all standardized tests for grades three through eight, although the status of high school exams remains unclear. In New York City, de Blasio announced that the nation's largest public school system would remain closed for even longer, until at least April 20. He has since said that he believes that the entire rest of the school year may not be lost due to the pandemic. The city Department of Education has been working to provide technology to all students who need it. Students are still able to pick up meals to go at certain schools. The city plans to use about 100 schools for day care services for the children of health care, emergency services and transit workers who cannot work from home.
Elections have been postponed
Cuomo has made a number of changes to upcoming elections, including postponing any village elections in March until the presidential primary on April 28. Although other states with the same presidential primary date have decided to move their elections to June, Cuomo has resisted making that call. So as of now, that election is still on. Lawmakers have proposed expanding access to absentee ballots and even mandating voting by mail in order to safely conduct the presidential primary. Cuomo signed an executive order that would have allowed someone to receive an absentee ballot for the March elections, had they been held, due to the coronavirus. It's unclear if Cuomo intends to renew the order for the April presidential primary. In New York City, de Blasio also postponed the Queens borough president special election that was supposed to be held on March 24.
Evictions and mortgage payments have been put on hold
Cuomo announced a 90-day eviction moratorium statewide that will last until at least June 20, strengthening a state court decision to halt all eviction proceedings indefinitely. So for the time being, renters in any commercial or residential space won't be forced out if they can't pay their rent. Some lawmakers, including state Sen. Michael Gianaris, and housing advocates have called for a 90-day rent freeze to provide more relief for renters as a loophole allows landlords to still file new eviction cases. Cuomo also suggested that lenders offer a 90-day halt on mortgage payments for homeowners, while state Attorney General Letitia James announced that until April 15, the state would not collect student loan debt.
Tax filings are delayed
The Trump administration announced that the deadline to file federal income taxes has been moved from April 15 to July 15. Cuomo then confirmed that the state has moved its deadline for filing state income taxes to July 15 in order to stay aligned with the federal government. As of yet, there has been no guidance about moving the deadline to file local property taxes, and de Blasio has said he does not plan to make any changes to the timing of property tax filings.
Transit service cut
Amid an 87% drop in New York City subway ridership, a 70% drop in city bus ridership and staff shortages due to the coronavirus, the Metropolitan Transportation Authority has decided to drastically decrease service. On New York City subways and buses, service will be reduced by at least 25%. The region's commuter rail lines are getting more dramatic cuts starting Friday. The Long Island Rail Road will run 35% fewer trains and the Metro-North Railroad will cut its number of trains running each day by 50%.
Hospitals preparing for flood of patients
On Sunday, Cuomo announced that hospitals across the state would no longer perform elective surgeries in order to free up space for the expected influx of COVID-19 patients. De Blasio has said that people who believe they have coronavirus symptoms should avoid going to a hospital or seeing a doctor if those symptoms are mild. This way, people voluntarily quarantine while the illness runs its course and prevents that person from spreading it to others. It also minimizes the possibility of getting infected with the coronavirus if the illness turns out simply to be a cold or the flu, while freeing up valuable time and space at hospitals. Drive-thru testing sites have also been set up across the state, which decreases human contact.
The most recent estimates, according to Cuomo, are that the state will need 140,000 hospital beds, 40,000 intensive care beds and 30,000 ventilators when the number of coronavirus cases peaks in New York. Currently, the state has only 53,000 hospital beds, 3,200 ICU beds and 7,000 ventilators. The governor has directed all hospitals to increase capacity by 50%, and has asked that they increase by 100% if possible. He has asked registered nurses who may be retired or work for facilities other than hospitals to "enlist" in order to help with the influx of patients. Additionally, the National Guard is setting up 1,000 more beds in the Javits Center in New York City to help handle overflow, while President Donald Trump has ordered a navy hospital ship to New York, expected to arrive mid-April, that will provide 1,000 beds. So far, the federal government has only sent 400 ventilators to New York. De Blasio announced Tuesday afternoon that the federal government is sending 4,000 more ventilators to the state, with 2,000 of those for New York City.
Many hospitals are also reporting shortages of personal protective equipment like surgical masks, N95 respirators and gloves. The lack of supplies put these critical front-line workers at risk.