New York City
Where the Queens borough president candidates stand on the big issues
We asked the candidates 16 questions. Here are their answers.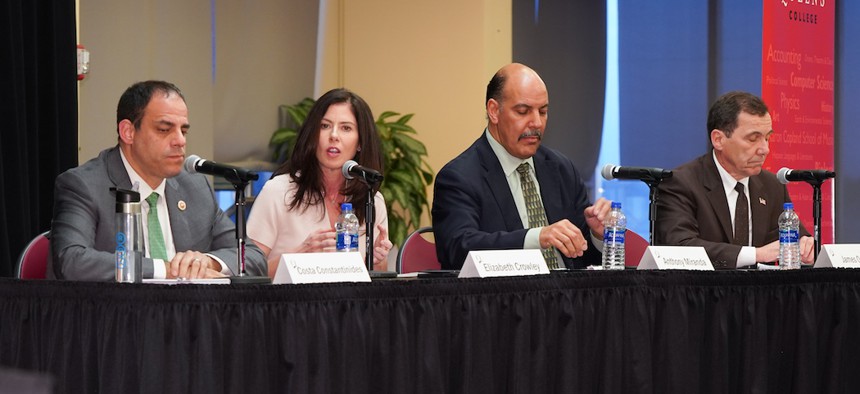 Queens is a place of political contrasts. It's where Gov. Andrew Cuomo and President Donald Trump grew up. Its voters have elected both Rep. Alexandria Ocasio-Cortez, a democratic socialist, and New York City Councilman Eric Ulrich, one of the last elected Republicans in the city. 
Melinda Katz's election as Queens district attorney last year opened up the borough president post, and this month voters will consider half a dozen candidates in the special election to replace her. Four of the six candidates shared their differences on stage at on Monday evening at a forum sponsored by Queens College, the Queens NAACP, WNET's MetroFocus and City & State. To help voters make their decisions, we picked out some of the most enlightening questions and transcribed their responses. From the failed Amazon HQ2 deal to affordable housing, from the effect of rezonings to community board diversity, we cover a wide range of topics. 
One candidate, New York City Councilman Donovan Richards, didn't attend the forum, but he answered the questions afterward by phone. Another candidate who didn't show up, Dao Yin, did not respond to our requests to pose our questions to him. And while former New York City Councilwoman Elizabeth Crowley showed up a bit late to the debate, she also responded to the questions she missed over the phone, and her answers are included here.
Election day is Tuesday, March 24, but early voting opens at select sites on Saturday, March 14, and any registered voter in the borough can cast a ballot, regardless of party affiliation.
The following responses have been edited for length and clarity. 
What one issue would you tackle first as Queens borough president? 
New York City Councilman Costa Constantinides: Currently, the borough president has budget lines for a driver and a black SUV, and I would take neither of them. I believe we have to combat climate change and give it the urgency that it deserves. I would actually use that budget line to appoint a deputy president for sustainability and resiliency. I would work in the city budget to ensure we are solarizing and green roofing every city building in the borough of Queens. This includes our schools, which connect our young people to educational opportunities around renewable energy. On day two, I would appoint a director for outreach and diversity, establishing satellite offices in different parts of the borough. Leading on the census, as you know, it begins probably around the same time this election will be certified. So the director will be tasked with being the chief census officer for the borough of Queens. We have to make sure to reach out to all of our communities that comprise our borough. 
Anthony Miranda, chairman of the National Latino Officers Association: The first issue is to make sure that we have an apparatus in place to make sure the census is working and we are getting all the people accounted for. The second thing we would tackle is to make sure that we have diversity in the office. The third thing we would look at is to make sure the community boards have gotten the reflection and diversity that it is supposed to have to reflect all of our communities. We will immediately look at anyone on the community board that has a conflict of interest where they are being employed by the real estate companies, and they are the same people charged with responsibility for the developments going on in our communities. I believe the Queens borough president has an opportunity and obligation to be able to make sure that the community's voice is being heard. One of the things we have to put first is a moratorium on all luxury development in Queens. This is something we have to tackle immediately and make sure that we have done the needed infrastructure, disability and environmental studies before they allow these buildings to continue being built in our communities without having the community board involved in it. Then we will explore what we can put on for immediate public hearings for the community that have been left out historically and whose voices have not been heard.
Jim Quinn, former Queens senior executive assistant district attorney: For me, the major challenge for the Queens County borough president is to stop the building of the Kew Gardens jail, to keep Rikers Island open and to argue against the recently passed bail reform laws that the state Legislature passed. These are two of the most stressing things facing people in Queens County. Since the bail laws passed back in April 2019 and took effect on Jan. 1, crime in New York City has gone up 20% after 25 years of straight decline. Carjacking has gone up 64%. All of this is designed to decrease the population of Rikers Island in order to build smaller jails around the city and spend $10 billion of New York City money on building those jails. I think those are the two major issues facing the next Queens County borough president. 
Former New York City Councilwoman Elizabeth Crowley: On the first day, I'm going to put together a task force, one task force being anti-hate, another task force for veterans. And then on the major issues … a task force on transit, education, cultural affairs.
New York City Councilman Donovan Richards: Housing. A zoning task force immediately. We have a housing shortage in Queens, 60,000 people living in homeless shelters, 1 in 10 of our kids in certain education districts live in shelters. So my first task would be to create a zoning task force to look at key opportunities in business corridors to upzone and then leverage investment. We need to develop our own framework prior to City Planning coming down with a top-down heavy approach.
Last year, Amazon backed out of its plans for HQ2, a major new headquarters that would have been sited in Long Island City. While some supporters touted the promise of 25,000 jobs to be created over a decade, critics blasted the nearly $3 billion in city and state tax incentives. Did you support the plan? What went wrong? 
Richards: I'm the only elected official in this race, I believe, who did not sign the original letter (supporting Amazon), because I don't believe in signing my name onto anything before I know the details. The devil is always in the details. After conversations with Amazon finally coming in, we certainly felt more comfortable that they were doing much more community outreach. And there was rightly some critiques when it came to Amazon. We needed to make sure a lot of that community engagement was done upfront and not on the backend. So we were supportive of it.
Crowley: I did support the plan. I think that a lot of people who were against it didn't understand that the (New York City Economic Development Corporation) was keeping (Amazon) to creating jobs before they got their very large tax breaks. When I go all around Queens, people are still puzzled as to why local leaders would let that opportunity slip away. We had the opportunity for 25,000 to 40,000 jobs, and they were good jobs. In hindsight, yes, Amazon should have engaged the community. That's the type of planning and leadership I would have promoted as borough president, but at the end of the day it was a loss for the borough.
Quinn: Yes, I did support the plan. This is a project that Mayor de Blasio and Gov. Cuomo agreed on, which is something extremely rare. I think Amazon was wrapped up in a lot of chanting, slogans and ideological histories. People are talking about how the city is going to spend $3 billion, and now that Amazon isn't coming here, we have those $3 billion to spend. But we don't have those $3 billion to spend. That was $3 billion that they would not have to pay in taxes if they came here. In addition, they would have paid $27 billion in taxes. I think the borough president has a very important role to play to get all the parties together and calm tensions down so that when we invite businesses to come in, that we make it a welcoming place for businesses. 
Miranda: I did not support the Amazon deal the way it was proposed. We didn't have to give them that many tax breaks to be able to come into New York City. The same breaks we give to bigger corporations, we can obviously also give to smaller corporations, the smaller businesses that need to survive here in Queens. We talk about a company that has a history of labor abuses. They bypassed the community input in this process. You cannot continue to do that. You cannot ignore the people in the communities, and they need to have a direct voice in it. The Queens borough president will make sure that the public process is respected, and the communities continue to have the voices they have whenever these projects are being introduced, and currently, they have new plans. We just heard about it in the newspapers, but they have been having ongoing conversations about what's going to be going on. They didn't have a plan B. They voted against Amazon, they didn't have a plan B of how to enhance our communities better, bring something back to our communities. They just didn't have a plan B. 
Constantinides: Many people stop me on the train and ask me: "How will I be able to afford to live in the community when I get gentrified out because of the coming of Amazon?" Amazon did not guarantee one union job. They had some jobs otherwise, but people who worked for them, not one union job. And I'm proud to have that endorsement of the union that led that fight against Amazon, RWDSU. The borough president needs to lead the conversation. If a company wants to come to Queens, it needs to be on Queens' terms. It needs to benefit the lives of Queens residents. We would be the fourth largest city in the country if we went our own way, and yet we are trying to bypass the ULURP process that every other entity has to go through. We have to hold companies accountable, and make sure that we've having these conversations to the benefit of everyone, not just the rich. I did not support it.
Under New York City Mayor Bill de Blasio, neighborhood rezonings have been used in neighborhoods like Far Rockaway and Flushing, with Long Island City expected to follow suit. Has the process proven to be a way to revitalize neighborhoods, or as a way to gentrify and push out longtime residents? 
Quinn: I don't know whether that is true or not. I grew up in Astoria, and it was a lower middle-class area. The housing style was old, a six-floor, large building. There were housing projects, a mixed community, and it has changed completely. When my son left the house and bought an apartment, he went back to Astoria. One of the landlords was telling us that the rents were going down in Astoria in the old housing styles because of all the new housing styles that were coming in. So there are good and bad parts to gentrification. The people that are there now, the gentrifiers, are upset with the new gentrifiers that are coming in. There's always going to be that struggle between the old and the new in any community. Especially now in Astoria because it's a very attractive area. 
Miranda: I believe gentrification is displacing our communities on a large scale. These are things through which we are suffering right now and not by mistake, either intentionally or by the elected officials in place that are cool with these projects. Every city councilman had to sign off, so while some areas were protected, they sold off other parts of Queens at a tremendous discount, displacing many of our communities. They weren't paying attention to the overall plan of Queens. They were more concentrated on their own districts. I believe they have an obligation across the board. If you see something wrong in somebody else's district and if you see dehumanization going on in another district, you have an obligation to speak to the issues. You can't just say that's not my error and sign on it. I believe all elected officials are guilty of the gentrification and displacement that is going on wholesale throughout Queens. We have all seen it. We have all been witness to it in our neighborhoods. That's why I decided to run for Queens borough president. We need to be paying attention to what they're doing to us. The decisions that are being made now have a five to ten-year lifetime impact on the communities. They try to put us aside, and we stay strong.
Constantinides: I agree with our Public Advocate Jumaane Williams. We should have an impact study on gentrification before we do any more neighborhood rezoning. I think we should start really looking at city properties as sacrosanct. We should not be giving away city property to developers and giving a piece of the pie back that was our pie to begin with. We should be identifying city property for 100% affordable housing. Real affordable, like I have done in my own district, where we identify a piece of city property and turn it into 100% senior citizen affordable housing. We need to make sure that we are taking hard looks. It's not just about what's going on with neighborhood rezonings. We need to look at zoning itself. They might not want to go through a rezoning. They might want to build up to the zoning. If we're not evaluating neighborhoods completely, we'll be letting a lot of new buildings get built without it even coming from a rezoning.
Richards: You look at my rezoning (in Far Rockaway) – my rezoning is a template for what community-based planning looks like. And how to ensure that residents that live in the neighborhood can stay in the neighborhood. We're in the process of shepherding in close to 6,000 units. 1,900 units are going up right now in the first development, which are all for people earning 80% (of the area median income) and under. With a 15% set-aside for homeless families and a new library – $40 million library investment. $139 million in infrastructure money. We're not only getting a new $10 million park, but we also leveraged the opportunity to push the mayor to fund our public housing developments that needed investment for another $10 million. And then we leveraged it to get $20 million in local capital funding for our schools so that we can see the investments that many of the schools needed prior to this rezoning. I'm pretty confident that we did a layman's job in Far Rockaway. My neighborhood rezoning was the only one to pass a community board, also.
Crowley: It has yet to be seen what happens with Rockaway. There was a vote on the Peninsula Hospital site just within the last couple of months. The thing that I would differ with the way he plans – I went to graduate school for urban planning – I started this idea of visionary community inclusion when putting plans together. And a cornerstone of my plan for Queens involves transit. The transit was not part of what the rezoning efforts that went into the Rockaways. The community board voted against it for a number of reasons. And that is a community board that does reflect the diversity of the community it represents. So I am more of a transit-oriented development leader. That is what I would focus on.
Many community board members remain in place for years, and some critics say this makes them older and whiter than the communities they represent. Should the appointment process be changed? How? Would you make appointments so that the boards are more representative of their communities? 
Quinn: The planning board is not just applying and having someone accepted. There are interviews. There are certain qualifications someone has got to have. You have to be involved in the community for a certain amount of time. Communities change, and Queens communities change rapidly. They can change racially, ethnically and economically in a very short amount of time. The fact that someone is on the planning board for a long period of time is not necessarily a bad thing. I don't think we should treat it that way. Sometimes the experience in time, age and being involved in the community is very beneficial for the community board members. Just to say that we are going to use statistics in determining how the community will be comprised, I think it is a dangerous precedent.
Miranda: Unfortunately, the community boards are not very reflective of the communities they serve. We're suffering that problem now that the Queens borough president makes all the appointments to the board. However, traditionally they have just followed the appointments and suggestions of the City Council members. Centralize the process. Make sure the president gets all the applications. Make sure everybody gets an interview. Make sure they get a response back, why they got chosen or not chosen. If they are not chosen, is there another level in the process that they can participate in? I think we stagger the appointment. They're not lifetime appointments, but also we stagger them to have a flow of information that goes on. 
If we are suffering disparity, we must speak to disparity, and the people who were elected to office, if they didn't call anybody out, if they didn't say this was wrong, and this was discriminatory back then, why would you give them a chance in the future? 
Crowley: I look at the community boards as a structure to help the borough president govern and to be a leader for equality and fairness. We must have community boards that reflect the diversity of the communities, not only ethnic diversity but also age and gender diversity. I started an organization called 21 in '21 to help women run for office and get elected. When I left the council, there were only 11 out of 51 members who were women, and today is no better, there are only 12. That is an organization to help women get a seat at the table. We have too few women in the community boards. I am proud to say that just this week I was just endorsed by the Vulcan Society, which is the African American society within the fire department. They know that we should fight for fairness and quality, and that's why I have their endorsement. That's the type of leadership I plan to bring to the borough president's office.
Constantinides: Too often, board appointments can be, "I know you, and you know me. You like me and I like you, and therefore, you are now on the community board." We need to make it a much more professional process. It's about having that office of diversity recruiting for the borough of Queens. It's about making sure that there is an interview process for everyone who applies. It's making sure we are looking at different skill sets beyond just, "Oh, you're part of the civic association." We want to make sure we are including everyone with different experiences and bringing their lived experiences to our community boards. In choosing members of the community board, we are making sure that we are sending letters to everyone, making sure everyone who wasn't picked is getting a letter saying here are other ways you can be part of your community. You can be part of your local council member's participatory budgeting. You can be an active member of the board, but you don't take a vote, but can come to all the meetings. There are ways to connect to civic culture beyond just the community board. When I took office, my community board chair had been there 39 years. We were able to turn that board over. 
Richards: I'm happy the Queens Daily Eagle cited Community Board 13, which is in my catchment area, as one of the most diverse community boards in Queens. When you talk about diversifying community boards, I supported term limits for members very early on. It wasn't the most popular thing to do, but in order to ensure that you're getting new blood, you've got to have term limits. I agree elected officials should have them too.
The other thing is transparency. We need to make sure that the application process is much more transparent. And I think we have an opportunity to open up the process too. I don't think the borough president should be the only one in the room making a decision. There's an opportunity to have a task force comprised of stakeholders to be determined on how we can make this process more transparent.
And lastly, reporting is critical. Without reporting data you can't have accountability.
Most of you have mentioned fixing public transit as a top priority of your campaigns. How exactly would you do this? 
Crowley: Since I left the council, I started an organization called the Friends of QNS, which is specifically there to take out old railroads – the Long Island Rail Road has a network of rails that were used just to move freight. At one point, these rails were moving passengers. By starting with the Lower Montauk Branch, which runs nine miles from Jamaica to Long Island City, we can open up service to transit-poor areas. Believe it or not, 85% of Queens is considered transit poor. Another rail line is called the Triboro extension, which the MTA is currently looking at to re-open up for passenger service. Whether it be a Triboro extension, Montauk Branch, or the Rockaway Beach right of way, there are over 20 square miles of transit access that can be opened up with little or no cost, in comparison to what these Manhattan projects like the Second Avenue line cost. What about us? What about us in Queens? It's time we get the resources we deserve. We have grown faster than planners could have ever imagined. This growth and transit provide opportunities not only for jobs but for real affordable housing. We need that today more than ever before, so when we look at opening up these lines, we must look at reducing the cost of Long Island Rail Road, running more trains on the Long Island Rail Road, and making it affordable for New Yorkers, as well as expanding our buses and not looking at ways of cutting them, like the MTA is currently doing. It's just not right. We need to stand up for our borough. 
Constantinides: Putnam County, 98,602 people – half my council district – has 1/4th of a vote on the MTA board. Westchester, Nassau and Suffolk each have a full vote on the MTA board. Our borough of Queens, we'd be the fourth largest city in the country, we have zero. So I've put forth the idea that we should have a board member appointed by every borough president. Short of municipal control, which (New York City Council Speaker Corey Johnson) proposed last year and I support, we need to have a seat at the table to make sure we actually have a vote on the board! Someone's job should be to draw a line around Queens and say this is not good for Queens residents. The bus redesign was made by people who don't live in Queens. They admitted in a public forum they made poor assumptions about how we ride our buses. Our buses are our lifeline. This should not be about assumptions. This should be about data and input, not assumption. Every public housing development in Queens lost a bus. So they obviously weren't talking to our public housing residents. The borough president must lead on transit, and develop a living document, a borough-wide transportation plan to bring everyone together to talk about these things. We just don't want to go to the airport. We just don't want to go to the train station. We want to see each other – get to a college, to a senior center and the library. 
Quinn: One of the things that the city does is they think in terms of gigantic projects that have to be done. Brand new things. We can't even keep the subways clean. The next time you are in the subways, just look at the paint peeling, the water all over the place, look at the dirt and the filth. Why do we have to have it? Why do we have to live like that? Instead, people are talking about taking billions of dollars for this project and that project. The LaGuardia AirTrain, is a mistake. It's a $4 to $6 billion project. That money could be spent much better on improving the transit we have. I think the MTA bus plan was a mistake. It's a work in progress, I understand, and I think the borough president can form a useful service in trying to get that plan to serve all people in Queens and not just certain areas in Queens. I think there's a lot of stuff the borough president can do, and I think it's important that the borough president gets involved in that. 
Miranda: I think the borough president can lead in the plan that's going forward by having an overall plan for Queens. Unfortunately, we were looking at this as a response to an emergency, and therefore, we have no holistic approach for improving the transportation system. You need an overall plan. I believe we should be moving to municipal control. Having a board member appointed to the MTA, that's a great thing. We're talking about having a permanent unit in the Queens borough office that deals with transportation issues. Again, this is holistic. Not just one community versus another, but what the impact is on every community in Queens, and how we're actually connected. Because we are not just talking about how we get out of Queens. We are talking about how we communicate with each other, how we travel within Queens to other family members and other businesses and other areas. I believe the Queens borough president can be a voice. We can't just go to the Manhattan hearings that they have. We'll have public hearings, and make sure that their voices are being heard and their complaints are being documented, and fairly.
Richards: I'll tell you what we've done. Expansion of ferry service to the Rockaways has been a huge hit. We need to see more of our waterways being used. We had a pilot for Lime Bike. I'd love to see more dockless biking opportunities. We need to see infrastructure investment to make sure we have safe streets for everyone. The MTA's bus plan is currently flawed. We need to revise that plan to increase service, not decrease service. The Atlantic Ticket is something we fought for in South Queens, where we get a discounted, $5 ticket to go into Atlantic Station. I want to see that expanded to every LIRR in Queens, but I also want this program to go into Penn Station, because a lot of people work in Midtown. And congestion pricing! Make sure the money is spent in Queens.
Most of you also have cited affordable housing as a top priority. What has Mayor Bill de Blasio done well on that front, and what should the city be doing differently? 
Richards: I've already shown what the city can do. You start with community visioning, community-based planning. The zoning taskforce gives us a key opportunity to bring stakeholders from around Queens to the table in respective districts to look at opportunities to grow. But the plans have to be comprehensive. It can't just be about housing. I was able to get $300 million of investment because my community has always had a lot of housing, but there hasn't been the investment and the infrastructure that we've historically needed. That's the way we get the ball rolling. You have to have leadership at the table that understands land use. And as a former chairman of the zoning committee, we have an expertise in it, we don't have to learn it.
Quinn: I grew up in the Ravenswood Housing Projects down in Long Island City. They are six-story buildings. Across the street, Queensview Houses, co-operative apartments built by the teachers union. They were 14 stories high. One of the things the mayor looked at was selling the air rights of the public housing project to private developers to build additional housing above the housing projects and maintain the housing projects. That is something that should really be considered. We have a city where lead paint was outlawed in 1995, and we still have city housing projects and apartments with lead paint in it. That's ridiculous. (New York City Comptroller) Scott Stringer did a study about two or three years ago about vacant lots in New York City that would be suitable for additional low-cost housing that could house 57,000 people. Some of those lots to have been vacant for 50 or 40 years!
Miranda: I think we change the conversation from affordable to responsible housing. Affordable has not been affordable for anybody who lives here in Queens. That's the reality we are facing. Responsible building means before allowing us to build, we do feasibility and environmental studies to see the impact it has on local resources. If all of our areas are already strained and you drop another hundred families in the middle without providing the infrastructure and the support that is necessary, you further overcrowd our schools, strain our system and you will also have less response time for hospitals and medical. This is just an overall burden that they keep increasing. Before we allow any more building, all of our elected officials have the responsibility to make sure they're affordable for our communities, 100%. And that community residents actually got priority over available housing. And it isn't just single-room apartments that they currently put up – when they say affordable, it's just one room, not two or three bedrooms for families that live here in Queens. So we have to be actively involved in this process. I think the Queens borough president plays a major role in that approval.
Crowley: When the mayor ran in 2013 and was elected, he ran on the tale of two cities. He was going to bridge income and equality and build real affordable housing. When it comes to affordable housing, he failed. Our homelessness rate has grown out of control. Tonight over 60,000 people are sleeping in a shelter. When it comes to affordable housing in Queens, we get less than 10% of the overall Housing Preservation and Development budget, yet, we're 30% of the city's population. This is nothing new. This has happened every year during de Blasio's administration. Either he cares more about the other boroughs and does not care as much about Queens. And growth in housing has been gentrifying neighborhoods like Long Island City, where it just seems like high-rise luxury development and not nearly enough affordable housing. There is a terrible imbalance. We need to make sure that we put a plan together for the whole borough to put housing in transit-rich areas.
Constantinides: The mayor's goal in creating or preserving affordable housing was a good goal to have. (Mandatory Inclusionary Housing) was, in theory, a good start. However, in practice, it hasn't worked out. It's affordable for whom? I think we have to be driving a lot harder bargains. Our city property should be 100% affordable. We are allowing rezoning on private lands, it has to be a hard bargain. I was proud that the New York Post called me a greedy progressive in 2014 for rezoning my community. We took the affordable housing from the way the mayor's office had it to 27%, when it was the largest at that time in city history. We made sure there were union jobs in construction and after construction. Honestly, anyone who worked in the buildings and built them should be able to afford to live in the community. We have to make sure there are infrastructure improvements, as we did there, with investments in libraries and senior public housing. We can't just be giving away this land without a hard bargain. 
Who are you supporting in the presidential race?
Constantinides: I had endorsed Elizabeth Warren. I am now supportingBernie Sanders.
Crowley: I haven't endorsed yet. Anybody but Trump. Any (Democratic) nominee will have my endorsement.
Miranda: We endorsed Bernie Sanders from the beginning and we haven't changed. We continue endorsing Bernie Sanders and supporting the campaign. 
Quinn: I am endorsing the least socialist candidate in the race. (Quinn confirmed earlier he is supporting Donald Trump.)
Richards: One presidency at a time. The nominee!
In one word, how do you expect your relationship with the mayor to be? 
Constantinides: I think we're going to have the same type of relationship we've had in the City Council. When we agree, we're going to agree, when we don't agree, we're not going to disagree – we disagree vigorously.
Crowley: Professional.
Miranda: Professional and accountable.
Quinn: Contentious.
Richards: Good and bad. The job of the borough president is to be the cheerleader and defender of the borough. 
True or false: Queens should have more bike lanes. 
Constantinides: True.
Crowley: True.
Miranda: True.
Quinn: Not sure. 
Richards: Yes, with comprehensive planning. 
True or false: Queens should have more dedicated bus lanes. 
Constantinides: True.
Crowley: True.
Miranda: True.
Quinn: True.
Richards: True. I supported the Woodhaven Select Bus Service plan. It worked out great.
Yes or no: Do you support the new state criminal justice reforms passed in Albany last year, specifically the elimination of cash bail in most cases? 
Constantinides: Yes. 
Crowley: I believe we need reform, but I don't support that. It needs to be changed.
Miranda: I support the elimination of cash bail.
Quinn: No, and that law should be repealed. 
Richards: Yes, I do. 
Yes or no: Do you support the Brooklyn-Queens Connector, Mayor Bill de Blasio's proposed streetcar line running along the waterfront? 
Constantinides: No.
Crowley: Yes.
Miranda: No.
Quinn: No.
Richards: Yes.
Yes or no: Do you support the proposed Small Business Jobs Survival Act, which would favor tenants in commercial lease renewals? 
Richards: No.
Constantinides: Yes.
Crowley: Yes.
Miranda: The answer is yes, and I'm endorsed by the Small Business Congress as well. 
Quinn: No. 
Yes or no: Should the Specialized High School Admissions Test, which is the sole criteria for admission into some of the city's top public high schools, be abolished? 
Richards: It should be reformed.
Constantinides: When I went to law school, there was a test that was part and not whole criteria, and in college, it was part of the criteria, not the whole criteria. I don't think it should be eliminated, but I don't think it should be the only thing that determines the specialization in school. 
Crowley: No.
Miranda: No.
Quinn: As a graduate from Brooklyn Tech, no.
Are there any groups/industries/individuals you will NOT take campaign contributions from? 
Richards: We're building a broad coalition. We have money from unions, real estate, everyday New Yorkers. Of course, no one who's unscrupulous. But if you're abiding by the law, we'll take your check.
Constantinides: We're confined with the New York Communities for Change pledge. No large real estate or real estate of New York. We have the lowest average donation of any of the candidates that have gotten matching funds. 
Crowley: As the most grassroots campaign of any of the candidates running today, we surpassed more than 2,700 individual contributions. I have not taken from big real estate. This is clearly a campaign driven by the people, people of Queens and New York City. 
Miranda: The question is so broad. If you're talking about real estate developers, no real estate developers, no hate groups, no bias groups, we aren't taking special interest money.
Quinn: I haven't had any contributions I've refused. 
Yes or no: If you lose, will you campaign for this office again in June when there are already primary elections scheduled? 
Richards: I'm petitioning now. I don't know how I wouldn't. I think I'll be on the ballot.
Constantinides: Yes, because there is a very broken system in New York City that has us petitio before we even know who the winner is. Yes, we are certainly petitioning right now. 
Crowley: Yes, we are collecting signatures right now to be on the ballot. 
Miranda: We are collecting signatures now, and we will be running, yes. 
Quinn: Quite frankly, I haven't decided that yet. I'll just see what happens in March.
Powered By
NEXT STORY: Hizzoner hops on the Bernie bro bandwagon