New York State
Would lawmakers leave Albany early because of coronavirus?
Officials say they have no plans to revise the session calendar.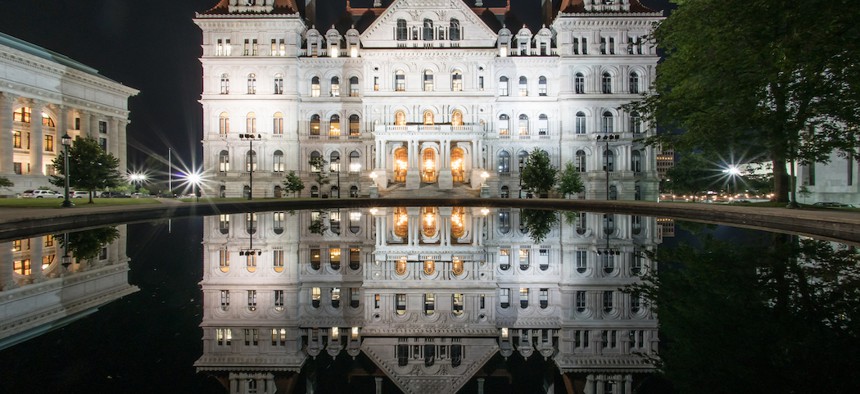 With less than three weeks until the April 1 state budget deadline, a big unknown is the extent which the coronavirus outbreak will affect activity at the state Capitol. 
The coronavirus outbreak is already affecting federal lawmakers' plans in Washington, D.C., increasing worries that the virus could soon pop up in Albany. State lawmakers say they have no plans to leave, but the same cannot be said for a growing number of activists who in a normal year would be roaming the halls of the state Capitol to advocate for various causes in budget discussions. Some groups have canceled events. Others have moved into digital spaces, including the New York Health Plan Association's forum this morning on rising insurance costs, and the Mental Health Association in New York State's legislative advocacy day, which it turned into a virtual conference. 
Lawmakers say they are staying in the Capitol despite the growing coronavirus outbreak in the state. "It is an anxious time," said Assemblyman Joe Lentol. "We have to be here. It's our job." There have been no discussions between with the governor on passing the budget early or otherwise adjusting the legislative calendar, Assembly Speaker Carl Heastie told reporters yesterday. There are no plans right now to alter the legislative schedule, though preparations are being made to make contingency plans if lawmakers have to be quarantined, state Senate Majority Leader Andrea Stewart-Cousins told reporters at the Capitol on Wednesday. "We have to really look at what we can do to help people during this time," she said. "Our constituents want to see us rise to the occasion."
But that could change if a case of coronavirus is confirmed in Albany. Federal lawmakers like Rep. Jerry Nadler have urged House Speaker Nancy Pelosi to end the session early. That pressure may only increase on New York leaders to do the same in the coming weeks. 
Powered By
NEXT STORY: Should NYC cancel the St. Patrick's Day parade?