Coronavirus
New Yorkers are struggling with mental health issues
But the city and state have resources available for those in need.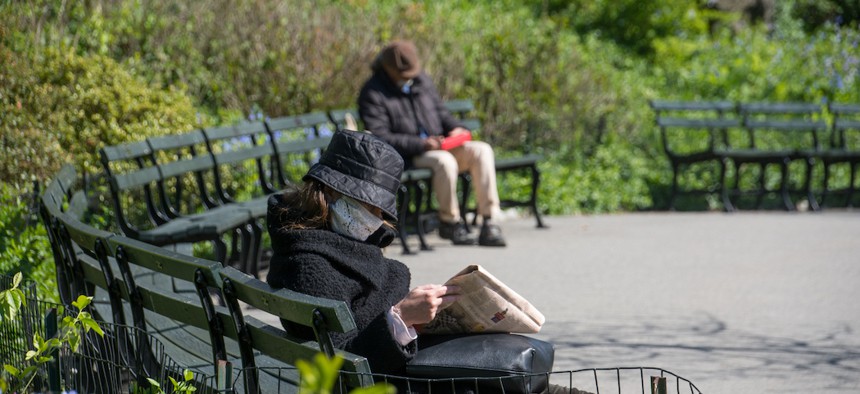 Dr. Lorna M. Breen, the medical director of NewYork-Presbyterian Allen Hospital's emergency department, located in Manhattan, died of suicide on Sunday.
It's presumed that Breen's death was the result of the heavy emotional toll that treating extremely ill COVID-19 patients had on her, The New York Times reported. "She tried to do her job, and it killed her," Breen's father, Dr. Philip C. Breen told the Times.
As the New York City area's worst-in-the-nation coronavirus outbreak marches on, medical workers have spoken about the emotional hardships they've had to endure. They've witnessed their patients die in isolation, watched as other wings of their hospitals got converted into intensive care units and noticed body bags filled with coronavirus victims pile up. New Yorkers are confronting mental health issues, such as anxiety and depression, even if they're working on the front lines of the crisis. 
Most of the state's residents, especially those in or near New York City, are now confined to their homes, have minimal interactions, if any, with other people. Some are facing serious economic struggles. Many have been furloughed, laid off or had their salaries cut. Numerous individuals have reported stressful experiences, such as difficulty filing for unemployment insurance on the state's Department of Labor website. Loneliness is intensifying. 
Many have lost loved ones to the virus without the chance to say goodbye. Living through a pandemic and being stuck in isolation can result in numerous negative psychological effects, including Post Traumatic Stress Disorder, especially as lockdown measures drag on.
Last week, Gov. Andrew Cuomo remarked that an entire generation of New Yorkers will probably have PTSD after living through this pandemic. "The pressure that people are under is phenomenal. It is traumatic," Cuomo said during an appearance on Comedy Central's "Daily Show." 
"This is traumatic. This is PTSD for an entire generation that will talk about this," he continued.
People across the U.S. are suffering from anxiety and depression directly correlated to the coronavirus outbreak. The Substance Abuse and Mental Health Services Administration's Disaster Distress Helpline, which is accessible to people all over the country, saw an 891% increase in call volume this March, compared to March 2019.
Experts have also indicated that individuals with pre-existing mental health conditions, such as anxiety, depression and substance abuse disorders, are more likely to have difficulty managing their conditions. And there are fears that psychiatric medicine will become less accessible as the country faces a drug shortage amid the pandemic. 
"The full impact of the pandemic on people managing mental disorders will only become clear with time, experts have said, and will likely vary widely by individual, depending on the severity of the distress, family support and resources," the Times' science reporter Benedict Carey writes.
On March 21, Cuomo asked mental health care professionals to volunteer to help the state launch a hotline for those dealing with mental health issues. Four days later, over 6,000 different mental health professionals signed up to work the hotline. 
"We talk about the economic consequences, but we also need to talk about the social consequences," Cuomo said during a press conference on March 21. "But the stress, the anxiety, the emotions that are provoked by this crisis are truly significant, and people are struggling with the emotions as much as they are struggling with the economics."
"They're nervous, they're anxious, they're isolated. It can bring all sorts of emotions and feelings to the surface," he added. "When you're isolated you don't have people to talk to."
The state has also offered its residents other resources, such as free access to meditation apps. New York City also has a hotline – that gives individuals the option to text with trained professionals – for those struggling with their mental health, and has sent frequent updates about what mental health support is available to residents who have signed up for the city's COVID-19 text alerts. These city and state resources are easy to access but it's unclear how much they have helped individuals struggling at the moment.