Campaigns & Elections
NY Democratic presidential primary canceled
Progressives angry at decision to boot Bernie Sanders off ballot.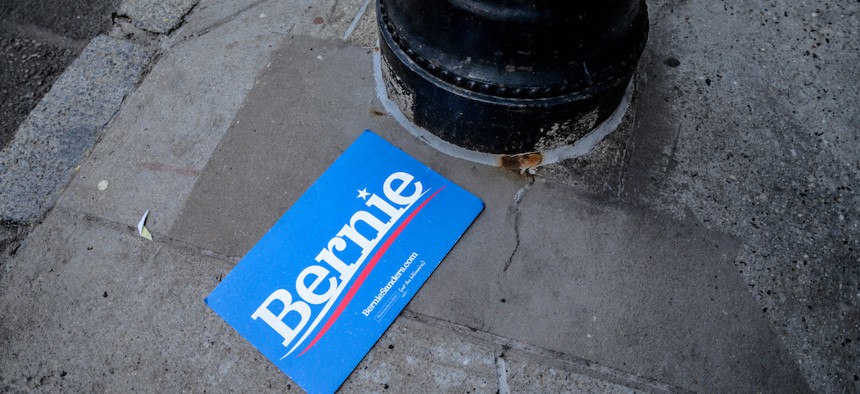 Following a vote by the Democratic-appointed commissioners of the state Board of Elections, the June 23 Democratic presidential primary has been canceled. All other state and federal primaries scheduled that day will still take place.
The Board of Elections' Democratic Co-chairman Douglas Kellner and Democratic Commissioner Andrew Spano both voted to adopt a resolution removing all candidates who dropped out or suspended their campaigns from the ballot, including U.S. Sen. Bernie Sanders. Leaving only former Vice President Joe Biden, the presidential primary was canceled. The authority to do this came from a provision in this year's state budget that was passed at the beginning of April.
Sanders' supporters had urged Kellner and Spano not to remove him from the ballot in order to allow the Vermont senator a chance to continue amassing delegates. Sanders himself said he intended to remain on the ballot in all states that he had qualified for so that he could gain more delegates, and thus more influence at the Democratic National Convention, where the party platform and rules are decided. Sanders' campaign wrote a letter to the state Board of Elections asking that he not be removed.
During the Board of Elections meeting on Monday where the decision was made, Kellner said that he read the letter from the Sanders campaign, along with thousands of emails from supporters asking that Sanders remain on the ballot. But Kellner said those supporters wanted  a "beauty contest" because the "presidential contest is over." He said continuing with the primary, despite Sanders suspending his campaign and endorsing Biden, would be " unnecessary, and indeed frivolous."
Spano, in explaining his vote, said he "thought long and hard" about what to do, but ultimately decided that voter and poll worker safety was of utmost importance during the coronavirus pandemic, so he wanted to "minimize the risk" of spreading COVID-19 by canceling the primary. 
A number of poll sites across the state will no longer need to open because the presidential primary was the only race on the June 23 ballot. According to Jay Jacobs, chairman of the state Democratic Party, about a third of counties won't need to open any polling places, and areas of other counties won't need to either. "We closed all nonessential businesses in New York … to protect people," Jacobs told City & State. "I think we should do the same thing for all nonessential elections. And if this isn't an example of a nonessential election, I don't know what is because we know the result."
Many polling sites will remain open for state and congressional elections, but Jacobs added that without the presidential primary, counties could likely decrease the number of poll workers needed to handle a lower number of voters. The decision will also save both the state and affected counties money at a time when local governments are facing major budget holes and revenue shortfalls.
The move was met with immediate anger by Sanders' supporters and progressive activists. "New York's Democratic Party just sent a clear message to progressives that their voice and their values do not matter," Working Families Party State Director Sochie Nnaemeka said in a statement. "Voting for Bernie Sanders would have allowed New York's progressive voters to send progressive delegates to the convention so we could have a voice in shaping the Democratic Party platform that we know we need at this moment."
Without a primary, it's now up to the state Democratic Party to vote on which delegates go to the convention. Much of the Democratic establishment in New York supports Biden. However, Jacobs told City & State that he would like to work with both the Biden and Sanders campaigns to find a way to fairly allocate delegates to both candidates. "The whole purpose of what we did is not political, it's health-related," Jacobs said. "It wasn't to cut out all of Bernie Sanders' delegates, that was never the intention." Jacobs said that there is a state committee meeting in early to mid-July, so the vote on delegates would likely come before then.
On Twitter, progressive congressional candidate and Sanders supporter Lauren Ashcraft called the move "absolutely shameful" and suggested that Sanders should sue to get his name back on the ballot. In a statement, Sanders' senior adviser Jeff Weaver called the state Board of Elections decision "an outrage, a blow to American democracy, and must be overturned by the (Democratic National Committee.)"
Progressives, and the Sanders campaign, also questioned why, if there is concern about poll worker and voter safety, New York could not simply keep polls closed and implement a vote-by-mail system, like Ohio. Gov. Andrew Cuomo has issued two executive orders in order to make it easier for people to vote absentee. One expanded the application criteria so that the "illness" provision includes the risk of contracting COVID-19. The other mandated that an application be sent to every eligible voter in the state. However, directly mailing ballots would violate the state constitution, according Secretary to the Governor Melissa DeRosa. It would take a constitutional amendment to implement a true vote-by-mail system that allows anyone to vote absentee without providing a justification.
As the good-government group Common Cause New York pointed out, closing polling sites, even with comprehensive mail-in voting, stands to disenfranchise voters, especially if the change is made with little notice. Sarah Goff, the deputy director of Common Cause New York, said voters should have options, so if anything goes wrong with applying for or receiving a mail-in ballot then that person can still vote in person. For example, officials in Ohio have said some voters will not receive their ballots in time to vote, forcing those voters to go to the one polling place in each county with the possibility of long lines.
Replacing in-person voting with voting by mail could also overwhelm local boards of elections, again like in Ohio, which have never handled anything like this before. "Can we get there? Yeah, I think so," Jacobs said of the state's ability to hold a completely mail-in presidential primary. "Right out of the box, eight, 10 weeks in advance? No."