Coronavirus
Prominent New York politicos lost to COVID-19
The virus has killed thousands in the state, including activists, judges and former legislators.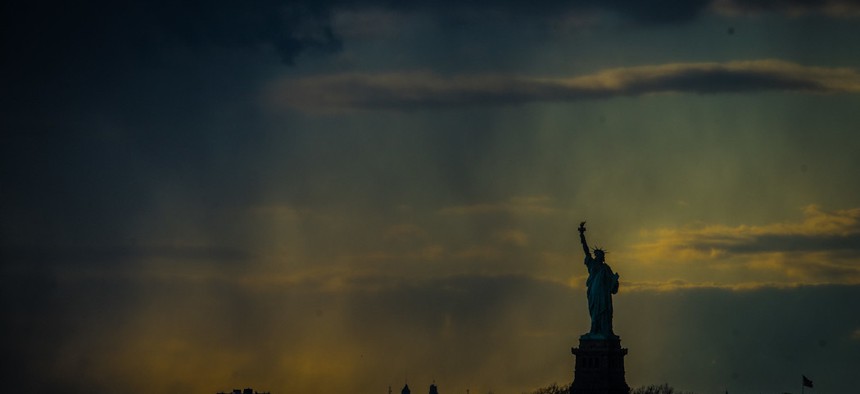 Dutchess County Executive Marc Molinaro announced the death of his father, Anthony, from COVID-19 on April 10. "What I can tell you is that there are families all across our community who are struggling hard," the 2018 Republican candidate for governor said. "This crisis is affecting everyone."
Though there are troubling racial and economic disparities, the virus has reached people in all parts of society. By early March, several prominent New York politicos, including members of the New York City Council and the state Assembly, had announced they were infected with the new coronavirus.
New York public servants are also among the thousands who have died from the disease. On April 8, former Assemblyman Richard Brodsky, from Westchester, died after experiencing COVID 19-like symptoms. The new coronavirus was initially believed to be the cause, but Brodsky tested negative for the virus and his death certificate stated heart attack as the cause of death. False negatives are possible, however, and his family reportedly believes he was infected. Brodsky served in the Assembly for 14 terms, and was also a contributor of op-eds to several local news outlets, including City & State. He was 73.
Here is a list of some New Yorkers who played a prominent role in politics, government or advocacy who have died from the coronavirus. 
Justice Noach Dear, 66
Noach Dear served as a New York City councilman for about two decades beginning in 1983, representing Midwood and parts of Borough Park and Bensonhurst. He was a conservative Democrat who drew attention for his stance against gay marriage and his questionable uses of campaign and private funds. Dear later served on the New York City Civil Court from 2008 to 2015. He was elected to the Kings County Supreme court in 2015. He was an occasionally controversial advocate for the Orthodox Jewish community, of which he was a part. Dear spent weeks in the hospital battling COVID-19 before he died on April 19. Many other cases of COVID-19 have also been linked to the Brooklyn courthouse. 
Justice Johnny Lee Baynes, 64
Johnny Lee Baynes was elected to the Kings County Supreme Court in 2011. He is remembered as a cool-headed judge and, according to the Brooklyn Eagle, former colleagues called him a "gentle giant." He formerly served as a staff attorney at the New York City Housing Authority and the District Council 37 union. He died on March 26 of pneumonia related to COVID-19. 
Arlene Stringer-Cuevas, 86
Arlene Stringer-Cuevas was the first woman to represent Washington Heights on the New York City Council, having previously served as a Democratic district leader for the area. Later in life, she married former City Clerk and Deputy Bronx Borough President Carlos Cuevas.Her son, mayoral hopeful and New York City Comptroller Scott Stringer, wrote on Twitter, "The loss I feel today is incalculable. My mother showed me at an early age the importance and the great challenge of public service." Stringer-Cuevas died in the Bronx on April 3. 
Michael Sorkin, 71
Michael Sorkin was an architect and a leading public intellectual in the field of architecture. He gained fame for his radical political takes on design, articulated in criticism in the Village Voice in the 1980s and 1990s. More recently, he founded an equitable urban design nonprofit organization and wrote for The Nation. He died on March 26.
Judy Richheimer, 70
Judy Richheimer was an advocate for tenants' rights and the protection of historic landmarks in Chelsea, who also served as president of the Chelsea Reform Democratic Club. She was remembered by several elected officials, including on Twitter by New York City Council Speaker Corey Johnson and Rep. Jerry Nadler. She died on March 24 after being hospitalized for four days.
Lenin Fierro, 42
Lenin Fierro was director of fleet safety and Vision Zero initiatives for the New York City Department of Citywide Administrative Services. He oversaw the training of some 60,000 city employees in safe driving and led an outreach initiative to high school students as part of a partnership with the city education department. Fierro was a Navy veteran who immigrated to the United States from Ecuador. He died on March 31.
Tarlach MacNiallais, 57
Beginning in the 1980s, gay and disability rights activist Tarlach MacNiallais crusaded for LGBT inclusion in the annual New York City St. Patrick's Day Parade on Fifth Avenue. An immigrant from Ireland, he eventually helped to organize the alternative St. Pat's For All Parade in Queens. He died on April 1.
Lorena Borjas, 59
Lorena Borjas was a prominent advocate for New York City trans women in many ways, whether she was bailing them out of jail or founding a nonprofit organization to support them. Borjas died in Brooklyn on March 30.
Editor's note: This story has been updated to reflect more recent information about Brodsky's reported cause of death.