Campaigns & Elections
Here's who's to blame for Tuesday's disenfranchisement
Many voters never got their absentee ballots. And it's not just the boards of elections at fault.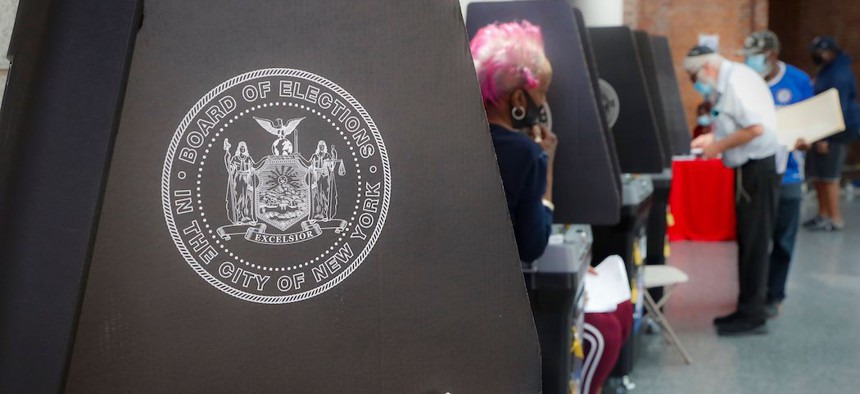 As Tuesday's congressional and state legislative primaries approached, many politically engaged New Yorkers have confronted the reality that they will not be able to vote. Due to widespread failures in their local election boards – and a governor and state Legislature unconcerned with protecting their constituents' constitutional rights – a vast but unknown number of voters who requested absentee ballots have not received them. 
On Sunday, a volunteer for Brooklyn congressional candidate Adem Bunkeddeko told City & State that of the voters she has been calling since Friday, approximately 40% who requested absentee ballots have not received them. "I've talked to tons of people who haven't received their ballot, which is insane because the last day (to send it in) is (Monday)," said the young woman, who requested anonymity because she was not authorized to speak to the press. (Technically, the last day a ballot can be postmarked is Tuesday, but voters who are not able to get to the post office would realistically have to mail it out by Monday night to guarantee getting a postmark in time.)
As is typically the case with voter disenfranchisement, the failure to send ballots seems to have fallen disproportionately on marginalized communities. "When I've spoken to non-English speakers, or immigrants, it seems like a lot of communities weren't told about it," said the Bunkeddeko volunteer, referring to Gov. Andrew Cuomo's April 24 order that forms to request absentee ballots would be mailed to every eligible voter and his earlier April 9 orderthat fear of contracting coronavirus at a polling place was an acceptable reason to claim medical necessity. 
But this disenfranchisement is by no means limited to any one community. Among the people who told City & State that they requested absentee ballots but never received them are prominent political commentators who live in Manhattan, including The Nation's Katha Pollitt and Joan Walsh, and Jeffrey Toobin of The New Yorker and CNN. Toobin's wife Amy McIntosh, CUNY's former associate vice chancellor for academic strategy, did not receive her ballot as of Sunday. City & State contributor Lindsay Beyerstein and novelist Emma Straub, who both live in Brooklyn, did not receive their requested ballots. Neither did notable New Yorkers such as Streetsblog founder Aaron Naparstek and singers Suzzy Roche and her daughter Lucy Wainwright Roche. 
Why did this happen? Local boards of election, especially New York City's, that routinely disenfranchise New Yorkers have unsurprisingly failed at their task. And that task was made more difficult by inaction on the part of Gov. Andrew Cuomo and state lawmakers who collected checks while failing to do any legislative work for months. 
After Cuomo announced that he had expanded absentee voting across the state, he included no detailed plan and only minimal assistance to help local boards of elections implement his new mandate, despite the fact that local boards of elections knew that they would be overwhelmed by a record number of requests. The extent of his assistance was allowing boards to contract more quickly for needed supplies and equipment. Boards did not receive extra funding from the state, and the money that came from the federal government through the Coronavirus Aid, Relief, and Economic Security Act was hardly enough to cover the costs associated with both ensuring voter and poll worker safety and the burdens of expanded mail-in voting. The 58 boards of elections in the state split about $20 million in emergency federal funding.
Neither Cuomo nor the state Legislature, which was largely absent following the passage of the state budget in early April, proposed plans to increase funding for boards to handle the additional requests and hire temporary election workers to bulk up small staffs not designed for elections with a large amount of absentee voting. Spokespeople state Senate Majority Leader Andrea Stewart-Cousins and Assembly Speaker Carl Heastie did not return requests for comment. Jason Conwall, a spokesman for Cuomo, pointed to the executive order cutting red tape for local boards to acquire equipment absentee ballots when asked why the governor did not do more to provide financial support. He otherwise placed the burden to implement Cuomo's absentee expansion squarely on the boards of elections. "The Boards of Election have had more than two months to prepare for and implement the mail-in ballot initiative and ensure that every New Yorker is able to exercise their right to vote, whether in person on election day and during early-voting, or by absentee ballot," Conwall said in an email to City & State.
The failure to carry out Cuomo's plan began as soon as the request-for-absentee-ballot forms were mailed, including ballots being sent to the wrong address. "Some folks in Westchester (like my wife) had their ballot mailed to the correct street but wrong town," journalist and Irvington resident David Kaplan said on social media, although his own ballot arrived without a hitch. "Somehow the ballot got to her, but it presumably would be invalid if mailed in," Kaplan noted, since she would be voting from a nonexistent address. The Bunkeddeko volunteer also said that "a lot of people are noticing that it went to the wrong place," meaning voters never got a request for an absentee ballot form because it didn't go to their current address.
Kaplan is half of one of many couples in which one partner received a ballot and the other partner inexplicably did not. Brooklynite Emily Bona-Cohen said she got her ballot but her husband, who requested his earlier, did not receive his. 
None of this was unforeseen. On June 11, The City reported that while most boards of elections across the state had sent out the vast majority of ballots so far requested by late May, only 54% of voter requests to the New York City Board of Elections had been filled by then. Boards of elections began processing applications weeks earlier, and requests for ballots had a deadline for being mailed as late as June 16, when that would obviously be too late to reach the election board and prompt it to send out a ballot in time to reach the voter by June 22. The 243,000 requests the New York City Board of Elections had as of May 29 grew to about 708,000 by June 17, according to The New York Times. The newspaper reported that roughly 29,000 people had not been mailed ballots as of that date. The city Board of Elections did not return an email from City & State requesting the most recent data on the total number of applications and how many ballots had been mailed. 
What's more, some number of people have not yet received a ballot despite it having been mailed, although just how many is unknowable. The New York City Board of Elections told one of the authors of this article that his ballot was mailed on June 18 – even though he had sent his request in on May 31 – but he had not received his ballot as of Monday. 
Of course, the city BOE has a track record of failing to carry out the basic tasks of election administration. After the November 2018 election featured long lines and malfunctioning machines, City Council Speaker Corey Johnson called on board director Michael Ryan to resign. And yet, Cuomo and the state Legislature seemed to think it would be able to carry out this large new responsibility – or perhaps they knew it wouldn't and just didn't care. "We have four voters in our household in northern Manhattan," John Kaehny, executive director of the government good government group Reinvent Albany, told City & State via email on Monday. "We got four requests for ballots from NYC BOE about three weeks ago. We all requested ballots, and put all the requests in the mail slot the next morning. As of today, we've received half the ballots we requested, plus our neighbor's with a wrong address. I have heard numerous similar stories from friends and colleagues. The fundamental problem is that the NYC BoE and State BoE have a completely dysfunctional management structure, with governance split between Democrats and Republicans and organizations stuffed with incompetent, technologically illiterate patronage hires. It's designed to fail and it's failing."
New York City Mayor Bill de Blasio also said on June 17 that the city Board of Elections was in need of a massive overhaul in light of how it was handling the flood of absentee ballot applications. "I think it is time to abolish the board as it is currently constituted, make it a modern agency," de Blasio said. "I think the notion of it being an independent agency has correlated with it being unaccountable and ineffective." A spokeswoman for the city Board of Elections did not return a request for comment about how it has handled absentee ballots for the primary election, nor about accountability among staff and commissioners for disenfranchisement that is occurring due to its failures to mail out ballots in time.
Other states offered early warning signs as well. Reports poured in from aroundthecountry for months about boards of elections failing to get ballots mailed in time, and of thousands who in turn received ballots too late to vote. Cuomo on June 7 signed into law a bill that extended the deadline to mail in absentee ballots by a day, allowing them to be postmarked by the day of the election rather than the day before. But that extra day is a cold comfort now for New Yorkers who have still not received ballots, despite evidence that overwhelmed boards of elections and post office delays could interfere with timely absentee voting. The sponsors of that bill, state Sen. Zellnor Myrie and Assemblywoman Aravella Simotas, did not immediately return requests for comment about why their legislation did not extend the deadline further.
The New York City Board of Elections disenfranchised the same City & State author in 2000, when his twice-requested absentee ballot simply never came at all. It did not respond to questions as to why it waited until June 18 this year to send his ballot. The Board of Elections is telling voters whose absentee ballots never came that they can vote in person, but it has not answered questions from City & State as to how disabled, elderly or immunocompromised people who cannot safely vote in person this year would be able to do so without receiving their absentee ballot. 
The city's Board of Elections' Twitter account on Monday responded to countless complaints from people yet to receive a ballot. Douglas Kellner, Democratic co-chair of the state Board of Elections, told the Times that any ballots sent later than June 19 were certain not to have them by June 23. John Conklin, spokesman for the state Board of Elections, told The City a week earlier that unless ballots were mailed by roughly June 17, they would not arrive on time.
Yet Cuomo, the Legislature and the boards of election did nothing. On April 8, when Cuomo announced that anyone in the state could apply for an absentee ballot, he said he wanted to avoid the long lines he saw in other states holding primaries during the pandemic. "People shouldn't have to make that choice and, by executive order, all New Yorkers can vote absentee on the June 23 primaries coming up," he said at the time. 
But not all New Yorkers could vote absentee, because their ballots never came. And now some unknown number of disabled, elderly or vulnerable New Yorkers will be unable to vote because of that – not to mention those who are not even in the state right now.
Cuomo could issue a last-minute executive order, extending the deadline to postmark a ballot until several days after the election, and the deadline for when boards of elections must receive them. Right now, ballots received after June 30 will not be counted, regardless of when they were postmarked. But the governor has given no indication he would do so. Conwall referred to the law extending the deadline by a day when asked about Cuomo potentially giving voters more time to mail in their ballots.
Of course, not every county in the state is struggling. As state Sen. David Carlucci, a congressional candidate, recently pointed in a press release calling for an extension to return absentee ballots, Westchester County had been mailing ballots in a rolling and timely fashion, according to data he received through a Freedom of Information Law request. Rockland County, on the other hand, didn't send the vast majority of ballots until June 15 or later. This discrepancy could harm Carlucci in his race for the Democratic nomination in the 17th Congressional District, since his name recognition and support are stronger in Rockland County. 
Rockland County Democratic Commissioner Kristen Zebrowsky Stavisky did not respond to a request for comment, but a recording for her voicemail assured those calling about absentee ballots that they would arrive the week of the 15th.
Nor are the easily foreseeable problems with conducting the primary election limited to the absentee ballot problems. Some political leaders also are concerned that New York City polling places won't open on time, at 6 a.m. on Tuesday, because the subways don't start running until 5 a.m., per a Cuomo order. Brooklyn Democratic Chair Rodneyse Bichotte issued a statement on Monday calling on Cuomo to open the system an hour earlier. "It takes an hour to open the polls, and this year requires extra time because of social distancing and PPE mandates," Bichotte wrote. "No one should be denied the right to vote before going to work because the poll sites could not open on time at 6 am." 
Conwall did not say whether the governor would allow subways to open earlier than 5 a.m. on Election Day, but he said public transportation would be free for poll workers, and that for-hire vehicles would be made available for those who live farther away.
Cuomo has not yet said whether he will once again expand absentee voting for the November election. Earlier planning might help to avoid a repeat of the primary's failures during a presidential general election that will have a much higher turnout. "Heads should roll," Kaehny said. "The state Legislature and governor have to act or this November's election is going to be a total fiasco."