New York City
Protests continue to rock New York and lawmakers respond
Rounding up the week's political news.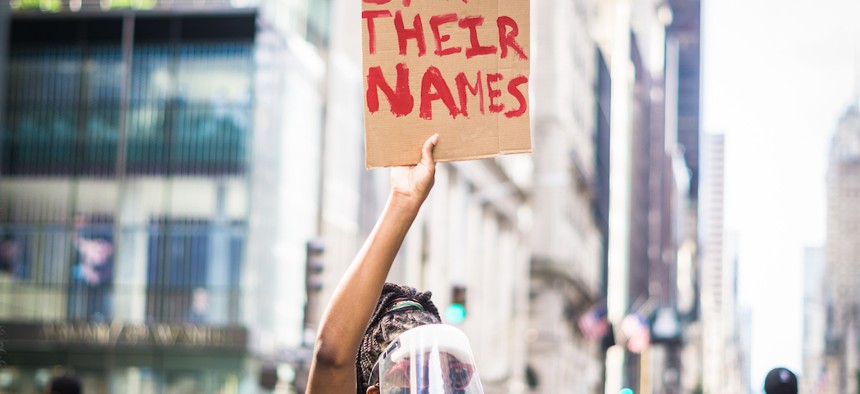 Now that we're in June, the year is almost halfway done, but it seems more like a decade has passed since January. President Donald Trump's impeachment trial in the U.S. Senate feels like a lifetime ago. Four months later, an event that any other year would have had a lasting presence in the news cycle during a presidential election year barely feels like an afterthought. Yes, there are still elections later in June and in November too. Remember the crazy poster that Gov. Andrew Cuomo commissioned that gave local politicos a good laugh? That was in January. The past week alone was at least a year long. Here's what happened.
Protests rock New York under curfew
Protests in New York City and across the state continued throughout the week following the police-involved death of George Floyd in Minneapolis. They are part of demonstrations happening in towns and cities in all 50 states. Gov. Andrew Cuomo and New York City Mayor Bill de Blasio announced early in the week an 11 p.m. curfew for the city after other parts of the state had instituted their own curfews as well. Within a day, de Blasio moved that curfew up to 8 p.m. At the beginning of the week, the city saw extensive property damage and looting, although it largely subsided after the curfew was put in place. However, violent confrontations between police and demonstrators continued. Countless videos showed officers using force, including pepper spray and batons, against what appeared to be peaceful protesters. State Sen. Zellnor Myrie and Assemblywoman Diana Richardson were among those who police pepper-sprayed. Hundreds were arrested, many of whom were held for over 24 hours in crowded jail cells as they awaited booking. Photos and videos show police went after journalists displaying press passes – who were exempt from the curfew – other essential workers, and even medics and legal observers. In one protest in the Bronx, police cracked down on protesters at exactly 8 p.m. in what one reporter on the scene called "a trap." NYPD Commissioner Dermot Shea said that the protest was advertised as violent and that the police responded accordingly. Shea also pleaded for the safety of officers, several of whom he said had suffered injuries. Those included an officer who was stabbed in the neck and two others who were shot in their hands during an attack in the Bronx, although it did not appear the attack was directly related to protesters. Shea said that he has not heard about any protester getting seriously injured, but that there would "probably be a couple of officers suspended" for misconduct.
Praise for police from the top
Throughout the week, both de Blasio and Cuomo largely praised the police response to the protests. De Blasio repeatedly said police for the most part demonstrated great restraint. The mayor was resoundly booed when he stepped up to speak at a memorial service for George Floyd in Brooklyn. When asked about a viral video showing police accelerating into a crowd of protesters, de Blasio said the incident and other potential incidents of misconduct would be investigated, but defended the police action nonetheless. Although Cuomo said at one point that officers had failed to do their jobs, the comment came after a night of looting. A day later, Cuomo walked back that criticism and said officers were largely acting appropriately. However, he announced that state Attorney General Letitia James would look into the police response to the protests. Reporters at one point asked both leaders about widely circulated videos of what appeared to be police brutality toward protesters, and they both said they hadn't seen them. Cuomo even called the very question "offensive" and that it used "incendiary rhetoric." De Blasio on another day said that he had attended protests but had seen "no use of force at peaceful protests." Many of the videos documenting instances of police use of force were brought to the attention of James, whose Twitter account often confirmed that her office was aware of them.
The legislative response
A number of lawmakers at both the New York City and state levels are committing to passing police reform measures, and de Blasio and Cuomo to varying degrees have supported recent pushes to implement reforms. One of the biggest pieces of legislation at the state level is a bill to repeal Section 50-a of the Civil Rights Law. It currently prevents police disciplinary records from being released to the public, and critics have long said it stands in the way of police transparency and accountability. Cuomo has said he would sign a bill reforming that law, but did not say he would support legislation fully repealing it. Another bill would ban the use of chokeholds across the state. The move is already prohibited by the New York City Police Department. New York City Council Speaker Corey Johnson said the council would vote on a bill to criminalize the use of a chokehold by police officers. He said it has enough support to override a mayoral veto. De Blasio has said he would support the bill if it includes a life-and-death situation exception, which a new version of the bill does not include. Additionally, a growing number of city lawmakers are calling for a significant cut to the NYPD's budget, particularly in light of the massive budgetary shortfall facing the city. Some have even said they would not vote for a budget that did not slash police funding.
Buffalo police caught in a lie
Buffalo police were caught on camera shoving a 75-year-old man to the ground after he approached several officers. His head made a loud sound as it hit the concrete, and he was visibly bleeding as a parade of officers walked past him without providing aid. In an initial statement, the Buffalo Police Department said the man tripped and fell, but the video showed an officer pushing him. Soon after, the department suspended two officers involved in the incident and the county district attorney launched an investigation. Cuomo responded in statement, calling it "wholly unjustified and utterly disgraceful."