Eliot Engel
Is Rep. Eliot Engel the next Joe Crowley?
The Bronx, Westchester congressman looks vulnerable to progressive primary challenger Jamaal Bowman.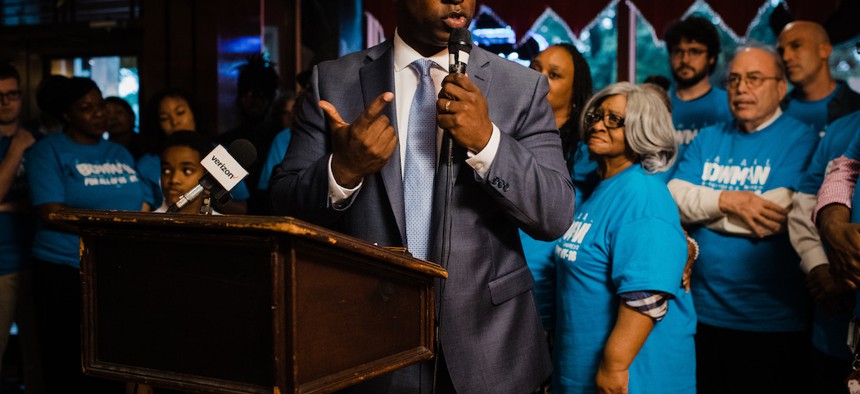 Most of New York's congressional delegation stayed at home in their districts, alongside their constituents, during the coronavirus pandemic – but not Rep. Eliot Engel – despite representing parts of the Bronx and Westchester County, two hard-hit areas. The congressman has been at his home outside Washington, D.C., since late March, according to an article published by The Atlantic in mid-May.
A campaign spokesman defended Engel afterward, stating: "Unlike his opponents, he hasn't used the tragedy of this pandemic to take cheap shots, lie about anyone's record, do photo ops, or engage in angry Twitter wars like too many politicians do these days."
But this week, Engel returned to his district to do photo ops. At a local press conference on Tuesday, addressing recent protests against police brutality and racism, the congressman asked to speak and was caught on a hot mic saying, "If I didn't have a primary, I wouldn't care." 
Engel later clarified in a statement that he only brought up his reelection to emphasize the importance of people understanding his position. But his comment may have only made him more vulnerable. His leading challenger, Jamaal Bowman, raised more than $107,000 on the day Engel's comment went viral. 
And the left was already coalescing behind Bowman. On Monday, fellow progressive primary candidate Andom Ghebreghiorgis dropped out and endorsed Bowman. Dave Wasserman, an editor at The Cook Political Report, said on Wednesday that Engel may be the next House incumbent to be in danger of losing a primary.
Having been in Congress since 1989, Engel is contending with his first competitive primary in years. Bowman has already been painting Engel, the chairman of the House Foreign Affairs Committee, as a Washington insider who is out of touch with his district's needs. "The narratives don't look particularly good for Engel, and not even that he's just out of the district, but that he could be the Joe Crowley of 2020," said Jeanne Zaino, a political science professor at Iona College.
Filings from the Federal Election Commission show that Engel has raised close to three times the amount that Bowman has in this cycle, allowing Engel to more easily invest in mailers, advertising and other remote voter outreach.
Historically, that would be a big advantage, but experts say that money may not matter as much when online activists can get the word out about an underdog. "The money matters – no question there," Zaino said. "But given the changes in campaigning we're seeing, and campaigning style, it's a matter of are you spending that money in ways that help you? And the fact is, when so much has moved online, challengers have the benefit of being able to reach people in ways that aren't particularly costly."
Bowman's Facebook page has close to six times the number of followers that Engel's campaign page does. The disparities on Twitter are even more dramatic, where Bowman has amassed more than 36,000 followers and Engel has only about 230. Engel's social media presence on his official congressionalaccounts are much larger – with more than 52,000 followers on Twitter and about 62,800 on Facebook – but those accounts aren't able to boost his primary run.
And then there's the coronavirus and the unknown ways in which it may scramble the election. New York's 16th Congressional District includes New Rochelle, the site of one of the earliest coronavirus outbreaks in the state. Most members of New York's congressional delegation from downstate have been in New York during the pandemic. In early May, the Engel campaign's Twitter account falsely featured an announcement that he would be joining other officials for a free mask giveaway in Mount Vernon. "There was an inaccurate tweet, since deleted," an Engel campaign spokesman said in a statement.
Bowman, a middle school principal, has contrasted that with his activity in the district – combining virtual campaigning with in-person engagement like volunteering at local food banks and rallying with nurses. "Eliot Engel's absence is deplorable and unacceptable," he told City & State. "The first job of any leader is to show up and be present."
Engel's campaign has said that he's been busy legislating in Washington, D.C., and the congressman fired back at Bowman's assertions in a virtual debate on Wednesday.
"The fact of that matter is you were paid for being a teacher or a principal," he said. "I don't denigrate that work that you do, but everything else in the community – you were nowhere to be found. When you decide you wanted to run for Congress, suddenly you're there."
Engel weathered his last primary challenge in 2018 easily, beating three contenders by winning 74% of the vote. But Bowman has more momentum and endorsements than any of those challengers did, thanks in part to a strategy of riding the wave of Trump-era progressive energy. Bowman's platform includes support for "Medicare for All," the Green New Deal and the dissolution of U.S. Immigration and Customs Enforcement. His presence has been elevated by media attention and a wave of notable endorsements from the Working Families Party, Justice Democrats, the state's largest nurses union and, most recently, Rep. Alexandria Ocasio-Cortez. 
Despite Westchester County's perception as a largely white, wealthy suburb, that isn't entirely the case in the 16th District, which covers the county's southernmost towns and cities. Around two-thirds of the district's population is in Westchester and one-third is in the Bronx. Although 35% of residents in the district are white, nearly one-third are black and more than a quarter identify as Hispanic or Latino. It includes the affluent suburban towns of Scarsdale and Rye, but also Yonkers, the fourth-largest city in New York state, and smaller cities with diverse populations such as Mount Vernon. The district also encompasses part of the Bronx, the poorest borough in New York City, though its northern reaches such as Riverdale tend to have higher incomes than the neighborhoods further south. Overall, the 16th District skews heavily Democratic, aside from small pockets of Republican-leaning affluent suburban pockets.
In some ways, the shift in demographics seen in the district is not dissimilar to trends seen in the neighboring 14th Congressional District, now represented by Ocasio-Cortez. Former Rep. Joseph Crowley was also an older white man whose district had become majority-minority over time and due to redistricting. Since Engel came into office, the southern portion of Westchester County has seen its white population decline, growth in the Hispanic population and a growing majority of Democrats. Nonetheless, it remains whiter and less overwhelmingly Democratic than the 14th District, which is in the Bronx and Queens.
Bowman has comfortably aligned with the democratic socialist label, but whether the area's appetite for socialist candidates has grown remains to be seen. Nearly 70% of voters in the district favored Hillary Clinton over Bernie Sanders in the 2016 presidential primary, a larger margin of support compared to the state as a whole. Residents of both the Bronx and Westchester also widely preferred Gov. Andrew Cuomo in 2018 gubernatorial election over progressive challenger Cynthia Nixon by more than the statewide average.
The ideological divide in the race is further emphasized by foreign policy, especially given that Engel serves as chairman of the House Foreign Affairs Committee. The congressman's approach has focused on scrutinizing the Trump administration's decisions, particularly with regard to cutting foreign aid and withdrawing from international institutions. But Bowman and some progressives criticize Engel as hawkish, pointing to his vote for the 2002 Iraq War resolution and his support for controversial pro-Israel policies, such as moving the U.S. embassy to Jerusalem. Bowman also argues that Engel's focus on foreign policy detracts from serving his district's needs, which is similar to Ocasio-Cortez's contention in 2018 that Crowley was too focused on being in the House leadership and, like Engel, living mainly in the Washington, D.C., area.
But Engel has mostly made the case to voters that, as a long-serving representative, he's best suited to getting resources for residents. "The seniority system works in Washington. … I have the clout," he said during the debate. "I bring home the bacon. I bring home the money. That's not something a freshman can do." Among the achievements he cited were securing $5 billion in funds for New York hospitals through the Coronavirus Aid, Relief, and Economic Security Act signed into law in late March along with $7.8 million for two community health centers in the district. But Congress' coronavirus relief bills haven't escaped criticism from New York leaders like Gov. Andrew Cuomo, who has been calling for additional state aid to avoid debilitating budget cuts.
Bowman also quibbled with Engel's representation in the debate. "Congressman Engel said he brings home the bacon, but we have people in this district who are starving. They were starving prior to the pandemic. They're starving now. Where is this bacon to feed the community?"
The congressman has also contended that his work on the Foreign Affairs Committee isn't a distraction from the district's needs, but a key way to hold the Trump administration accountable, which is of interest to Democratic primary voters. He's been investigating the president's recent decision to fire the State Department's inspector general, who was looking into Secretary of State Mike Pompeo, for example. He also played a role in the impeachment hearings at the start of the year, revealing information from former national security adviser John Bolton regarding the decision to oust the U.S. ambassador to Ukraine.
On Thursday, Engel rejected any possible endorsement from The New York Times in response to the paper's controversial decision to run an op-ed by U.S. Sen. Tom Cotton calling for the U.S. military to be deployed to cities across the country to quell the anti-racism protests. He called on his competitors to do the same – a clever attempt to head off a possible Times endorsement of Bowman, which could prove decisive among the affluent liberal voters in areas such as Riverdale, New Rochelle and Scarsdale who have historically supported Engel.
But how much either candidate will resonate with voters is difficult to anticipate. Candidates can't hold in-person events and are having to rely heavily on largely untested strategies for remote engagement, such as virtual town halls. It's unclear how voting by mail will affect turnout. And there's also the open question of whether a socialist can win in a largely suburban district. Whether Bowman can pull off an upset mirroring Ocasio-Cortez's will be impossible to know until the ballots are counted.