NYPD
The NYPD's tools
A closer look at what cops are bringing to the protests.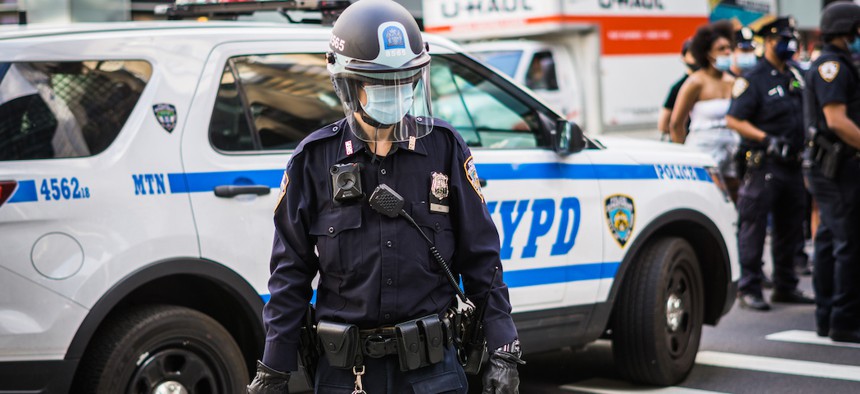 There have not been reports thus far that the New York City Police Department has used tear gas, rubber bullets or flash grenades to subdue protesters the way many other police departments across the country have, but videos of the NYPD's use of police vehicles, helicopters, bicycles, pepper spray and even one officer brandishing a firearm have drawn widespread criticism. Representatives from the NYPD did not respond to requests for comment for this story.
With more than 50,000 employees and a $6 billion budget, the NYPD is better funded than some countries' entire militaries. New York City Mayor Bill de Blasio initially deployed 4,000 officers to respond to the protests, but then upped that number to 8,000 on June 1 as the demonstrations grew. Here are some of the tools and weapons that NYPD officers bring to a protest.
Helmets
The city has made multiple orders for ballistic, tactical and "disorder control" helmets in recent years, according to city records. At the end of 2017, the city spent $10.4 million on a massive order of ballistic helmets from The Safariland Group.
Masks?
After a nasty, ultimately public feud between the NYPD and the city's health commissioner, the NYPD obtained hundreds of thousands of protective face masks for officers. Since the protests began, however, groups of police working closely together have been repeatedly photographed without them in a city that is at the epicenter of the coronavirus pandemic.
Body armor
The city began replacing NYPD officers' body armor in 2015, according to the NYPD website. The newer, lighter armor is typically worn beneath the uniform and protects officers from bullets and stabbings. In 2016, partly in response to the killing of five police officers in Dallas, the city made an emergency purchase for more than $7 million in additional heavy-duty body armor and accessories from The Safariland Group.
Batons
In 2019, the city put out a bid for 3,000 to 6,000 26-inch polycarbonate batons that "shall not bend … or break when exposed to extreme temperatures." Batons, both metal extendable ones and longer polycarbonate models, have thus far been a primary police device for crowd control, both as a signaling tool and as a weapon for hitting. According to Police Magazine, batons can also be used to subdue someone during an arrest by placing the baton across a person's legs.
Guns
In a stark illustration of the chaos in some New York City protests, a video appeared to show an NYPD officer pointing his gun at protesters on May 31 outside the Strand bookstore in Manhattan, drawing criticism from de Blasio. A subsequent video shared by the Police Benevolent Association appeared to show the officer reacting to a person hitting a higher-ranking police official over the head with a heavy object.
Zip tie handcuffs
Hundreds of people have been arrested since the protests began in New York City on May 28. Videos show police carrying multiple pairs of plastic handcuffs on their belts, and wrestling people to the ground to put them on.
Pepper spray
Hand-held OC pepper spray, which stands for oleoresin capsicum, has also been used by the NYPD to subdue protesters. A video of a police officer appearing to pull down a protester's face mask to spray them with pepper spray went viral on May 30.
Body cameras
By February 2019, 20,000 body cameras had been distributed to all NYPD uniformed patrol officers, according to the department's website. Officers are required to record arrests and summonses and uses of force, in addition to other incidents.
Powered By
NEXT STORY: Is police money the new real estate money?