New York State
Two ex-cons and a former IDCer hope to return to Albany
Stevenson, Monserrate and Hamilton are attempting political comebacks.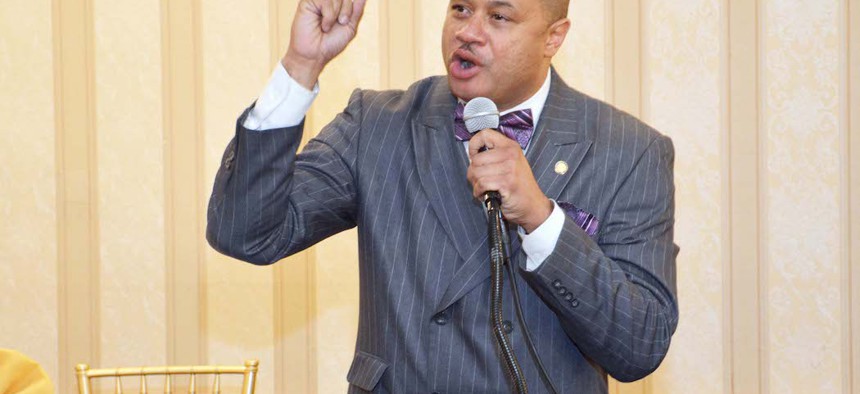 In 1989, state Sen. Israel Ruiz was convicted of felony for overstating his assets on a loan application. He was subsequently booted from the Legislature in which he had represented the Bronx for 15 years. Rather than slinking away in shame, after serving a six-month sentence in prison, Ruiz ran for City Council and won, serving the Bronx again from 1992 until 1997. 
Political comebacks often fail – just look at Eliot Spitzer – but Ruiz showed they're possible in the modern era. (New Yorker Grover Cleveland, who was the 22nd and the 24th president of the United States, showed they were possible in an earlier era.) 
Now, at least three former legislators are trying in the June 23 Democratic primaries to follow in Ruiz's footsteps, running again after circumstances made them leave office – and two of them may be poised to win. There's former Assemblyman Eric Stevenson, who was sentenced to three years in prison for taking bribes, now running for his old South Bronx Assembly seat. There's former state Sen. Hiram Monserrate, previously convicted of both domestic violence charges and corruption charges, who is now running against Assemblyman Jeffrion Aubry in Queens. And there's state Sen. Jesse Hamilton, who lost his seat under very different circumstances. He was defeated in his 2018 reelection bid after receiving widespread backlash for his decision to join the Independent Democratic Conference, which maintained a power-sharing agreement with state Senate Republicans that kept the GOP in power. This year, Hamilton is challenging Assemblywoman Diana Richardson for reelection in Central Brooklyn. 
Stevenson is running for the Assembly seat being vacated by Assemblyman Michael Blake, who's giving up his seat to run for Congress. Stevenson said he's running because his former constituents demanded it of him, and despite his 2014 bribery conviction, he has "yet to get one negative response" to his run. Stevenson still maintains his innocence, claiming he was "entrapped" in the case where he was convicted of taking more than $20,000 in exchange for using his power to help developers who wanted to build an adult day care center. 
"It was a COINTELPRO situation with the government against me," Stevenson told City & State, referring to a 1960s FBI surveillance program used to target political actors like Martin Luther King Jr. Now, Stevenson is running for redemption. At the top of one of his digital ads, he put "God is Love, Forgiveness and of Second Chances." Stevenson said that going to prison just motivated him to get back into politics and help change the system. "I faced the same racism in the justice system as any other black person," he said.
Even some of Stevenson's opponents tend to agree with him, like Chantel Jackson, a high school social worker who is also running in the South Bronx district. "Our community – we're used to people going to jail." she told City & State. "We do believe in second chances here in this community." But Stevenson should go and do something else, other than run for office again, she said, since the community can't trust him. 
Jackson's magnanimity towards Stevenson may be in part because he isn't considered a serious contender for the seat. Jackson and Cynthia Cox seem to be the two front-runners out of the six candidates on the ballot. Jackson has raised more than $29,000 and has secured some major endorsements including Blake, state Sen. Luis Sepúlveda and the DC37 labor union for non-uniformed New York City government employees. Cox, who's currently a Democratic district leader, has raised more than $12,000 for the race and has been endorsed by New York City Councilman Ritchie Torres and the Bronx Democratic Party. 
Stevenson could only name the support of some local clergy, and he has failed to file campaign financial disclosures with the state Board of Elections. As a former elected official, Stevenson does have a bit of a following, explained Michael Benjamin, who held the Assembly seat before Stevenson and is now an editorial page editor with the New York Post. "I would hope the corruption conviction is enough for those to vote regularly to disqualify him from office," he said.
But that wasn't the case in Queens, where voters in one half of the 35th Assembly District elected Hiram Monserrate as Democratic district leader in 2018. Winning the minor political party post was quite a comeback for the former police officer. In 2010, Monserrate's fellow state senators voted to expel him from the Legislature after he was found guilty of misdemeanor assault charges for allegedly slashing a romantic partner in the face with broken glass. He attempted an immediate comeback, running for state Senate and Assembly and failing twice. Soon after, he was convicted on mail fraud and conspiracy charges tied to his previous job serving in the City Council. He was sentenced to two years in prison. 
After getting out, he lost a City Council race to Francisco Moya, but he has continued building up some political influence in the borough through his work with the East Elmhurst Corona Democratic Club. Monserrate is Latino, his club is majority Latino and the northern Queens Assembly District has a growing Latino population. That's enough to make the incumbent Aubry, who is black, a bit concerned about his reelection chances. So Aubry has been highlighting his endorsements from prominent Latinas in the district such as Assemblywoman Catalina Cruz, tweeting reminders of Monserrate's criminal past and talking about his own record of reform. "The irony of my work on criminal justice reform is that now I have to remind voters about the past – and I don't really want to go down that road with my opponent – but I've got a mask and will travel," Aubry said in a statement provided to City & State. 
Monserrate's campaign did not respond to a request for comment from City & State, but the former elected official seems to have some real support. With 11 days to go until the primary, he reported having $56,000 on hand. And he has raised more than $80,000 since the beginning of the campaign. That's more than the $70,000 Aubry has raised in the last year. But incumbency has its benefits – Aubry had transferred in some $112,000 from earlier campaigns, and had about $140,000 on hand in his latest filing. 
The political comeback that may have the best chance of succeeding, however, may be that of Hamilton, running for the 43rd Assembly District which covers part of Crown Heights and Prospect Lefferts Gardens in Brooklyn. After just 18 months out of office, the former state senator doesn't see it as a comeback at all. "It's not a comeback! I never left!" he told City & State. "I have 25 years of serving the community. So it's not a comeback, it's a continuation."
Hamilton, an attorney, explained he's been active in the community since 1996 as a school board president and Democratic district leader. He was first elected to the state Senate in 2014, but lost his reelection bid to now-Sen. Zellnor Myrie in 2018, in a blue wave of discontent over former IDC members' betrayal of the Democratic Party. But in Hamilton's case, most of the votes against him came from the more gentrified, western side of the sprawling Senate District. The majority of voters on the eastern side of the district, which is less wealthy and has a larger black population, stuck with Hamilton. So it seems to be a strategically savvy move that, instead of running for his old Senate seat, Hamilton is instead running in an Assembly District that covers an area that would have returned him to Albany last time. 
Hamilton denied weighing the "political dynamics," just saying that the people in the district were asking for his "voice" and "expertise." But he did suggest that the current Assembly member, Richardson, gets her support from "newcomers" and gentrifiers. Richardson, a black woman who, like Myrie, has lived in Brooklyn her whole life, is one of the Legislature's more progressive members. Last month, she and Myrie were pepper-sprayed by the NYPD at a protest against police brutality and systemic racism. Her reelection bid has earned support from much of the city's progressive establishment, including the Working Families Party. But she also has gathered endorsements from more moderate black elected officials, including Rep. Hakeem Jeffries, Assembly Speaker Carl Heastie and state Sen. Kevin Parker. 
It's also worth noting that longtime black Brooklynites aren't typically known for supporting Republican legislative majorities, as Hamilton did. "Hamilton sold his community out," Richardson told City & State. "We thought we took care of the IDC in 2018, and I think that the fact that he is running against me is very telling." 
Hamilton's unsuccessful 2018 reelection campaign was also marred by unflattering revelations such as him using an apartment intended for low-income tenants as his campaign headquarters and Hamilton spending campaign cash to lease a Mercedes-Benz.
Richardson has brought in more than $54,000 in contributions this cycle, while Hamilton has reported less than $4,000, but Richardson pointed to the support that Hamilton is getting – namely the lack of an official endorsement in the race from Brooklyn Democratic County Leader Rodneyse Bichotte. Since Bichotte backed every other incumbent in the borough, staying out of this one is seen as a de facto Hamilton endorsement. There's a lot of personal bad blood between Richardson and Hamilton, who have been sniping back and forth lately on dueling bills to discourage racist 911 calls. But the primary challenge is just the latest clash among the various shifting alliances of Central Brooklyn politics, and if Hamilton were to win, it might signal a political comeback for more than just the former state senator. In a time where the power of county parties have been waning, a Hamilton win could mean the whole Kings County Democratic machine is pulling an Israel Ruiz.