Campaigns & Elections
Who's endorsing who in the Queens borough president race
Five candidates are vying to replace Melinda Katz.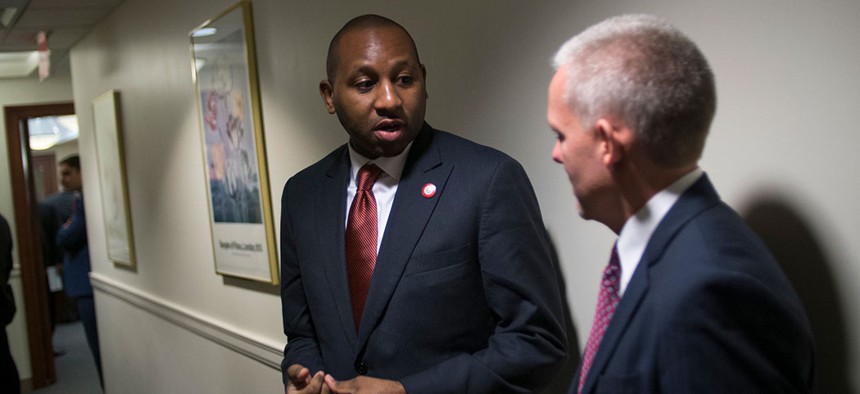 Who will lead the world's borough?
The ballot is set in the Democratic primary for Queens borough president, with five candidates vying to fill the seat held by Melinda Katz, who resigned at the end of last year to become the borough's district attorney. In the heavily Democratic borough, the winner of the June 23 primary is all but guaranteed to take the seat in November, replacing acting Queens Borough President Sharon Lee.
Of course, it wasn't supposed to happen like this. The coronavirus outbreak caused the state to first postpone, and then cancel, the special election originally scheduled for March 24. Two candidates, Dao Yin and Jim Quinn, sued over the cancellation but lost in court. Yin is still running in the Democratic primary but Quinn, the former Queens senior executive assistant district attorney, has dropped out of the race. He had previously earned the Queens County GOP's endorsement, but now the party's chairwoman, Joann Ariola, will represent the Republican Party in the November general election.
The coronavirus has changed campaigning too. The candidates stopped all in-person campaigning in March and haven't been able to knock on doors or hand out flyers. New York City Councilman Donovan Richards seemed to be in a good position to win the special election, but this pandemic primary may be harder to predict. There will be a record high number of people voting absentee, and there will be a largely irrelevant presidential primary scheduled for the same day.
"Anyone who can tell me what June is going to look like should probably be in the fortune-telling business," New York City Councilman Costa Constantindes, another candidate, told City & State. "We don't know what June looks like yet."
Here's a quick rundown of the candidates, as well as the endorsements they've earned from prominent people, unions and organizations. The list is updated as of June 16.
Donovan Richards
Age: 36
Profession: New York City Council member, since 2013
Home neighborhood: Laurelton
Total fundraising as of June 8: $295,382 + $751,284 in public matching funds
Endorsements: Queens County Democratic Party, Brooklyn Democratic Party, Citizens Union, 1199SEIU, United Federation of Teachers, Council of School Supervisors & Administrators, New York Hotel and Motel Trades Council, United Federation of Teachers, 32BJ SEIU, District Council 37, New York State Nurses Association,Local 372, Council of School Supervisors & Administrators,Alliance of South Asian American Labor, Reps. Hakeem Jeffries and Gregory Meeks, state Sens. Leroy Comrie, James Sanders Jr. and Toby Ann Stavisky; Assembly members Catalina Cruz, Michael DenDekker, Jeffrion Aubry, Alicia Hyndman, Clyde Vanel, Stacey Pheffer Amato, Vivian Cook, Catherine Nolan, Nily Rozic and David Weprin; New York City Council members Brad Lander, Rory Lancman, Karen Koslowitz, I. Daneek Miller, Adrienne Adams, Justin Brannan and Farah Louis; former Queens Borough President Claire Shulman.
Costa Constantinides
Age: 45 
Profession: New York City Council member, since 2014
Home neighborhood: Astoria
Total fundraising as of June 8: $266,261 + $720,754 in public matching funds
Endorsements: Retail Wholesale and Department Store Union, UFCW Local 1500, IUOE Local 94, CWA Local 1106, Teamsters Joint Council 16, Teamsters Local 814, Teamsters Local 553, National Association of Social Workers – NYC PACE,the Queens Ledger, Sunrise Movement NYC, Sierra Club of New York City, StreetsPAC, Jim Owles Liberal Democratic Club, Stonewall Democrats of NYC, Humanity Forward (Andrew Yang), Our Revolution, Hispanic American Voters Association, South Asian American Voters Association, New Queens Democrats, Muslim Democratic Club of New York,Muslim Entrepreneurs Association, LIC Coalition, the Queens Ledger, state Sens. Jessica Ramos, Michael Gianaris and Andrew Gounardes, Assembly members Aravella Simotas and Ron Kim, New York City Council members Helen Rosenthal and Ben Kallos
Elizabeth Crowley
Age: 42
Profession: board chair of Friends of the QNS; former New York City Council member, through 2017
Home neighborhood: Glendale
Total fundraising as of June 8: $499,676 + $1,177,140 in public matching funds
Endorsements: Transport Workers Union Local 100, International Union of Painters and Allied Trades District Council 9, IBEW Local Union 3, UA Plumbers Local 1, New York City Police Benevolent Association,Uniformed Firefighters Association, Uniformed Fire Officers Association, Detectives' Endowment Association, New York State Court Officers Association, FDNY EMS Local 2507, District Council 9, Sheet Metal Workers Local Union 28, International Union of Operating Engineers Locals 14, 15, 30 and 891, CWA Local 1180, Local 12 Insulators, Sheet Metal Workers Union Local 28, New York City District Council of Carpenters, International Alliance of Theatrical Stage Employees Local 1, International Union of Elevator Constructors Local 1, New American Voters Association, Eleanor's Legacy, The Vulcan Society, Himalayan Democratic Club, Begowal Society of New York, former Rep. Elizabeth Holtzman
Anthony Miranda
Age: 58
Profession: chairman of the National Latino Officers Association, retired NYPD sergeant
Home neighborhood: Fresh Meadows
Total fundraising as of June 8: $87,255 + $380,524 in public matching funds
Endorsements: Community Alliance Group, Voice of Pakistani Americans, The Bangladeshi American Advocacy Group, Grand Council of Guardians, New York City Deputy Sheriffs Association, 100 Hispanic Men, Friends Forever of 78 Inc., Small Business Congress, East Elmhurst Corona Democratic Club
Dao Yin
Age: 56
Profession: former corporate controller, and former executive general manager of a robotics company
Home neighborhood: Bayside 
Total fundraising as of June 8: $74,480 + $408,181 in public matching funds
With reporting by Amina Frassl.