New York State
What Democrats stand to gain upstate in 2020
There are five open state Senate seats far away from traditional downstate battlegrounds.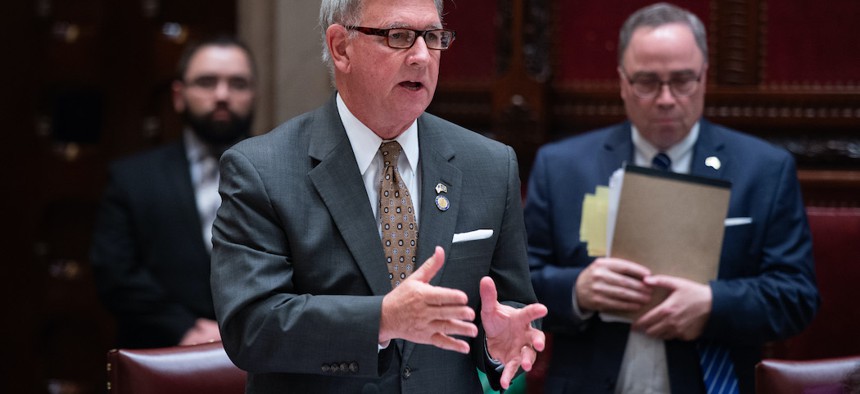 Upstate New York is not where the Democrats usually bet their electoral fortunes in state Legislature races, but it has become a key battleground in 2020. Five longtime Republican state Senate districts are up for grabs in the Rochester, Buffalo and Syracuse areas. Democrats need to pick up just two seats to win a supermajority in the 63-member upper chamber.
Democrats outnumber registered Republicans in all five upstate Senate districts with open seats. The state Democratic Senate Campaign Committee has millions to spend. In 2018, the committee pumped hundreds of thousands of dollars into individual races Democrats won, such as James Skoufis in the Hudson Valley, helping them end Republican rule in the state Senate. The first batch of Republican seats to fall were downstate, especially on Long Island and in the Hudson Valley. Now, Democrats are looking northward. 
A lot remains up in the air four months from Election Day. Some legislative primary winners have yet to be officially declared. Most of the GOP candidates have not filed financial disclosures, after receiving their party's nomination without primaries though Erie County Legislator Ed Rath, who is running to replace retiring GOP state Sen. Michael Ranzenhofer in Western New York, reported $37,812 on hand this spring. 
But Democrats have reasons to feel bullish about their chances of flipping those seats as a wave of retirements exposes the GOP to heavy losses in November. This includes outgoing state Sens. Richard Funke and Joe Robach of the Rochester area as well as Ranzenhofer and Chris Jacobs to the west. A fifth Republican, former state Sen. Robert Antonacci, resigned his position last year after winning a local judicial election. Districts like these defy stereotypes of upstate as a place where the only Democrats are blue-collar steelworkers, while middle-class people who vote Republican. These five districts all contain Democratic-leaning urban areas. Post-industrial sectors like health care are also big employers in districts like that currently represented by Ranzenhofer, which includes University at Buffalo in Amherst. In the 2016 presidential election, Hillary Clinton easily won the counties that surround and include Rochester, Buffalo and Syracuse, while Trump won all the nearby less-populated counties. 
"Some of these districts, by the numbers, are even better than the seats we hold," said state Senate Deputy Majority Leader Michael Gianaris, who chairs the state-level DSCC. "In the past, they had very popular Republican incumbents (but) now that the Republican senators have fled for the exits, these are becoming expected Democratic pickups."
And if Democrats have super-majorities in both chambers, they will have full control over the redistricting process that will play out in the next legislative term. Just as GOP control of the state Senate enabled them to draw favorable district lines that kept them in power, being shut out of redistricting could make it much harder for them to ever mount a comeback. Two years after losing eight seats and their longtime majority to the Democrats, Republican leaders are raising the alarm about impending electoral disaster in upstate New York. "We're not going to match them (Democrats) with money," GOP state Chair Nick Langworthy recently told reporters. "We don't have the loads of people from the union hall … we're reliant, just like our forefathers who founded this country, on people patriotically getting involved."
That fight will have to happen without the advantages Republican candidates had in 2018 compared to the 2020 slate, including name recognition, personal wealth and the advantages of being part of the majority. Fundraising has also suffered as donors like the real estate lobby have reduced their giving to the GOP once it lost power. In 2018, the GOP had $2.1 million to spend on state races. Two years later, they have just over $300,000.
In some ways, the GOP has only survived in these five upstate districts because of some advantages that were very unique to the outgoing incumbents. Funke was a well-known local television anchor before he won his current seat representing the a district that runs along the eastern side of Rochester and its surrounding suburbs. Joseph Robach got the adjoining seat to the west after succeeding his late father in the Assembly. Family wealth helped Jacobs win a seat in the Buffalo area before his successful run for Congress this year to replace former Rep. Chris Collins, who resigned his seat last year after pleading guilty to federal charges related to insider trading. Antonacci gained visibility as the 2010 Republican nominee for state comptroller, before narrowly winning a 2018 race in the Syracuse area, a seat that he vacated after winning a 2019 judicial race. All four of them even used to be Democrats.
The retiring Ranzenhofer, a lifetime Republican, was also gifted at wooing local Democratic voters. "Ranzenhofer has been very active in terms of helping with everything from parks to cycling programs to health care fairs, senior services," said Amherst Town Supervisor Brian Kulpa, a Democrat who oversees the largest locality entirely located in the district in between the Rochester and Buffalo suburbs. "He's one of those unique people." 
Being in the minority is also a disadvantage unto itself. When Republicans held the majority, it was easier to make a non-ideological pitch that the local GOP candidate was best positioned to bring home the bacon for the district. Now, that dynamic is now working against them. "At the end of the day, people got to decide, is it worth sending somebody who is going to end up in the minority?" Kulpa said.
Republicans may also have a harder time holding swing seats when their party keeps moving rightward. In addition to the fact that backlash to President Donald Trump's inflammatory brand of conservatism is likely to inspire high Democratic turnout, the party's base is also choosing more right-wing nominees. 
In the Buffalo suburbs, Democratic nominee Sean Ryan, has a decade of experience representing part of Jacobs' district as an assemblyman while 28-year-old Republican attorney Joshua Mertzlufft is seeking his first elected office by running to the right on gun rights and criminal justice reforms (the right to a jury trial is conspicuously missing from a list of his favorite constitutional amendments) in a district that twice elected Jacobs, who made his political name as "that rare Republican who doesn't hesitate to label himself a moderate." While Republicans argue that Ryan is too far to the left, he can point to his lack of support for a bill establishing a state-level single-payer health care system as evidence of his relative moderance. 
The most obvious difference between Democrats and Republicans in some of the other contests is the race of the candidates. Jeremy Cooney, a former chief of staff for Rochester Mayor Lovely Warren, was born in India before acquiring an upstate accent as the adopted son of a Rochester Irish-American family. Native New Yorkers Kim Smith (who led in voting on Election Day in her legislative primary) and Samra Brouk are running to become the first Black women to represent upstate New York in the state Senate. That makes for a visible contrast in their respective races to replace Ranzenhofer and Funke. The GOP nominees running against Smith, Brouk and Cooney – Rath, winemaker Christopher Missick and Greece City Council member Michael Barry Jr. – are all white men. The political success of Warren and Buffalo Mayor Byron Brown shows that black candidates can win in upstate urban areas. These upcoming races will show whether that can also be done in state Senate districts that include predominantly white suburbs.
All three of these Democrats are getting the backing of the Working Families Party and grassroots groups like Citizen Action of New York, which has promoted them as the vanguards of a new upstate surge in progressive energy. Yet, candidates like Cooney are wary of being tied too much to downstate progressives. "I do support universal health care," Cooney said. "I do support some of the quote unquote progressive items, but Rochester and upstate New York are very different than (New York City)." 
This cooperation between the WFP, grassroots activists and Democratic leaders makes for a notable contrast with the ways that suburban lawmakers have been criticized at times as "fake ass" Democrats or quasi-Republicans by some activists on the political left. 
The DSCC is now getting ready to pour money into races across the state. This includes helping second-time candidates like Cooney and public school teacher John Mannion, who got financial support from the DSCC in their 2018 challenges against Antonacci and Robach, respectively. Considering that Mannion lost by two points to Antonacci and Cooney by eight points to Robach, they appear to be candidates that Democrats will invest in again – though Gianaris declined to say whether Democrats are already buying up TV and radio airtime. "We have been picking up seats while being outspent," he said in an interview. "Now that we have the ability to control the board more effectively. I expect even more success." 
If all went well for the Democrats in November, they could theoretically win up to 50 seats in the state Senate moving forward, but that is unlikely. For one thing, they could lose in some of the suburban downstate districts where they won last time. 
The winning margin was less than 2% in five 2018 races in the Hudson Valley and Long Island. Another three were decided by single digits. Democratic challengers won five of these while the GOP won three. Bringing more seats into play could be difficult for the Democrats considering the GOP has registration advantages in the Long Island districts of retiring Long Island state Sens. John Flanagan and Kenneth LaValle. 
Democrats could flip some of these, but they also have vulnerable incumbents of their own to protect. State Sen. Pete Harckham of Westchester County, for example, faces a credible challenge from Rob Astorino, a former county executive and GOP gubernatorial candidate. 
"We need to make them play defense down there," newly-installed state Senate Minority Leader Robert Ortt of Western New York told reporters this week of Long Island and the Hudson Valley. "Otherwise, they're going to be throwing big money into districts upstate or districts that have historically not had money being spent." 
Democrats could respond by going all out in these two regions, or they could take their shot at demolishing the GOP's claim to be the undisputed party of upstate. State Sens. Tim Kennedy of Buffalo, Rachel May of Syracuse and Neil Breslin of Albany are the only Democrats in the chamber from outside downstate and the Hudson Valley. Given the past positions of May, Kennedy and Breslin in favor of amending bail reform, it is easy to assume that a future upstate block would tend to find common ground with suburban moderates. Yet, many of the issues that define the difference between New York City liberals and their suburban colleagues are specific to the downstate area. Congestion pricing and defunding the NYPD are two examples.
A full Democratic sweep in the Rochester, Buffalo and Syracuse areas would not only get Democrats the supermajority they want: It would also create a powerful new bloc within their Senate conference that would be nearly as large as their current 11 members from the Hudson Valley and the New York City suburbs.
"It's generational change," said SUNY Geneseo Political Science Professor Jeffrey Koch. "We're probably going to see the Democrats solidify their position."
Correction: An earlier version of this post misspelled the name of Samra Brouk. 
Powered By
NEXT STORY: Indoor dining dashed in New York City