Who's driving the Black Lives Matter discussion?
Democratic and Republican elected officials are driving the Black Lives Matter discussion online.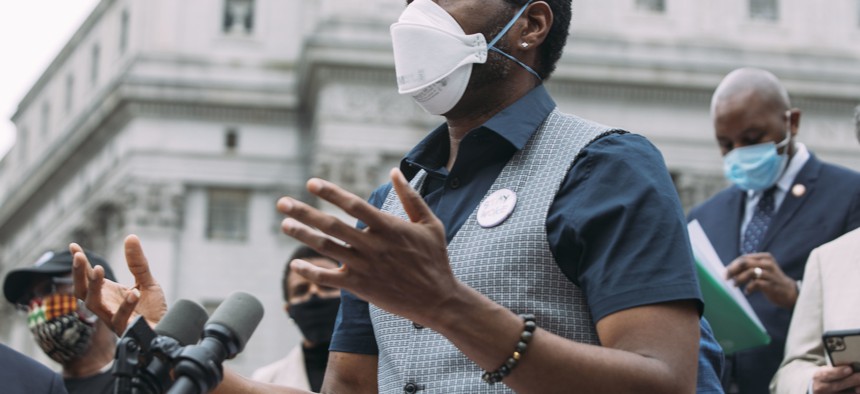 The Black Lives Matter movement and calls to defund the police dominated the political discourse in New York for weeks in the spring and summer, with the conversation driven by officials on both sides of the political divide. 
High-profile Black politicians, including New York City Public Advocate Jumaane Williams and Rep. Hakeem Jeffries, struck a cord on social media with demands to take steps to protect Black lives. 
I hear the Mayor/Governor defending policing tactics and curfews, saying we need to protect property. Protecting property we understand.

But where is the same energy, the same urgency, for protecting Black lives?#BlackLivesMatter#GeorgeFloydMemorial pic.twitter.com/tjz3Ybc835

— Jumaane Williams (@JumaaneWilliams) June 4, 2020
But several New York Republicans also gained traction, with the likes of Rep. Lee Zeldin and Assembly Member Nicole Malliotakis criticizing the efforts to defund the New York City Police Department and to remove statues of slave owners, including George Washington.
Came to City Hall to thank the police protecting the radical leftists calling to defund them. Disgusting signs & graffiti, so won't show them. Thanks #NYPD for what you do! pic.twitter.com/KpVT8I7zhP

— Nicole Malliotakis (@NMalliotakis) June 30, 2020
The findings are from an analysis done by the consulting firm Global Strategy Group and Torch, a civic sector social intelligence platform, of social media commentary on the Black Lives Matter movement and the push to defund the police in New York. Between May 27 and July 6, Torch monitored elected officials at all levels across New York and nationwide and analyzed their posts on Facebook, Twitter, Instagram and other platforms. 
Progressive New York City Council members – including Carlos Menchaca, Jimmy Van Bramer and Helen Rosenthal – led the way with calls to defund the police, which hit a peak online just after the passage of a city budget deal that significantly reduced funding for the NYPD.
I will not vote for a budget that does not dramatically reduce funding for the NYPD & instead use that money to invest in youth programs, culture & Libraries & vital services that serve communities of color. I hear you and I stand with you. #DefundNYPD

— Jimmy Van Bramer (@JimmyVanBramer) June 3, 2020
For a time, the Black Lives Matter even eclipsed discussion of the coronavirus in New York, although the pandemic has overtaken it in online discussion in recent days. There were also far more posts about Black Lives Matter in New York than in any other state, with almost twice as many as the next closest state, Texas. 
A summary of the results is below: 
BLM DefundThePolice FINAL by City & State NY on Scribd