New York City
Malatras to lead SUNY, teachers threaten strike and prepping for a pandemic presidential election
Rounding up the week's political news.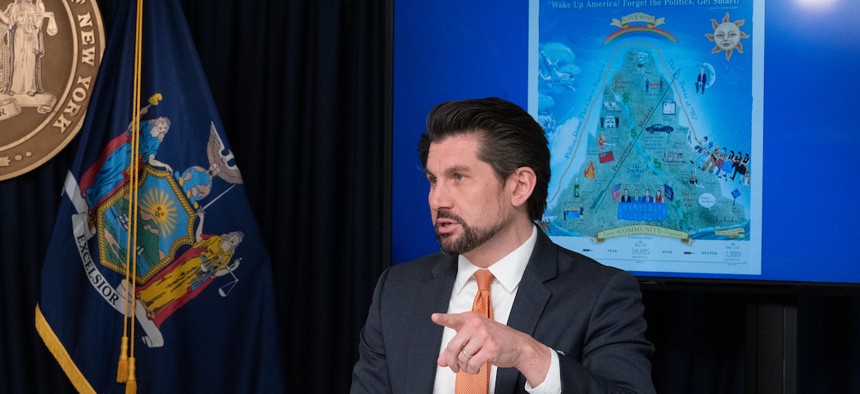 The U.S. Postal Service has been in the news a lot lately, but it made headlines in a very unexpected way this week – by arresting Steve Bannon on a huge yacht. The postal agents shipped the former adviser to President Donald Trump to the Southern District of New York, where the U.S. Attorney's Office charged him with fraud related to a GoFundMe page to fund a privately built southern border wall. But that's not the only reason the Postal Service was in the news this week, even if it was the most surprising one. Keep reading for that and the rest of this week's news.
Jim Malatras named SUNY chancellor
Jim Malatras, a former top aide to Gov. Andrew Cuomo and a frequent presence at the governor's nationally televised daily coronavirus briefings earlier this year, was appointed to lead the State University of New York system on Friday. The decision to install the SUNY Empire State College president as the leader of the statewide public university system drew scrutiny, given that there was no traditional nationwide search for a candidate to fill the role, although some SUNY board members said the expedited process was due to the public health crisis that has upended the fall semester. Malatras replaces Kristina Johnson, who stepped down to take the top job at Ohio State. 
New York City teachers threaten a strike
In the ongoing battle over school reopening, the New York City teachers union is holding strong in its demands that the city delay in-person learning until the Department of Education provides more details about how it plans to keep students and teachers safe. Michael Mulgrew, the president of the United Federation of Teachers, said that his teachers are prepared to strike if the union believes reopening wouldn't be safe or if the city does not delay in-person classes. The union released an extensive health and safety checklist for school reopening that it will use to evaluate the preparedness of individual schools and urged all parents to opt for remote learning until schools have been approved. Mulgrew also said that every student should receive an antibody or diagnostic coronavirus test before they are allowed into school buildings. The union's plan was supported by a variety of health professionals, city and state lawmakers, business leaders and community organizations. However, New York City Mayor Bill de Blasio still seemed undeterred, taking a thinly veiled jab at teachers who don't feel safe going back when he said "public servants show up," citing transit workers and grocery store employees. He also released a "Back to School Pledge" that contained a series of promises about health and safety, although it didn't actually provide any new guidance or information.
Other schools go remote
As the school reopening debate rages on in New York City, other major school districts throughout the state have made the decision to go with remote learning, at least to start off the year. Buffalo Public Schools will begin this fall with online classes, but the district plans to reevaluate the prospect of sending students back to classrooms after four to six weeks. Yonkers Public Schools followed soon after with an announcement that the district will also begin the year with remote classes. Staff will teach from school buildings, but students will attend class online.
Prepping for a pandemic presidential election
Gov. Andrew Cuomo signed into law three voting reform bills meant to make it easier and safer for New Yorkers to vote in the November election. The cornerstone of the package will allow anyone to use the pandemic as a reason to apply for an absentee ballot. Another will allow voters to begin applying for an absentee ballot immediately – previously, boards of elections could only process applications received 30 days before the election. This gives voters several more weeks to apply for and mail in their ballots. The third bill will validate ballots that lack a postmark but were received the day after the election, under the assumption that they were cast in time. Earlier in the week, state Sen. Alessandra Biaggi, congressional candidate Mondaire Jones and several others sued the Trump administration to stop its attempts to hinder the U.S. Postal Service's ability to process mail. Soon after, Postmaster General Louis DeJoy said he would halt all of the controversial cost-saving measures until after the election, although it was unclear whether he would reverse the actions that were already taken.
New Yorkers take the virtual DNC stage
Democrats officially nominated Joe Biden for president and U.S. Sen. Kamala Harris for vice president, making history as Harris became the first Black and first South Asian woman to be on a major party ticket. The Democratic National Committee invited a host of speakers for its first virtual convention. Cuomo spoke during a primetime slot on the first night of the convention, giving a five-minute address that focused largely on his management of the coronavirus pandemic in New York, while heavily criticizing the response by President Donald Trump. U.S. Sen. Charles Schumer and Rep. Alexandria Ocasio-Cortez both spoke on the second night, sharing similar messages in their speeches despite representing different wings of the party. Ocasio-Cortez, who only spoke for one minute and 40 seconds, used her speech to second the nomination of U.S. Sen. Bernie Sanders, which was a procedural point rather than a snub of Biden.