New York City
Manhattan district attorney 2021 Democratic primary candidates
There are nine challengers to Cyrus Vance Jr., but will the incumbent run for reelection?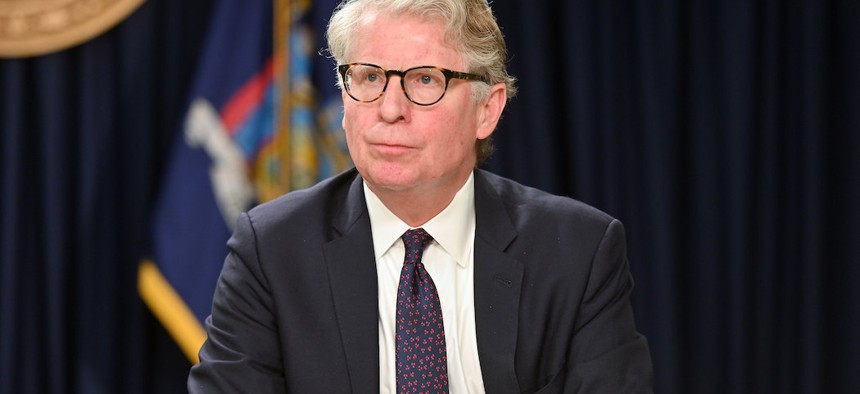 All eyes may eventually be focused on the 2021 New York City mayoral race, but the Manhattan district attorney race has already attracted a crowded field a full year before the Democratic primary. The major unknown in the race is whether the current district attorney, Cyrus Vance Jr., is going to run for reelection. He has repeatedly dodged questions about his plans, and his lackluster fundraising numbers don't paint a promising picture if he does decide to run.
Despite several recent legal victories, including earlier this year successfully prosecuting former Hollywood mogul Harvey Weinstein on sexual assault and rape charges, he faced intense criticism for declining to prosecute Weinstein in 2017 and his office's role in reducing Jeffrey Epstein's sex offender status in 2011 as well as other alleged mishandlings of sexual assault cases. Vance also received scrutiny for declining to prosecute two of Donald Trump's children, Ivanka and Donald Trump Jr., in relation to a real estate deal in 2012.
So far, there are nine candidates running for the post, not including Vance. Five contenders participated in the race's first debate last month. Of the other four, one announced shortly before the forum, two had not yet declared their candidacies yet and the last did not participate. Many are vying to become the clear pick of the progressive left.
Vance originally ran as a reformer himself and has taken some action to that effect, like announcing he would not prosecute low-level marijuana offenses in 2018 and not prosecuting many low-level offenses, notably fare evasion, beginning in 2017. However, he has also been criticized for taking a heavy-handed approach to prosecuting low-income New Yorkers and people of color for quality-of-life offenses. New York City Public Advocate Jumaane Williams even called on Vance to resign earlier this year for his alleged mishandling of sexual misconduct cases. This criticism, and his history of seemingly going easy on wealthy defendants, has been a common refrain among his potential opponents. Here's what you need to know about each of them.
Alvin Bragg
This former state chief deputy attorney general was the first person to announce his candidacy in June 2019, two years before the primary. He's running as a progressive reformer and has pledged not to accept any money from corporations, lobbyists or attorneys who have business with the district attorney's office. Bragg, who also served as an assistant U.S. attorney for the Southern District of New York, has long been an outspoken critic of Vance. He has pledged not to prosecute any low-level offenses where there is no public safety consideration and would create an independent unit dedicated solely to investigating police misconduct. Bragg's time in the state attorney general's office, where he oversaw lawsuits against Weinstein and the Trump administration for its census citizenship question, and where he also led its unit that investigated police-involved killings, gives him solid bona fides when making his appeal to voters. Endorsements haven't started rolling in yet, but Bragg can count Lu-Shawn Thompson, the widow of the late Brooklyn District Attorney Ken Thompson, as an early backer. He raised more than $353,000 in the first six months of 2020 and had nearly $600,000 on hand as of his latest financial disclosure in July, making him the most prolific fundraiser among the current field.
Janos Marton
A civil rights attorney and decarceration activist, Janos Marton announced his intention to run for Manhattan district attorney in July 2019, making him the second contender to primary Vance, if he seeks reelection. Key components of his campaign include pledging to reduce the number of Manhattan inmates at city jails by 80% by the end of his first term, implementing restorative justice practices and approaching drug policy enforcement from a public health lens. He aims to be a progressive prosecutor in the mold of Philadelphia District Attorney Larry Krasner and took inspiration from Tiffany Cabán's 2019 Queens district attorney race. Marton said his activism experience, notably his role in the campaign to close Rikers Island, sets him apart from other candidates in the race and is a testament to his ability to effect change. He also said he would reject contributions from "special interests." Marton raised over $56,000 in the first six months of 2020 and had nearly $55,000 on hand as of July.
Dan Quart
Despite his intention to run for Manhattan district attorney, Dan Quart recently fended off a primary challenge for his Assembly seat. He was criticized for running two campaigns since he would have to give up his Assembly seat midterm if he won the district attorney race in 2021. Quart announced his candidacy in September 2019, making him the third person to declare, though he reportedly has eyed the seat for years. Like Bragg, he has styled himself as a reformer who would continue the work he did in the Assembly. Quart, pointing to his support of Cabán in the 2019 Queens district attorney race, said he would abolish cash bail and decline to prosecute sex workers. Quart said he won't accept large donations from criminal defense attorneys, but is otherwise not limiting his contribution pool, meaning he will accept real estate money, which has been increasingly seen as a toxic source of campaign cash by the progressive left. Quart raised about $90,000 in the first half of this year and had just over $900,000 on hand as of July, making him the candidate with the most cash.
Eliza Orlins
Eliza Orlins is a staff attorney with The Legal Aid Society, making her the only public defender in the race so far. She said she has represented more than 3,000 people over the course of her career. Like many of the other candidates in the race, Orlins is running on a progressive platform. She has criticized Vance for his actions as district attorney and for failing to implement true reforms. Orlins has a small claim to fame as well, having competed on the reality TV shows "Survivor" and "The Amazing Race," which has helped her build a sizeable presence on social media. Orlins has said her experience as a public defender has given her a front-row seat to see the kinds of injustices she would want to change. Among her campaign pledges are the decriminalization of sex work and declining to prosecute low-level crimes, including diverting those charged with low-level drug possession to treatment programs. Orlins has raised nearly $332,000 since announcing in March and had just shy of $269,000 on hand as of July.
Tahanie Aboushi
Tahanie Aboushi, a civil rights attorney, is also running a progressive campaign. She comes into the race having personal experience with the New York City's criminal justice system – her parents, Palestinian immigrants, were arrested on charges related to untaxed cigarettes when she was 13, and her father was sentenced to 20 years in prison. Earlier this year, she joined protesters outside Vance's office to demand that he resign. Like many in the race, Aboushi wants to decrease the number of people in city jails and and would support the decriminalization of "crimes of poverty, mental illness, sex work and substance use disorder." She would also establish a police accountability unit and create a council to determine alternatives to prosecution. Aboushi has raised about $330,000 in the first half of 2020 and had $369,000 on hand at the end of July.
Tali Farhadian Weinstein
Tali Farhadian Weinstein is another recent addition to the race. She has experience as a former federal prosecutor under then-U.S. Attorney General Eric Holder, who narrated her campaign announcement video, and as counsel to Brooklyn District Attorney Eric Gonzalez. She represents a more moderate option in the crowded race, supporting ending cash bail but allowing judges to use dangerousness to determine whether to detain someone before trial, a stance opposed by many criminal justice advocates. She is also not as staunchly opposed to Vance as many of her opponents, telling Politico New York that she agreed with some of what he has done. Weinstein has not yet filed a campaign finance disclosure.
Liz Crotty
Liz Crotty is a former prosecutor, but under longtime Manhattan District Attorney Robert Morgenthau, not Vance. She was the second woman to announce her candidacy in the race. Crotty is running on a moderate criminal justice reform platform, with her campaign website not appearing to go as far as others in the race in terms of commitments to restorative justice and stating that she would approach low-level offenses "fairly and appropriately" rather than pledging not to prosecute them at all, like many of her opponents. Crotty has not yet filed a campaign finance disclosure.
Diana Florence
One of two former prosecutors who have worked for Vance, Diana Florence enters the race with some baggage. She led his Construction Fraud Task Force, but left in January after being accused of withholding damaging evidence about a witness. Florence has said that the Manhattan district attorney's office has "lost its way" under Vance, but has largely seemed to avoid directly criticizing her old boss, in contrast with many of her opponents. In a statement to City & State, though, she attacked Vance by name. "It's clear that he missed critical opportunities that I would've gone after to hold corrupt actors accountable, from Donald Trump to Harvey Weinstein," Florence said. "When pressed he acts, but justice should not require broad public outrage." Thanks to her work in construction fraud, she entered the race with support from labor leaders and unions in the sector she used to oversee. Florence has vowed to take on real estate and construction corruption as district attorney, a shift from the criminal justice reform focus of many of her opponents. Florence has not yet filed a campaign finance disclosure.
Lucy Lang
The other former Vance prosecutor, Lucy Lang used to try homicide and domestic violence cases in the Manhattan district attorney's office. She now styles herself as a reformer, not unlike many others in the race. She supports increasing restorative justice practices as an alternative to incarceration. However, Lang still believes that her history as a prosecutor, taking on issues like gun violence and domestic violence, makes her well-suited to take over from her former boss. However, like Florence, Lang, a longtime Vance ally, has not spoken directly about him. Her entrance in the race has led to speculation that Vance in fact will not seek reelection after remaining mum on the issue for so long. Lang has not yet filed a campaign finance disclosure.
Correction: Tahanie Aboushi's campaign has filed financial disclosures. 
Update: This post has been updated with a statement from Diana Florence criticizing Vance.