Bill de Blasio
Bill de Blasio's penchant for procrastination
You can count on the New York City's mayor to put off the big decisions.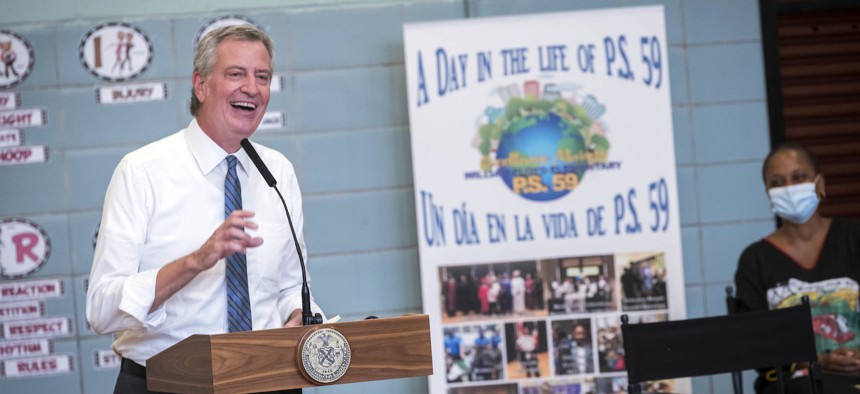 True to form, New York City Mayor Bill de Blasio has procrastinated once again.
The mayor frustrated many when he announced at the last minute that the start of in-person classes at city public schools will be delayed yet again. The city will begin bringing students back to school gradually, beginning with pre-K students and students with special needs. Elementary school students are expected to return to class on Sept. 29 and both middle and high school students are now expected to return on Oct. 1.
De Blasio has been in the midst of an ongoingback-and-forth with the city's principals and teachers unions, who have raised concerns that schools are not yet safe to return to. Many of the mayor's critics have complained that he has consistently delayed dealing with the ongoing issue in a meaningful way and has instead moved the school start date back incrementally and haphazardly.
This is hardly the first time that de Blasio has been accused of taking too long when it comes to making big decisions (and we're not even getting into his unfortunate habit of showing up late, whether it's for press briefings or a memorial service to honor the dead). Here are just a few examples of the mayor's penchant for putting off the big decisions.
Laying off workers
Since early August, de Blasio has been warning that 22,000 city workers will need to be laid off to compensate for a $9 billion budget deficit. He has stated repeatedly that federal aid, state approval to increase its borrowing abilities or getting unions to agree to reduced wages could help avoid or minimize mass layoffs. The city has been told by financial experts to look at cutting more of its budget before attempting to borrow cash.
Avoiding widespread cuts to the city's workforce is looking less likely, however, as Gov. Andrew Cuomo isn't keen on increasing the city's borrowing power and there's been no sign of incoming federal aid. Now many are wondering when these layoffs, which were initially expected in late August, are going to happen. 
Shutting down the city
At the onset of the city's coronavirus crisis, de Blasio ignored calls from public health experts to shut down the city's public schools, along with restaurants, bars and gyms. He also disregarded the city health department's proposals to combat the virus in early March. It wasn't until some of the city's top health department officials threatened to resign that the mayor agreed to shut down the city.
Running for president
In May 2019, de Blasio became the 23rd Democrat to launch a campaign to become the party's presidential nominee. Some have argued that de Blasio's late entry into an already packed field of candidates was indicative of his typical tardiness. His campaign even inspired the creation of a button that said "Make America Late Again."
Endorsing Hillary Clinton
The mayor endorsed his former boss for president in October 2015 – nearly six months after most other New York Democrats had done so. The delayed endorsement didn't help with de Blasio's planned presidential forum featuring both Clinton and her rival, Bernie Sanders, which fell through. The mayor also snubbed Clinton months earlier, when he failed to show up at her campaign launch rally on Roosevelt Island. 
Firing appointees
De Blasio stood by Shola Olatoye, his embattled appointee to run the New York City Housing Authority, for months despite negative headlines about mismanagement and deteriorating living conditions. In late 2017 and early 2018, the mayordefended Olatoye in the wake of revelations that she had lied to the federal government about lead in public housing apartments. Months later, in April 2018, de Blasio announced her resignation. And Olatoye wasn't the only de Blasio appointee to be in limbo for months while the mayor dithered.
Powered By
NEXT STORY: Critics slam NYC City Hall furloughs