New York City
How the Lucerne Hotel reversal happened
A threatened lawsuit caused NYC to move homeless men out of the Upper West Side.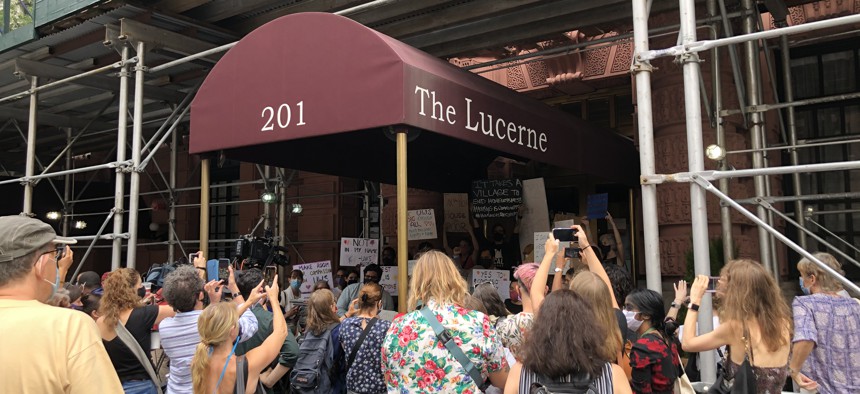 The battle over temporarily housing the homeless in three hotels on Manhattan's Upper West Side is multifaceted. It's simultaneously about the rights of those living in New York City's homeless shelter system, whether certain neighborhoods should be able to turn away certain types of residents, and about trust in the government. But as New York's partial pandemic shutdown nears its sixth month, the battle is also about when things can go back to normal.
So the day before one of the Upper West Side's jewels, the American Museum of Natural History, reopened to visitors for the first time, New York City Mayor Bill de Blasio's administration made the announcement: the single homeless men who had been housed in the Lucerne Hotel on West 79th Street would soon be moved out of the hotel and into a shelter on 31st Street.
The city was pushed by the West Side Community Organization, which was founded to get the homeless out of the neighborhood's hotels and threatened a lawsuit from the organization's lawyer, Randy Mastro, a former deputy mayor under Rudy Giuliani. People were moved into the hotels when the coronavirus was a larger concern, Mastro told City & State. "A lot has changed over the past several months," he said, adding that with the lower infection rate, the city no longer needs to be in crisis mode and housing homeless men in socially distanced hotel rooms.
New York City Council Member Helen Rosenthal, who represents the area, said the men will continue to get their own rooms at the new location on 31st Street, and that the decision wasn't made with health in mind.
"It is a sad day when the mere threat of a lawsuit can get City Hall to reverse a decision that it thought through and made with great conviction," she said at a press conference on Wednesday opposing the city's move.
The press conference featured a reminder of the continuing danger of the coronavirus – and of the health risks faced by homeless New Yorkers in general. Soon after homeless advocates finished speaking, a dead body was wheeled out of the Lucerne Hotel by city workers. The cause of death wasn't clear, and Project Renewal, which runs the shelter, did not immediately respond to a request for comment.