New York State
A state Senate supermajority could force NY leftward
Democrats are on the cusp of winning power over Gov. Andrew Cuomo's veto.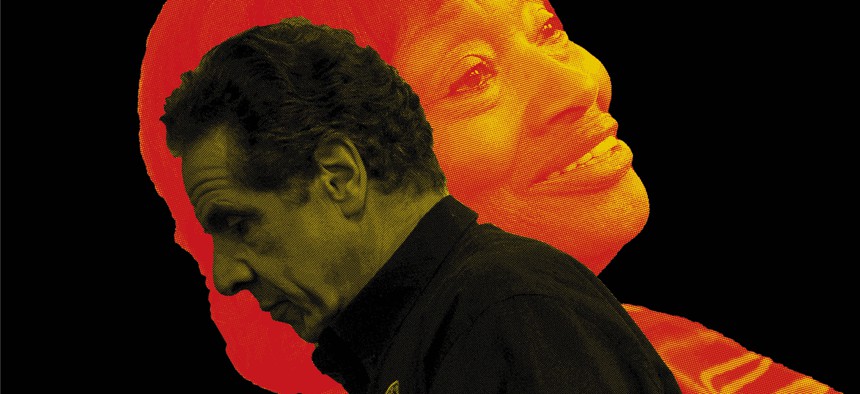 The Empire State is on course to move even more to the political left just two years after Democrats won control of both houses of the state Legislature for the first time in a decade. The 40-member Democratic conference only needs to flip two Republican-held seats in the 63-member state Senate to achieve a two-thirds supermajority to accompany their existing one in the Assembly. No party has done that for at least a century. If it happens in 2020, New York could join California, Rhode Island and Hawaii as one of the states where Democrats have a governor in office and two-thirds of the seats in both houses of the state Legislature.
A state Senate supermajority for Democrats would certainly change the political landscape of Albany. Republicans would be more irrelevant in state politics than ever if they lose key races this year in Western New York, Long Island and the Hudson Valley. There would also be implications for the balance of power between the state Legislature and Gov. Andrew Cuomo, since a supermajority can override a governor's veto. Democrats would also control legislative redistricting because the current system allows a two-thirds majority of the state Legislature to have final approval of any redistricting plans created by a 10-person bipartisan commission. 
"I think it will make a huge difference," said Democratic state Senate nominee Jabari Brisport, a democratic socialist from Brooklyn. "Then we don't need to worry about the governor vetoing higher taxes on the wealthy. We have an absolute opportunity to completely change New York and make New York a progressive beacon across the entire country."
Yet Democratic lawmakers are roughly divided into two factions that will limit how state Senate Majority Leader Andrea Stewart-Cousins and Assembly Speaker Carl Heastie can directly challenge the governor, according to Lawrence Levy, executive dean of the National Center for Suburban Studies at Hofstra University. "Can they now run roughshod over the governor?" he said of Democratic supermajorities. "The answer is probably not – in part because of Cuomo's political skills and in part because a lot of the more moderate suburban or upstate senators are just not going to go along with as progressive an agenda as some of the (New York City) senators might like." 
"We have an absolute opportunity to completely change New York and make New York a progressive beacon across the entire country." - State Senate candidate and democratic socialist Jabari Brisport
The effects of a supermajority may turn out to be more limited for other reasons as well. In the past two years, Cuomo has vetoed plenty of bills that passed the state Legislature by margins larger than the two-thirds needed to override a veto, but neither Stewart-Cousins nor Heastie ever rallied their chambers to deploy that power.
And Democratic state lawmakers might not need supermajorities to control redistricting. Democrats have already passed a constitutional amendment this year that would lower the legislative threshold to 60% votes of the state Legislature – margins they already have in both chambers – for approving redistricting plans. If simple majorities pass it again next year, and voters approve it in November, it could take effect before the redistricting process begins in 2022.
Nonetheless, a few extra votes for the political left in the state Senate could break longtime legislative logjams on high-profile issues like increasing taxes on the wealthy, single-payer health care and the legalization of recreational marijuana. 
Swing-district lawmakers could vote no on controversial proposals to avoid angering their colleagues or constituents, while Democrats still find the simple majority needed to pass the bill. There will also be issues where the political left and right could unite against the governor. Progressives and moderates appear to be forming a united front to raise some taxes in order to avoid deep cuts in state support to public schools and local governments as the state grapples with a $14 billion deficit caused by the pandemic. 
While the governor has been generally opposed to tax increases, he has shown a willingness in the past two years to go along with Democratic lawmakers on hot-button legislative proposals such as driver's licenses for undocumented immigrants and tenant-friendly changes to state rent laws when the political left has had the votes to pass them. The biggest decisions in state government are typically made by the "three people in a room" – the legislative leaders and the governor – behind closed doors. 
Cuomo has been an especially powerful governor, but larger legislative majorities behind Heastie and Stewart-Cousins could grant them more leverage. "Having the ability to override a veto in both houses is something that is always useful to have in your back pocket," said seven-term Assembly Member Linda Rosenthal, a staunch liberal from Manhattan. "A lot of the decision-making power is lopsided right now." 
With just over a week to go until Election Day on Nov. 3, Democratic state legislators appear well-positioned to pick up seats. There are 10 seats in which Republican incumbents are not running for reelection, and Democratic candidates appear competitive in most of them. Democrats have advantages with fundraising and party registration in districts in the Rochester, Buffalo and Syracuse areas, according to recent financial disclosures with the state Board of Elections. There are also potential pickups on Long Island and in the Hudson Valley, areas that once elected mostly GOP state Senate delegations but trended blue in 2018. 
 "Having the ability to override a veto in both houses is something that is always useful to have in your back pocket." - Assembly Member Linda Rosenthal
Democratic candidate Michelle Hinchey, for example, has nearly twice as much money to spend in the final month compared to GOP candidate Richard Amedure in her race to replace retiring GOP state Sen. George Amedore in a district representing part of the Catskills and the Hudson Valley. She is one of four Democrats running for open seats who have at least twice as much money as the Republican candidate, according to financial disclosures filed with the state Board of Elections. Former Peace Corps volunteer Samra Brouk has also raised more than $150,000 for her race in the Rochester area against winemaker Chris Missick, who is self-funding his campaign. 
Public polling is nonexistent for state legislative races, but Republican congressional candidates are struggling even in some areas of the state that President Donald Trump won in 2016. National polling suggests Trump's poor handling of the coronavirus pandemic is also weighing much more on the minds of swing voters than the "law and order" message that Republicans are emphasizing. When several Long Island GOP candidates tried to obtain an additional ballot line under the banner of "Secure Our Communities," they could not even garner the 2,100 signatures required to get it done. One vulnerable Democratic incumbent, state Sen. John Brooks, is a lock for reelection after the Republican candidate got kicked off the ballot for refusing to resign as a county elections commissioner, an obvious conflict of interest.
GOP legislative candidates are not raising money or getting endorsements like they used to from longtime political allies like the real estate industry, who are either keeping a low profile in legislative races or trying to ingratiate themselves with the party in power. "The Long Island Six have made sure that our views are heard," Mitchell Pally, CEO of the trade group Long Island Builders Institute, told City & State of Democratic suburban senators from the area. "That's really what we asked for." 
Despite the lack of Republican sway in the Legislature, some supporters are sticking with them in hopes that things will somehow turn around in November. Police unions have been a big source of support for GOP candidates across the state this year. A conservative super PAC is spending millions to turn things around by targeting Democratic incumbents in swing districts that the party flipped two years ago. "We're confident that we will not only hold our seats, but grow our conference," said Candice Giove, a spokesperson for the 20-member Republican minority. There are currently three vacant seats representing districts won by the GOP in 2018. 
With just a few weeks to go before Election Day, an outcome with few Republican pickups isn't utterly impossible, but Democratic supermajorities appear much more likely. And while there are plenty of signs that the governor will still have the upper hand against legislators, that does not mean it is just going to be business as usual in Albany once the new year begins.
Two groups of Democratic lawmakers are likely to expand their influence within the state Legislature next year. The first is an upstate Democratic state Senate contingent that could add as many as five new members from the Syracuse, Rochester and Buffalo areas to the current two Democratic senators from west of the Capital Region. 
Representing more upstate urban areas could demonstrate growing strength outside of New York City for the political left on issues like health care, housing and funding for education. "People have often said that what's been missing is that strong progressive delegation from upstate to kind of balance things out," said Ravi Mangla, a progressive activist in the Rochester area who is supporting the Democratic candidates in Western New York. Past election results like the 2016 presidential race suggest that urban turnout will be key for Democrats to win in competitive districts representing parts of Rochester, Syracuse and Buffalo that also include significant rural and suburban areas. 
"Can they now run roughshod over the governor? The answer is probably not." - Lawrence Levy, executive dean of the National Center for Suburban Studies at Hofstra University
At least three prospective Democratic senators running in such districts appear to be to the left of downstate suburban moderates on a few key issues. Brouk and Jeremy Cooney, a former chief of staff for Rochester Mayor Lovely Warren, are running in districts that include parts of the city on platforms that embrace single-payer health care. John Mannion of the Syracuse area, who lost a 2018 race for the seat by a few thousand votes, has also expressed support for the idea. Brouk has attended Black Lives Matter protests, and Cooney has said he supports the bail reforms Democrats made in 2019. Brouk (whose father is originally from Ethiopia) and the Indian-born Cooney (who was adopted by an American family when he was young) would also be the only state senators of color representing any district north of New York City. 
Other Democratic candidates for Western New York seats like Sean Ryan (an Assembly member running to replace Republican U.S. Rep. Chris Jacobs in a Buffalo area state Senate seat) and Amherst Town Board Member Jacqualine Berger (who is running to replace the retiring Michael Ranzenhofer in a sprawling Senate district between Buffalo and Rochester) seem to be more aligned with the centrist wing of the Democratic Party. Ryan has a campaign website touting his bipartisan bonafides and has not joined dozens of his more liberal colleagues in signing on to bills to legalize recreational marijuana or establish a state level single-payer health care system. Such positions dovetail nicely with moderate voters and labor groups like New York State United Teachers that have opposed such ideas in the past. Like Ryan, Berger is emphasizing longtime liberal priorities like increasing state funding for schools and public colleges. Neither candidate responded to a request for comment.
While Brouk, Cooney and Mannion lean left, they too put a local spin on issues such as mitigating climate change, by emphasizing local impacts. Cooney lost a 2018 race against retiring GOP state Sen. Joseph Robach by 11 points. With a week to go before Election Day this year, he has twice as much money to spend to convince voters that he is no left-wing radical. "I'm not looking to go to Albany and burn everything down," said Cooney. "That's not my attitude. My attitude is, I'm looking to pull a seat up to the table for Rochester." That appears to be fine with organized labor and the progressive Working Families Party, which have both lined up behind all five of the Democratic candidates in Western New York. 
"The key question is how these new senators vote," said Levy of the National Center for Suburban Studies. "There will be regional differences. There will be ideological and there will be shifting alliances that you don't normally see around a specific piece of legislation."
 "I'm not looking to go to Albany and burn everything down. That's not my attitude." - Democratic state Senate candidate Jeremy Cooney
Any progressive efforts in the state Senate will certainly have some support in the Assembly, considering the new wave of insurgent candidates who look likely to win election this November. Housing activists Phara Souffrant Forrest and Marcela Mitaynes, who were both backed by the New York City chapter of the Democratic Socialists of America, defeated incumbent Assembly Member Walter Mosley and Assistant Speaker Félix Ortiz, respectively, in the June 23 primary. Other progressive insurgents including local community board member Emily Gallagher, activist Jessica González-Rojas, activist Zohran Mamdani and attorney Jenifer Rajkumar are expected to win in their historically Democratic Assembly districts in New York City.
This influx of left-wing women and people of color could shake up the center-left status quo in the state Legislature, according to observers. "We've seen that in the most recent class of newly elected women," said Democratic consultant Alexis Grenell, referring to state Senate Labor Committee Chair Jessica Ramos, Ethics Committee Chair Alessandra Biaggi and state Sen. Julia Salazar, all of whom were elected in 2018. The three lawmakers were only part of a larger Democratic effort to pass a litany of high-profile legislation in the past two years that reformed voting, policing and other policy areas. But the newcomers had an outsized effect on extending collective bargaining rights to farmworkers, reforming state laws on sexual harassment and pushing the chamber in a more progressive direction on expanding rent protections.
The power of the governor has grown enormously in the past 20 years, which means legislative supermajorities can only do so much – no matter how many votes Heastie and Stewart-Cousins can muster on one issue or another. The 2004 state Court of Appeals decision in Silver v. Pataki gives the governor much more influence over the state budget than most of his counterparts in other states. The details of the court decision are complicated. They effectively mean that lawmakers can haggle over funding levels but otherwise have to vote up or down on a governor's proposed budget. If they fail to do that before the state budget deadline, then the governor could resort to keeping the government open through temporary budget extenders until lawmakers grant concessions. 
More progressives in the Assembly, and more Democratic senators in general, mean Heastie and Stewart-Cousins could face more pressure to force the governor leftward. Both legislative leaders are pushing for tax increases to help plug the $14 billion budget hole caused by the pandemic, which Cuomo has resisted. Even if there were enough votes to pass proposals that increase taxes on millionaires, stock transfers and part-time residences this year, Cuomo could still veto them and then demand political concessions in order to strike a new deal with lawmakers, similar to what he has done over the past year on contentious issues like increasing worker pay protections, legalizing e-bikes and collecting more specific demographic information about Asian Americans to address disparities. A potential veto kept new limits on solitary confinement from even coming up for a vote. 
"I would see the governor more likely siding with the supermajority, so it looks like he's the one who's helping this Democratic initiative get passed. He likes to win." - Christina Greer, associate professor of political science at Fordham University
The only way to even out the balance of power is through the state constitutional amendment process, which requires two successive legislatures to pass a bill by a simple majority before it goes before voters as a ballot initiative. Such a proposal could have taken effect by 2022 if Heastie and Stewart-Cousins had brought it up for a vote this year. Spokespeople for the legislative leaders did not respond to a request for comment, though some political insiders privately suspect they refrained from moving a proposed amendment with budget reforms forward this year to placate the governor. "I haven't seen any real signs that the speaker and the leader are seriously interested in crossing the governor," said one activist involved in state politics who wished to remain anonymous to speak frankly about the situation. 
Democrats did not vote to override vetoes issued by Cuomo over the past year, even though many of the bills passed the state Legislature nearly unanimously. There is more than simple math that legislative leaders have to factor into the political equation. Representatives of the legislative leaders did not respond to a request for comment, but the Cuomo administration is downplaying the potential for conflict next year. "I can't think of anything the Legislature would pass that we wouldn't sign," Secretary to the Governor Melissa DeRosa tweeted on Sept. 22. "Gov. Cuomo fought hard to elect a Democratic majority and looks forward to growing the conference." A veto-proof majority would still leave the governor with his formidable powers over the budget, but cooperation rather than confrontation is the goal, according to Cuomo spokesperson Rich Azzopardi. "As history has demonstrated, we work with any legislature the voters give us," he said in a statement. "We will continue to do so."
The governor has some informal ways to keep the Legislature in line. For starters, the regional and ideological divisions among Democrats make it hard for the legislative leaders to mobilize supermajorities on controversial issues like raising taxes on millionaires, single-payer health care and the legalization of recreational marijuana. This will allow the governor to continue benefiting from the political divisions among state lawmakers moving forward as he has done in the past with suburban Democrats and his reported efforts in his first years in office to help the GOP keep control of the state Senate as a counterbalance to the New York City liberals who dominate the Assembly. The governor can also reward or punish legislators through appointments to public authorities like the Dormitory Authority of the State of New York, the Metropolitan Transportation Authority and the New York Power Authority. Decisions made by those agencies have real effects on any lawmakers' constituents. 
"I can't think of anything the Legislature would pass that we wouldn't sign." – Secretary to the Governor Melissa DeRosa
Heastie and Stewart-Cousins scored their biggest legislative wins of the past two years with simple majorities that passed strengthened rent regulations and legislation allowing undocumented immigrants to get driver's licenses. While that suggested that state lawmakers were breaking new ground in 2019 in evening the balance of power with the governor, divisions between moderates and progressives have demonstrated the limits of lawmakers' abilities to take the lead on other controversial issues. "You know they don't have the votes because they did not pass a bill," Cuomo said in 2019 of the failure to legalize recreational marijuana. 
With Democrats poised to win more seats in November, it could become increasingly difficult to say whether the governor is leading the state Legislature or the other way around, according to Christina Greer, an associate professor of political science at Fordham University. Either way, things are going to only get more blue in Albany in 2021 no matter what happens with the presidential election and U.S. Supreme Court in the coming weeks. "I would see the governor more likely siding with the supermajority, so it looks like he's the one who's helping this Democratic initiative get passed," she said. "He likes to win."