Andrew Cuomo
Cuomo shines in new COVID-19 poll, but de Blasio deserves some credit as well
New Yorkers may have more love for Cuomo, but on some COVID-19 policies, de Blasio got there first.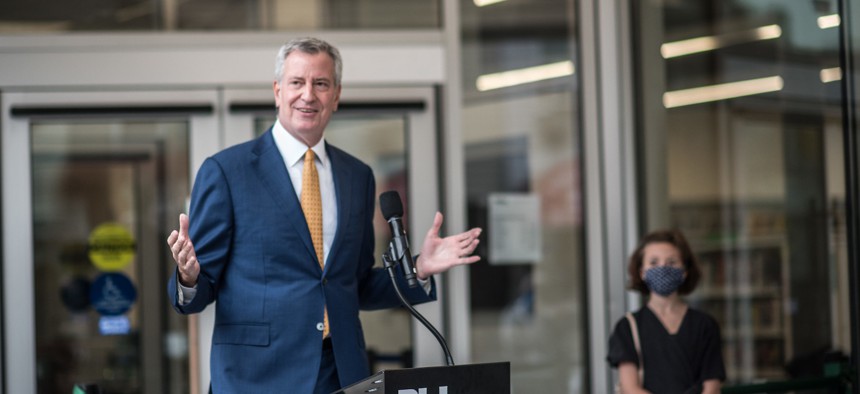 No one who has been watching New York's response to the coronavirus pandemic play out since the beginning would be surprised to hear that Gov. Andrew Cuomo has experienced a surge in popularity while New York City Mayor Bill de Blasio's stock has plummeted. A new Spectrum News/Ipsos poll found that 73% of New York City residents approve of the way that Cuomo is handling the pandemic, while only 52% of city residents approve of de Blasio's efforts.
Asked about the poll on Wednesday, Cuomo told reporters that New Yorkers deserved credit for backing mask-wearing and other mandates first. "I think the public supports what I've done because the public supported it before I did it," he said. 
But when it comes to people getting credit for supporting COVID-19 measures before Cuomo, de Blasio might deserve some, too. While de Blasio has earned his fair share of criticism for his leadership during the pandemic – the chaotic reopening of schools as just one example – it's worth noting that the mayor championed some of the key actions the state took to curb the spread of the virus before Cuomo did.
It's not a new phenomenon for credit for ideas like New York's $15 minimum wage or universal pre-kindergarten to get jumbled between Cuomo and de Blasio. But it's happened a handful of times during the pandemic, too.One of the most notable examples was on March 17, when de Blasio told New York City residents to prepare to shelter in place. Cuomo then dismissed the idea in a television interview, causing chaos at City Hall, as The Wall Street Journal reported last month.New York eventually did shut down under Cuomo's "New York on Pause" order – effectively a shelter-in-place order – days later. 
More recently, Cuomo dismissed New York City's attempts to enforce harsher restrictions in hotspot zones where COVID-19 cases were rapidly rising, including in Brooklyn and Queens. First, de Blasio proposed shutting down schools and nonessential businesses in those areas – only to have Cuomo quickly halt the plan and implement his own slightly altered version, which still shuttered some schools and businesses but used different geographic criteria and different phases of shutdown.
The same pattern was evident back in April as well, when de Blasio announced that schools in New York City would not reopen for the remainder of the 2019-20 school year. Cuomo responded that only the state had the authority to make that decision, before ultimately echoing de Blasio's call to close schools for the rest of the year. De Blasio may not have finished first in the polls, but he can take solace in the times he was not only first, but right.