Campaigns & Elections
How far will media stardom take Maya Wiley?
The mayoral candidate is known to progressives who watch MSNBC or spend time on Twitter, but no one else yet.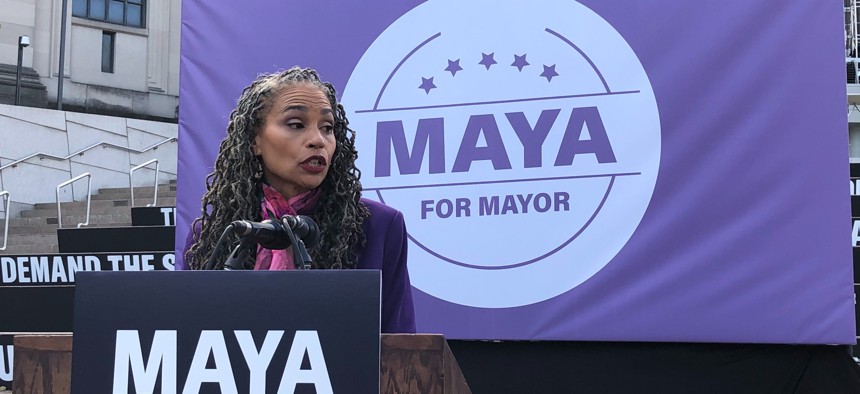 Maya Wiley's Thursday afternoon announcement that she's running for mayor of New York City was made for television. There was the eye-catching purple color scheme, with Wiley's jacket and scarf complementing the new campaign logo behind her. She delivered poetic lines, recalling the moment as a child she fell in love with New York City when seeing skyscrapers from the window of an Amtrak car. There was drama, when she told the heart-wrenching story of watching her father drown when she was just a kid. And there were quips, like when she said that, unlike with Mayor Bill de Blasio, whom she worked under as counsel to the mayor for two and a half years, "you'll never have to question whether the mayor even wants the job," when she's in City Hall. "You will never have to wonder whether I'm in Iowa."
The spectacle was a good fit for Wiley, whose candidacy stems in part from her two years as an on-air legal and political analyst for MSNBC, the liberal-leaning cable news network. And her chances of becoming mayor depend on whether she can expand her existing fan base among some highly engaged progressives to achieve citywide recognition before the June 2021 Democratic primary. 
Wiley has some 359,200 Twitter followers, more than any other candidate in the race by a wide margin and far more than even de Blasio's 223,300 on his campaign account. The power of Twitter, a much smaller social network than Facebook or Instagram, is often overstated. The political graveyard is littered with candidates whose follower counts exceeded their vote totals. But the microblogging platform, being more popular among activists and journalists than the average voter, can also be a launching pad, even in local races. Just ask Mimi Rocah and her 458,400 followers: Like Wiley, Rocah was an MSNBC legal analyst, but she's all but guaranteed to be the new Westchester County district attorney, after unseating incumbent Anthony Scarpino in the June Democratic primary. Her social media following didn't make up for the fact that Scarpino was already in office, "but it helps level the playing field," Rocah told City & State. "Because there's a built-in avenue that I felt really fortunate to have to bypass the traditional structures and talk directly to voters."
And years of TV appearances have its own benefits, outside of the social media following. "Being an analyst, people feel that they know you," Rocah said. People would come up to me and think that we had met before because they were so used to seeing us."
Wiley was overheard discussing this kind of fame after speaking at a press conference at the Hotel Lucerne in Manhattan in September. Everybody is always telling Wiley that their mother loves watching her on TV, Wiley explained to some advocates for the homeless. "But that doesn't help if (your mother) lives in Florida!"
Sure enough, Rocah had a national audience on MSNBC, but only a tiny portion of her fans were registered Democrats in Westchester County. Still, "you'd be surprised," at the number of local connections, Rocah said. "It's not enough to win a race, but it's a place to start."
And just because fans can't vote doesn't mean they can't donate, which Rocah said was a big help in her race. Wiley likely won't be able to benefit from national money quite as much as Rocah, since city races have comparatively low donation limits, and only city residents' donations are matched 8-to-1 in the campaign finance system. But Wiley seemed optimistic when she was asked about her financial situation on Thursday. "Fundraising is going wonderfully," she said, adding that she'll be declining donations from real estate or from lobbyists.
Rocah's win may be Wiley's best case scenario for a candidate riding TV news semi-celebrity to elected office. Former CNBC anchor Michelle Caruso-Cabrera got crushed in her 2020 Democratic primary bid against Rep. Alexandria Ocasio-Cortez, Cenk Uyger host of the popular left-wing YouTube show "The Young Turks" came in a distant fourth place in his own 2020 congressional bid, and former MSNBC host Dylan Ratigan didn't put up much of a fight in his 2018 run for Congress in the North Country. 
So Wiley shouldn't be relying on her MSNBC appearances alone. "She obviously will have the name recognition as a result of that," Democratic political consultant Basil Smikle told City & State. But Wiley will have to really hit the retail politics hard for voters to get to know her and this is looking to be a more difficult cycle for that, given the ongoing coronavirus pandemic. That means no appearances anytime soon in front of packed churches, and no shaking hands at parades. Still, Wiley is one to watch. "I think she's obviously incredibly talented," Smikle said. "She's a top tier candidate."
Wiley candidacy has earned some buzz, and not just from cable news viewers. That's in part because she's a qualified Black woman running to be the first-ever female mayor of the largest city in the country. And she isn't just a talking head – she has been a civil rights attorney at the NAACP and a civil litigator in the U.S. Attorney's office for the Southern District of New York and co-founded the Center for Social Inclusion, a group devoted to ending racial inequities. She served as de Blasio's top lawyer, and briefly chaired the Civilian Complaint Review Board, which reviews police misconduct within the NYPD. But most mayoral aides don't become viable candidates for their boss's job, and two others – former Sanitation Commissioner Kathryn Garcia and former Department of Veterans' Services Commissioner Loree Sutton are also running for mayor. It took cable news to get her to a level where Wiley could run, and whether she's able to continue to harvest the benefits will be a key question for her campaign.