Campaigns & Elections
Long early voting lines plague voters across New York
While boards of elections could have been more prepared, a confluence of problems caused hours long wait times.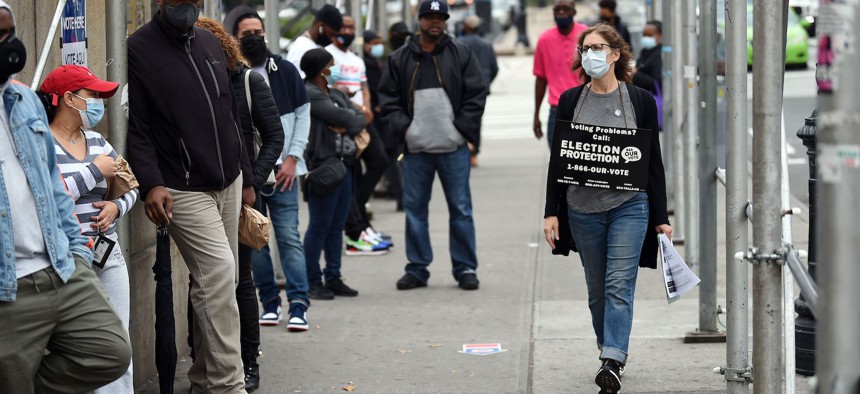 New York City residents were met with hourslong waits to cast their ballot in person during the first weekend of early voting. But they were not alone – voters across the rest of New York state faced similar waits, from Long Island to the Hudson Valley to Western New York. While frustrating, the long lines represented a confluence of problems, from inadequate planning, unexpected turnout to simply not perfecting early voting in the first major test for boards of elections across the state.
Signed into law in 2019, this is the first year that early voting has been in place for a presidential election. Although this is technically the second general election for early voting, statewide turnout in the first two days already almost surpassed all nine days of early voting in 2019. Over the weekend, more than 422,000 people across the state cast their ballots, which according to the state Board of Elections was eight times more than the first two days in 2019. "Voter enthusiasm is running high," state Board of Elections spokesperson John Conklin said in an email, noting that the total number of polling sites across the state exceeded the minimum required by law, but it still doesn't compare to the number of locations that will be open on Election Day. "Early Voting is not a substitute for Election Day, it is a supplement."
To put early voting in perspective, there are 287 early voting sites across the state. On Election Day, about 5,200 polling places will be open in New York.
Of course, it shouldn't be discounted that this year's presidential election has been particularly contentious, and is taking place during a pandemic. "This was the first time out so (the Board of Elections) didn't know what to anticipate," Jarret Berg, voting rights advocate and a co-founder of the group VoteEarlyNY, told City & State. "They started with nine days, and from here on in the question becomes how can we refine these programs so they meet people's needs?" 
According to state law, counties and New York City must have at least one early voting site per 50,000 registered voters – but requires no more than seven sites, even with that metric – for a total of 60 hours of voting over the course of nine days. Some places, like Rockland County, had four early voting sites available, its minimum requirement, and scheduled 60 hours of voting per state law. According to Rockland County Democratic Elections Commissioner Kristen Zebrowski Stavisky, this setup was more than enough in 2019 and the 2020 primary, the only information her board of elections had. She said Rockland County had never had longer than 15-minute wait times on Election Day. But during the first day of early voting, all four polling places had waits of one to two hours. "Clearly, in four years, we will have more spots in a presidential election," Zebrowski Stavisky told City & State. "We certainly did not anticipate anything like this turnout."
Under state law, individual boards of elections were expected to tailor their early voting program to meet their constituents' needs, but voting rights advocates said changes will likely need to be made to the state's early voting law due to this year's problems. Berg said, for example, that many other states have early voting for more than nine days, and state lawmakers could examine if New York would benefit from adding more days. "As we continue to modernize our laws, we need to figure out how to make sure people aren't waiting for hours and hours and hours to vote," Berg said, adding that the state is still in the process of improving its antiquated election laws.
An obvious solution sans changes to state law would be to add more polling places and hours, but even counties that went above and beyond the requirements in state law saw long lines and long waits to vote over the weekend. Nassau County is only required to have seven early voting sites, but it has 15. And it added about 20 extra hours for voting over the nine days, which Berg said makes Nassau County a leader in the state when it comes to polling hours.
But Nassau, as of all Long Island, was nonetheless still plagued with lines that went down the block and snaked around parking lots. "It's just the sheer volume, you know, and excitement around this election," Nassau County Democratic Elections Commissioner James Scheuerman told City & State. He said the social distancing requirements inside the sites contributed to the long lines as well, even though he said the sites were running smoothly despite the waits. "With the social distancing outside, and the volume, that's a perfect storm for some lines." Scheuerman said he would have liked to have seen 20 early voting sites, which would have hit the one site per 50,000 voters requirement if the law required any county to have more than seven early voting places, but said 15 was a compromise with the Republican commissioner.
In an attempt to help alleviate long lines amid huge early voting turnout, Onondaga County already announced it will keep polls open for a total of four extra hours this coming weekend, opening sites at 8 a.m. instead of 10 a.m. "The overall number was a big surprise," Onondaga County Democratic Elections Commissioner Dustin Czarny told WCNY. He added that people were lining up to vote even before polls opened, which happened throughout the state as well. "Obviously these are not lines we have ever been accustomed to in Central New York and we handled it really well," Czarny said.
New York City, where some said they waited for three or more hours to vote, actually expanded the number of early voting sites since last year, adding nearly 30 more locations to reach a total of 88 polling sites this year. Those included Madison Square Garden and the Barclays Center, although other major cultural centers like the Metropolitan Museum of Art turned down the city's request to use them as early voting places. Finding enough large locations willing to act as polling places for nine days was a challenge in itself, especially in the city. "New York City has a dramatically larger and denser population than anywhere else in the state, and probably most of America," Berg said. "When it comes to elections, it creates unique challenges for the city of New York."
A spokesperson for the city Board of Elections did not return a request for comment about the reasons behind the long lines nor what it planned to do to address the long wait times.
Part of the problem may come down to the capacity at each early voting site. In New York City, for example, the Barclays Center was reported to have only three scanners, where voters feed their completed ballots . Madison Square Garden was reported to have just six scanners and seven ballot printers, limiting the number of voters who could check in. In Nassau County, Scheuerman said the first thing he did was to try to get more equipment to polling places in order to check in more people when he first got reports of hourslong waits on Saturday. "Just to help try to alleviate some of these lines, we did hit the panic button with our vendor," Scheuerman said.
But Zebrowski Stavisky said adding more equipment to process more people could conflict with social distancing restrictions. "I don't want to make the room denser than it already is," she said. Conklin, from the state Board of Elections, said the pandemic presented unique challenges related to capacity, with Berg concurring that COVID-19 was likely adding to wait times while simultaneously driving people to the polls early.
New York City Mayor Bill de Blasio at a press conference on Monday called on the city Board of Elections to increase the number of machines at polling places – as Nassau County did – and expand voting hours next weekend – as Onondaga County did. "The Board of Elections was clearly not prepared for this kind of turnout and needs to make adjustments immediately to be able to support all the New Yorkers who want to take part in the democratic process," de Blasio said. Elections lawyer Sarah Steiner said the city should also figure out how to better place more sites in the future. "I think that the actual act of voting is being very competently managed," she said. "I think that the choices of location and catchment areas for early voting are not done as well as they could be done."
Berg suggested that some of the long waits could also be attributed to first weekend excitement, and expects wait times to decrease during the week before picking up again during the second weekend, which he predicted could have even higher turnout than the first weekend. Conklin confirmed that turnout was indeed higher during the second weekend of early voting in 2019. New York City Council Member Carlina Rivera said on Twitter that even on Sunday, despite more people voting, people reported slightly shorter wait times. And anecdotally as well as on social media, some people in the city said they voted with little or no wait on Monday. "When it happens on the first weekend, this is a ton of excitement around the ability to vote for president and everything below that on the ballot," Berg said. "And there are seven more days of early voting."
But only time will tell if that's true. Both Scheuerman and Zebrowski Stavisky said they could see long lines out their windows in the middle of a cold and rainy Monday, adding that they expect to see long lines throughout the week. Both commissioners agreed that they wish they could have had more early voting sites.
And ultimately, the effects that early voting, as well as absentee voting, will have on actual Election Day turnout is another unknown. Locations that normally have long lines may have greatly reduced wait times thanks to high participation with the other two methods of voting. "Imagine how this would have played out if none of these folks who vote this week, over these nine days, if they all still had to wait and vote on Election Day," Berg said.
The long lines have drawn accusations of voter suppression, including from Rep. Alexandria Ocasio-Cortez, even while many people greeted the lines with good humor and excitement over turnout. Berg and Steiner both agreed that while they don't believe there was any malicious intent by the city or other Boards of Elections, any obstacles to voting can unintentionally suppress voters. But overall, the kinks in early voting still should be worked out. "The civic engagement, the voter enthusiasm, those are wonderful things, and all that's good," Steiner said. "I think they did the best they could have given the fact that it was an unknown how many people were going to come out to vote early."
New York State Case Studies
Powered By
NEXT STORY: A state Senate supermajority could force NY leftward