New York City
Long lines for early voting while COVID-19 cases tick up in NYC
Rounding up the week's political news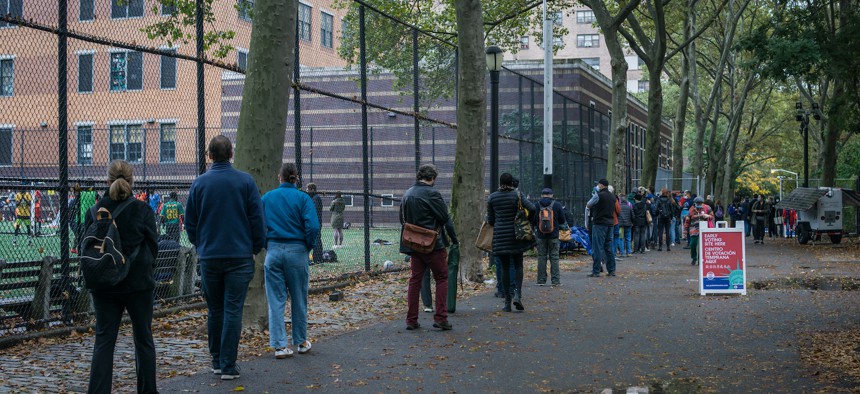 There's a lot to keep track of in the news today, but in case anyone forgot: Kanye West is still running for president. And this past week, he registered as a write-in candidate in New York. Although who knows how much last-minute campaigning he's doing – it's hard to connect with voters from a private island. Still, he's attempting to make his presence known, and on Friday he took out a two-page ad in The New York Times. Voters in New York had an opportunity to vote for West this week (or far more likely to cast a vote for Joe Biden or Donald Trump) with early voting. Keep reading for more about how voting went and the rest of the week's news.
Early voting results in long lines
In the first presidential election with early voting in New York, enthusiastic voters turned out in large numbers to cast their ballots, often being met with long lines at overwhelmed polling sites in New York City and across the state. Some people waited up to four hours to vote, with Rep. Alexandria Ocasio-Cortez and others calling the long lines a form of voter suppression. After a busy first weekend, the crowds did not dwindle, as voters in both the city and state showed up to polling places in even greater numbers during the week. Immediately, some election officials began extending voting hours to reduce the lines, with others moving to bolster voting locations with more equipment and staff. In New York City, the long lines drew the ire of Mayor Bill de Blasio, who demanded the city Board of Elections extend its hours and get more scanners to polling sites. The board did extend the final three days of early voting by nine hours, and even opened an additional site to help reduce stress on the most heavily trafficked polling site. Although New York City was not alone in bungling the first major rollout of early voting, evidence of the city's mismanagement became apparent as election officials across the state quickly realized that they likely should have opened more polling places. The city was the only place in the state where voters were assigned an early voting place; everywhere else, voters could go to any location in their county. Data from the New York City Campaign Finance Board showed that the number of voters assigned to polling sites varied greatly, with decisions potentially not taking into account the functional capacity of a given location. Inadequate staffing and equipment also led to bottlenecks as people checked in at the busiest locations.
Long lines lead to calls for change
After de Blasio himself waited more than three hours to vote early, he called for a complete overhaul of the New York City Board of Elections, echoing what Gov. Andrew Cuomo also said in response to the long lines. The city Board of Elections has long been criticized for its poor management and its patronage staffing system. A change to the inherently partisan structure of the city's board would require a state constitutional amendment. More immediately, some are calling for improvements to the early voting law. Recognizing the inadequacy of the 88 early voting sites in New York City, state Sen. Michael Gianaris introduced legislation to require at least one early voting site for every 25,000 voters. That would be double the minimum number of polling locations that are currently required, but it would also greatly increase the number of polling sites in large counties that were only required to have at least seven sites. This would apply across the state, where other county election officials evidently underestimated turnout and whose voters would potentially benefit from more stringent requirements.
COVID-19 cases on the rise in NYC
In August, New York City set a warning threshold of 550 new coronavirus cases in a single day. That grim milestone was recently reached. It didn't set off any new restrictions, but it represents a concerning uptick in the number of cases – the city has not had that many daily new cases since the summer. Days later, de Blasio said that the city was experiencing a "very worrisome" spike in coronavirus cases as the seven-day rolling average of the positive test rate hit nearly 2%. That's the highest it has been in weeks, and the most significant jump in the positivity rate since the city first started tracking it in September. At the same time, Cuomo was discouraging New Yorkers from traveling to see family for the upcoming holidays as the nation continues to hit record numbers of cases and other states experience their own spikes. Although he has not imposed travel quarantine restrictions for New York's neighboring states that are seeing upticks in COVID-19 cases, he asked people to limit nonessential travel. Cuomo also asked New Yorkers not to hold large family gatherings for Thanksgiving.
Continued nursing home scrutiny
The U.S. Department of Justice again requested that New York hand over data about the number of nursing home deaths in the state, expanding on its previous request to include about 600 private nursing homes, as opposed to just those run by the state. The governor maintained that the inquiries were politically motivated and that the latest request was purposefully timed to coincide with the election. He continued to defend the state's handling of coronavirus cases in nursing homes, even as scrutiny over a March order requiring nursing homes to accept recovering coronavirus patients from hospitals has led to prolonged criticism. Officially, about 6,700 people have died in New York nursing homes of the coronavirus, but many believe this is an undercount and the state Department of Health has not yet released additional data that could reflect a more accurate number.