New York State
Rochester Mayor Lovely Warren's indictment reflects history of Democratic infighting
The intra-party Democratic dysfunction in Monroe County gives Albany a run for its money.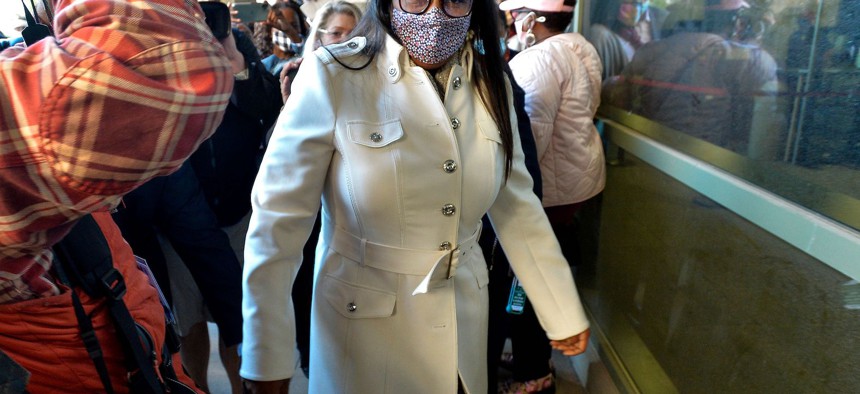 Rochester Mayor Lovely Warren's indictment for alleged campaign finance violations comes at a turbulent time for a city still reeling from the police killing of Daniel Prude, a Black man experiencing a mental health crisis when police encountered him. But Warren is also contending with intra-party Democratic fighting that has been plaguing them in Rochester and surrounding Monroe County for years. Earlier this year, even before Warren's indictment, those divisions, often drawn on racial lines, had already hit a boiling point. 
Timothy Kneeland has been teaching political science at Nazareth College in Rochester and observing divisions within the Monroe County Democratic Party for two decades. He said much of the conflict is between the county as a whole and the city of Rochester, because the interests of urban Democrats did not always mesh with those of suburban and rural Democrats in other parts of the county.
Some of the current dysfunction seen today can be traced back to a faction of Black lawmakers in the Rochester City Council and Monroe County Legislature who aligned themselves behind Assembly Member David Gantt, a powerful Black legislator who died in July while still in office. Gantt believed that under-resourced Black neighborhoods and other people of color in Rochester were being ignored. Gantt mentored Warren, who is also Black and is one of the key power players in the area. While not getting directly involved in every dispute, Warren effectively has a faction of Democrats who are loyal to her, according to Kneeland. "That power base still exists, so she inherited that mantle (from Gantt) and tried to expand it," Kneeland said.
On the other side are former white establishment Democrats such as Rochester Mayor Bob Duffy and U.S. Rep. Joseph Morelle, another influential political force in the area who previously served on the county Legislature, nearly 30 years in the Assembly and as the county Democratic Committee chair. New County Executive Adam Bello is considered a part of that faction associated with Morelle and Duffy, who after serving as lieutenant governor during Gov. Andrew Cuomo's first term has been president of the Greater Rochester Chamber of Commerce. 
Morelle lives in the Rochester suburb of Irondequoit and his district covers nearly all Monroe County. Bello, the former county clerk, is also from Irondequoit. They are products of the traditional, predominantly white party power structure in the county that Gantt, the first and so far only Black state legislator from Monroe County, and his proteges ran as insurgents against.
Warren's election in 2013 brought divisions between political factions in the local Democratic Party to the forefront. Morelle declined to endorse Warren in her 2017 primary election, and Warren noted their differences when she endorsed him for Congress in 2018. She ousted incumbent Thomas Richards, the handpicked successor of Duffy. Right before Duffy left office to become lieutenant governor in 2011, he appointed Richards as the interim mayor, who served for three weeks before the City Council appointed an "emergency interim successor" and was eventually elected in a special election that same year. 
Warren's 2013 insurgent victory was a major upset and shook up the Monroe County and Rochester political playing field. Her 2017 victory solidified her place in power. "Lovely, when she was reelected in 2017, came out and her acceptance speech sounded like she was stepping up to the plate to really be the leader in and across Monroe County," Kneeland said. He added this set her apart from Rochester's first Black mayor, Bill Johnson, who Kneeland said played more of the role of a "peacemaker" and didn't try to exert his own influence over intraparty politics.
The divisions between these two factions exploded earlier this year, as five members of the Democratic minority in the county Legislature sided with Republicans to overrule a veto from Bello, in order to expand the county Board of Elections' staffing to the objection of their Democratic colleagues. Bello argued that the positions would simply be patronage jobs that would cost the county more money during the financial crisis caused by the pandemic. All five of the Democrats who sided with Republicans, including then-Minority Leader Vincent Felder, who is black, came from the original Gantt faction. Excluding Felder, four of those Democrats have since formed their own caucus they dubbed the Black and Asian Democratic Caucus and are generally seen as members of the Warren faction of the party, whereas the other nine Democratic county legislators, which includes Morelle's son Joseph Morelle Jr., are viewed more as part of the Morelle/Bello faction. Although Bello's 2019 election brought a Democrat to the county executive position for the first time in over 25 years and Republicans hold only a one-seat majority in the county Legislature, the lack of party unity has so far interfered with Bello's efforts to implement his agenda. Members of the caucus argued that splitting with the other minority members gives residents a greater voice, but the move also weakens the Democratic voting bloc and thus Bello's ability to get legislation passed.
The county Legislature became even more divided after the Democratic Board of Elections commissioner stepped down in February, and thus a replacement needed to be appointed. Felder moved to appoint LaShana Boose, then the interim commissioner, despite objections from other, mostly white, county legislators as well as members of the Democratic Committee. Warren did not wade into the commissioner fight, but had previously supported Boose, and thus the battle was seen as something of a proxy fight between warring factions in Monroe County. Ultimately, it went to state court, where a judge ruled in June that the county Democratic Committee had the right to nominate the next elections commissioner, even though the pandemic caused them to miss a 45-day window to do so. After Boose said in July she would not run for the position, committee members overwhelmingly voted to appoint Jackie Ortiz, who at the time was an at-large member of the Rochester City Council and would be the first Latino commissioner in the county. Legislators then accused Felder, the other four Democrats from the Warren/Gantt faction and Republicans of dragging their feet on her official confirmation after Felder lost the fight to simply appoint his desired nominee.
The majority faction of the Democratic caucus finally voted to appoint Ortiz in late August – soon after they voted to appoint a new minority leader. A few days before they approved Ortiz's position as elections commissioner, nine of the 14 Democratic members of the Monroe County Legislature voted to oust Felder and replace him with Latina county Legislator Yversha Roman, the only Democratic person of color not loyal to Felder in the county Legislature. Felder maintains the vote was conducted illegally because they voted after he ended their Zoom call and not in a meeting he called, a position that Republican Legislature President Joseph Carbone seemed to agree with, but without actually weighing in on who he thought should be minority leader. Felder still claims the role is his, despite a judge stepping in to say that Roman is the new minority leader and confirming that Ortiz is the Democratic elections commissioner.
Warren's current legal troubles come from her 2017 reelection campaign, after two of her primary challengers, then-county Legislator James Sheppard and current county Legislator Rachel Barnhart, filed complaints. They accused Warren of using her political action committee to circumvent campaign finance laws. Barnhart had previously accused Warren of engaging in pay-to-play politics. Warren called the accusations a "witch hunt" in August, and she pleaded not guilty to the charges this month. Barnhart, meanwhile, now is part of the faction of the county Legislature minority that installed a new leader and ousted Felder, a Warren ally.
Warren's power over Rochester politics has also been tested of late, and the current indictment is just another instance when she seems to have come up short. Last year, Warren pushed for a citywide referendum for a state takeover of the troubled Rochester City School District. A key Assembly member, Harry Bronson, opposed the move, while his primary opponent, then-Warren's chief of staff Alex Yudelson, supported the takeover. A judge tossed the referendum after a lawsuit brought by the school district last year, and Bronson staved off his primary challenge in 2020, even after party leaders endorsed Yudelson over him.
Warren is also fighting calls for her resignation after Prude's March death at the hands of police came to light in September. Protesters alleged police and city officials attempted to cover up the details of Prude's death, and a trove of documents and emails seem to support that belief. Warren has already fired former Police Chief La'Ron Singletary after maintaining that police kept her in the dark about Prude's death too, but protesters continue to call for her resignation. If found guilty of campaign finance violations, Warren will be forced to resign, and may even wind up in jail.
With everything else happening, the Monroe County Democratic Committee has just elected new leadership, a slate of reformers who ran on a platform of unity and independence from political factions. Zach King took over as chairperson from Brittaney Wells, a Warren ally whom she recently appointed her new chief of staff, promising transparency. "Part of the problem is communication," King told the Rochester Democrat & Chronicle. "People didn't feel they had a seat at the table." 
Despite winning unanimously, King doesn't necessarily usher in a new era of peace and unity in the Monroe Democratic Party. Only 27% of the county committee members actually voted. Felder, the man who maintains he is the county Legislature minority leader, was one of the members who was not present at the vote. He told the Rochester Democrat & Chronicle that he believed King and his slate was "engineered" by Morelle, who King worked for in the 2018. "I'm still a Democrat," he told the outlet. "The future of the party? We'll have to see what happens."
Correction: Brittaney Wells' name was initially misspelled. 
Correction: Vincent Felder is not a member of the Black and Asian Democratic Caucus.