New York State
Should progressives vote for Biden on the WFP line?
The third party backs Democratic candidates, but still wants to keep its ballot line.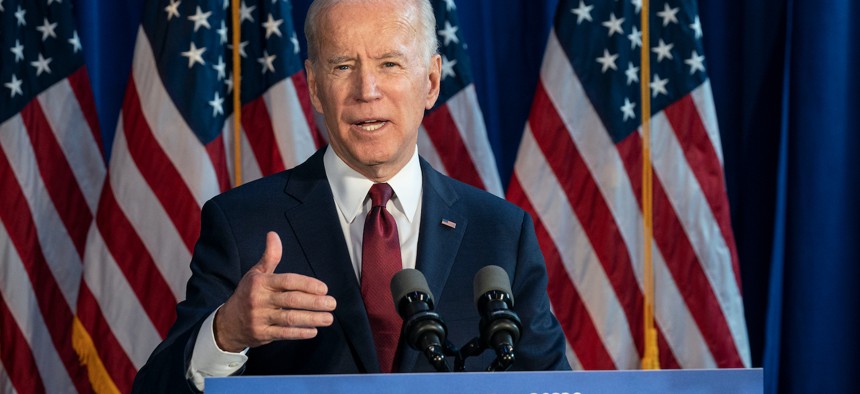 It's virtually certain that former Vice President Joe Biden will carry New York's 29 Electoral College votes, but New Yorkers voting for him still face a potentially major decision: The Working Families Party has been putting out a media blitz encouraging people to vote for Biden on their ballot line instead of the Democratic Party's, in an effort to maintain the third party's ballot line. 
For the average liberal New Yorker who may be unfamiliar with the WFP or the concept of fusion voting, the question of which line to vote for Biden on may be confusing. If your main goal is simply to vote for Biden and against President Donald Trump, it doesn't matter whether you vote on the Democratic line or the WFP line, as either vote counts towards Biden's victory. 
The relevance of voting on the Working Families Party's line comes down to securing the third party's ballot line, one of its major tools for influencing the Democratic Party and electoral politics in New York. And if you're wondering whether liberal or progressive goals would be better advanced by helping the WFP keep its line, the answer isn't so simple. 
Thanks to a change included in the state budget earlier this year, political parties looking to retain their ballot line face a steeper challenge than they did before. In order to keep their ballot line, they now must get either 2% of the vote or 130,000 votes, depending on whichever is greater, for both presidential and gubernatorial elections. The stricter requirements, which were increased from 50,000 votes for governor, were implemented following tension between Gov. Andrew Cuomo and the Working Families Party in 2018, when the party endorsed his primary opponent Cynthia Nixon, before it backed him in the general election, though the governor has publicly denied any animosity. 
To maintain its influence, the WFP is making its pitch to voters that a vote on its line will help them push New York politics leftward. "We have to defeat Donald Trump, who is an existential threat to all of our lives and does not represent New York values," said Sochie Nnaemeka, New York state director of the Working Families Party. "And we need to ensure we're building and growing a strong progressive movement."
Where third parties are usually thought of exerting influence by running their own candidates, the WFP typically endorses the Democratic nominee in every general election, a process known as "fusion voting" which only exists in seven other states. In theory, the threat to not put the Democrat on their line and run a challenger would allow the WFP to hold Democrats accountable to the left. But examples of it working that way in practice are few. 
Rather, the party's influence comes mainly from endorsing and assisting left-leaning candidates in the Democratic primary. It played a major role supporting efforts to unseat Democrats who had been in the state Senate's Independent Democratic Conference, which had shared power with Republicans. The party also boosted the campaign of Tiffany Cabán, a public defender who nearly won her race to become Queens district attorney. It also has seen victories beyond electoral politics, successfully backing driver's licenses for undocumented immigrants and rent regulations. 
However, the Working Families Party hasn't always consistently backed the most progressive candidates in Democratic primaries. It endorsed then-Rep. Joe Crowley over Alexandria Ocasio-Cortez, who nonetheless is supporting the party's recent push, in the 2018 Democratic primary. The WFP, which had no hostility towards Ocasio-Cortez but simply had assumed Crowley would cruise to renomination, then unsuccessfully tried to kick Crowley off their line for the general election when Ocasio-Cortez won. The same happened this year during the primary election for Assembly Member Walter Mosley's seat. The Working Families Party backed him in the primary instead of challenger Phara Souffrant Forrest, who – like Ocasio-Cortez – is a member of the Democratic Socialists of America. It has now endorsed her for the general election, but Mosley will still appear on the Working Families Party's line. 
A similar occurrence could also possibly disrupt a competitive congressional race upstate. The WFP line won't feature Democratic candidate Dana Balter, who is seeking to unseat Republican Rep. John Katko, but Steve Williams, who was simply a placeholder to be swapped out for the eventual Democratic primary winner. The mix-up could possibly secure victory for Katko because he and Balter are tied, according to a recent Siena College poll, while Williams received support from 5% of likely voters. The Working Families Party had attempted to remove Williams from the ballot by instead nominating him to run for a state Supreme Court justice's seat – an option thanks to a quirk of New York election law. But Republicans took the issue to court, arguing that the party didn't have a quorum of its members at the judicial convention for Williams's nomination. The judge sided with their argument, keeping the placeholder candidate on the ballot.
Still, Nnaemeka said that even progressives who disagree with some of the party's decisions should see its value. "We think we are part of this progressive ecosystem that is moving together in alignment towards that vision, towards a New York that actually works for the many not the few," she said. "We urge, we encourage, we welcome progressives of all stripes to build with the party, to pour into our chapters and our clubs, to be part of our endorsement process."
Dan Lee, an expert in third parties at the University of Nevada, Las Vegas, said that the Working Families Party holds a similar space as interest groups or other third parties that may run their own candidates. "They're all different strategies aiming to accomplish the same thing, of trying to influence the major parties and hold them accountable," he said. A vote for Biden on the Working Families Party's line could also symbolically signal to Democrats that the electorate prefer more progressive policies, he noted. 
The state Democratic Party has been making its own push, encouraging voters to vote on its line. Its $357,000 ad campaign features literature which declares "Vote Row A" and "Democratic – All the Way!" Sens. Bernie Sanders and Elizabeth Warren, who are encouraging voters to use the WFP line to back Biden, complained that their image was used on a flier to imply their support for voting on the Democratic line instead, without their consultation. Jay Jacobs, the chairman of the New York state Democratic Committee and an ally of Cuomo's, told The New York Times that the effort was made to encourage down-ballot voting for Democrats, not all of whom are featured on the WFP line, and he noted that Sanders and Warren would be in favor of making sure voters check the Democratic box for congressional and state legislative candidates. 
Ultimately, for progressives, whether to help the WFP keep its ballot line comes down to their own theory of how best to achieve political change – through a third party that backs Democrats, or just within the Democratic Party itself.