Campaigns & Elections
The truth about these 2020 campaign ads
NY Candidates in both parties have been the subject of misleading attacks.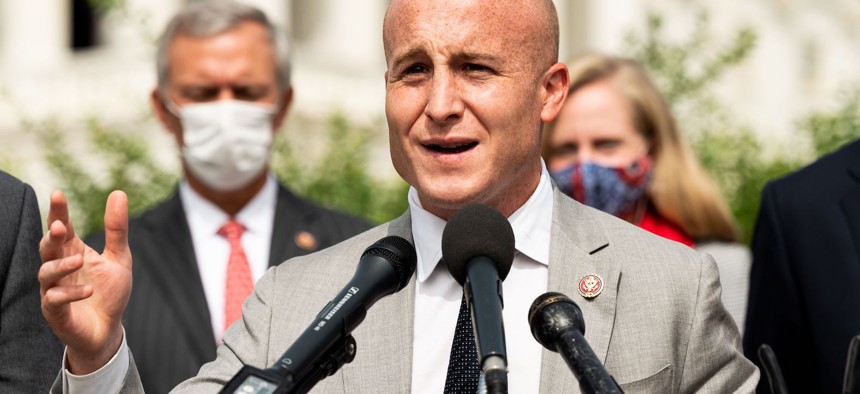 With just weeks to go until Election Day, competitive races are getting pretty heated in New York. 
A lot of it is happening on social media, where candidates and dark-money groups can tailor their messages to specific audiences based on data points like their age, location and political preferences. While the full extent of such efforts is not always easy to determine, candidates at all levels of politics are clearly leaning on Facebook, Twitter and Youtube to reach voters. 
While Republican and Democratic candidates can now reach voters like never before via social media, they are sometimes using it to mislead voters about their opponents. Here are a few examples from legislative and congressional races across the state.
"When the virus hit"
Assembly Member Nicole Malliotakis, who is challenging Rep. Max Rose, may have her own issues with truthfulness; in April 2020, political allies photoshopped her in front of personal protective equipment and then included it in a political ad touting how conservative candidates were helping out during the pandemic. Rep. Max Rose makes use of that image in this ad, where a narrator exclaims that "Malliotakis passed a law to protect shady nursing homes that put seniors at risk" and even voted to cut hospitals at the beginning of the pandemic!
It is true that Malliotakis voted for an omnibus budget bill in early April that contained some controversial provisions – nevermind that Malliotakis is a Republican in a Democratic-dominated chamber – or that voting against this bill would have meant opposing state aid as a whole. Rose would've never used that against her!
"New York's crime wave is no accident"
State budget votes are coming back to haunt Democratic incumbents in the state Senate. Whether or not changing state bail laws is really the goal of conservative mega-donor Ron Lauder, he gave $1 million to a super PAC pushing that message. A one-size fit all approach is making that budget go even further by allowing admakers to swap the names of state Sens. Andrew Gounardes, Jim Gaughran, and Monica Martinez out of the ad, which otherwise remains unchanged. It is true that they voted for the 2019 state budget bill that included new limits on cash bail before supporting a partial rollback the following year, but crime is rising nationwide and the NYPD's own data shows that bail reform has little to do with it at the local level.
This highlights one of the political paradoxes of being in the legislative majority in Albany. Voting against the budget last year could have saved swing district Democrats some grief on bail reform – but then they could have been attacked for opposing funding for local schools. Yet you would not know that from the sourceless numbers thrown at the audience in the ads Lauder is funding against Democrats this time around, including a source-free claim that bail reform led to 9,000 additional crimes.
"Do Nothing Daphne"
Democratic state Senate candidate Patrick Nelson is using Gov. Andrew Cuomo as a political punching bag in a new ad attacking his Republican opponent. "State Sen. Daphne Jordan said she'd serve as a check-and-balance on Gov. Andrew Cuomo," goes the 30-second spot. "Yet, she voted to give him dictatorial powers." 
It is one thing to bash a Republican for being one of the 53 out of 63 members of the state Senate to support the bill expanding executive authority during a public health emergency, especially when Jordan also opposed a proposed constitutional amendment that could limit gubernatorial budgetary powers moving forward. Yet state Senate Majority Leader Andrea Stewart-Cousins and Assembly Speaker Carl Heastie arguably did the exact same thing. While linking Jordan to Cuomo might hurt her a bit with conservatives, Nelson might want to think twice before criticizing the three people in the room – the Working Families Party-backed candidate needs all the help he can get succeeding in his upstream battle to represent the northern reaches of the traditionally Republican Hudson Valley. 
"The Biden Express is Headed Left"
Rep. Alexandria Ocasio-Cortez appears to be the most targeted incumbent of all, even though Republicans have no hope this November of winning her deep-blue district. Stock footage of the progressive superstar is appearing in legislative and congressional races alike, but Sen. Ted Cruz of Texas appears to be particularly fixated on the freshman lawmaker. She even gets to sit ahead of Cuomo on the so-called "Biden Express" that Cruz pictures Sen. Bernie Sanders driving, with AOC two seats back.
Cruz is hardly the only person trying to get some attention by attacking her, but the mystery is why is he trying so hard even though he isn't even running for reelection this year. Welcome to the never-ending campaign? "We'll see AOC as EPA administrator," Cruz predicts, implausibly, at the beginning of this ad warning of what will happen if Democratic presidential nominee Joe Biden wins the election. The spot features a sparking buzzsaw, a seemingly depressed man slouching in a kitchen, a wide-eyed AOC saying "death" will ensue if global warming runs amok. Maybe Cruz ought to worry more about people comparing him to a serial killer.
"The Company You Keep"
The state Republican Campaign Committee makes its own case for guilt by association in this one-minute spot highlighting some questionable links between Rochester-area Democratic state Senate candidate Samra Brouk, Ocasio-Cortez and Minnesota Rep. Ilhan Omar. These include Brouk posing for a selfie once with Ocasio-Cortez and commenting on a social media post in which Omar talked about inspiring children to run for office. Associations like that are obviously very, very sinister, according to the ad, given Omar's much-misconstrued past comments on 9/11 and how Ocasio-Cortez criticizes U.S. immigration policy. 
Republicans might be called hypocrites for blaming someone for a more high-profile member of their party's controversial comments – the GOP's own presidential nominee has called Mexican-Americans "rapists," for example. Brouk's opponent, Christopher Missick, however, is reportedly running away from Trump.