New York State
Which super PACs are spending on state Senate races?
Companies, unions and charter school advocates are hoping to influence key races across the state.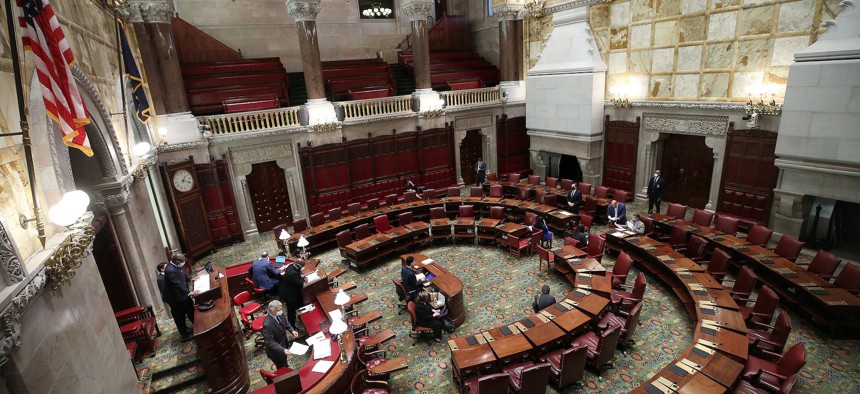 Super PACs are an ever-present topic of debate in federal elections, political action committees free to spend limitless amounts of money for or against the candidates of their choosing. Since the 2010 Citizen United ruling by the U.S. Supreme Court, the influence of outside spending on elections seems to grow every cycle.
Here in New York, they are called "independent expenditure committees," and while they may not be as high profile as some federal super PACs, they can have enormous influence in competitive state races. Outside groups can spend hundreds of thousands dollars, and in some cases even millions, on contentious races in New York. 
In 2018, there were some incredibly expensive races with control of the state Senate in the balance. But with less than a month until this year's general election, independent expenditure costs have already begun to pile up in competitive races on Long Island and in the Hudson Valley. City & State examined state financial filings through Oct. 23 to see where committees were spending their money, and who was bankrolling them.
Safe Together New York Inc.
This committee made headlines following its nearly $1.3 million ad buy to oppose a slew of incumbent Democrats and two Democrats running for open state Senate seats. Bankrolled single-handedly by billionaire cosmetics mogul and Republican superdonor Ronald Lauder – who has given the committee $4 million – Safe Together New York ran ads against state Sens. Monica Martinez, James Gaughran, Kevin Thomas and Andrew Gounardes, and candidates John Mannion, running in Central New York, and Jim Barber, running in the Finger Lakes. Since that initial ad buy, the committee has spent nearly $4.4 million on a variety of TV, radio and digital ads against these Democrats as well as direct mailing and phone banking, focusing mostly on Martinez and Gounardes.
New Yorkers for a Balanced Albany
This is the political action committee of the pro-charter schools group StudentsFirstNY. So far this year, only billionaire Alice Walton, a staunch charter school supporter, has donated to the committee, giving $800,000, although it still had $6 million to spend at the beginning of October. The committee has been spending in support of three suburban Democrats. On Long Island, it has already spent over $950,000 to help state Sen. Kevin Thomas and about $940,000 for state Senate candidate Laura Ahearn – or to oppose the Republicans they're running against. The committee's spending included polling, TV ads, printed literature and phone-banking. The committee spent the far more modest sum of $26,850 on polling for state Senate candidate Michelle Hinchey in the Hudson Valley.
New Yorkers for Independent Work
This committee, which formed this year, has ties to Lyft – the ride-hailing company has loaned the committee more than $1 million and was the only person or entity to provide it with cash. The committee has been spending in support of Democrats in several key state Senate districts on Long Island, in the Hudson Valley and in the Rochester area. Those candidates are Martinez and Thomas on Long Island, Hinchey and state Sen. Pete Harckham in the Lower Hudson Valley, Karen Smythe in the mid-Hudson Valley, and Samra Brouk and Jeremy Cooney in the Rochester area. In all, the committee has spent about $775,000 on digital ads and mailers for the candidates, with expenses split relatively evenly among the races, although it spent notably less on Thomas, Hinchey and Cooney.
Long Island Law Enforcement Foundation
This committee is run by the Suffolk County Police Benevolent Association, and as such is backing Republican candidates and opposing Democrats in Suffolk County, likely on criminal justice and law and order issues. At first, it spent $58,000 for mobile billboards supporting Republican candidates Alexis Weik, Mario Mattera, Anthony Palumbo and Edmund Smyth – and opposing Martinez and Gaughran. But the committee also paid for material opposing Gaughran, spending about $48,000, and Martinez, spending about $41,000.
Stronger Neighborhoods PAC
This committee is connected to Airbnb – its treasurer works for the company and the vacation rental company bankrolls the committee – and had nearly $6 million on hand at the start of October. It has so far only spent money on two races, supporting Democrats Harckham and state Sen. James Skoufis in the Hudson Valley. But the committee hasn't been one of the big spenders in this cycle. It has paid for $40,400 worth of campaign literature for Harckham and about $37,315 worth of campaign literature for Skoufis.
Upstate Jobs Committee
This committee is connected to a nonprofit called Upstate Venture Connect, whose stated goal is to help startups grow in upstate New York and support entrepreneurs in the region. The committee has made only two digital ad buys costing $42,000 in support of a large number of Republican candidates for both state Senate and Assembly.
New York League of Conservation Voters Political Action Committee
This independent expenditure committee is the PAC of the environmentally focused nonprofit New York League of Conservation Voters. It has made two digital ad buys costing $65,000, supporting Democrats Hinchey, Harckham, Martinez and Smythe.
Empire State Progress
The treasurer for this new committee works for the company Bespoke Post, a curated clothing delivery service, although it does not seem that the committee has any ties to the company. It has received only three donations, all in October – $50,000 from 1199SEIU, $60,000 from 32BJ SEIU and $60,000 from the New York State Nurses Association. With that in mind, it's likely safe to say this is a pro-labor union PAC. The committee spent $76,000 to oppose Mike Martucci, the Republican running against state Sen. Jen Metzger. It has otherwise spent $10,000 on polling in the races of Gaughran, Hinchey, Thomas and state Sen. Andrew Gounardes.
Progress NYS
This committee is tied to New York State United Teachers, although it is different from the union's political fundraising arm, VOTE-COPE, which gave $100,000 to the committee and is used to give directly to candidates. The union itself gave the committee $1 million in September. It is spending in support of Harckham, Martinez, Metzger and state Senate candidate John Mannion. It has spent between $21,000 and $30,000 per Senate candidate on mailings as well as $27,000 in polling for Mannion and Harckham, and $5,500 in polling for Martinez.
Good Government for New York
While the name may evoke good-government groups in New York that tend to back policy proposals popular with Democrats, this committee appears to actually be the state arm of the Good Government Coalition, a national organization dedicated to electing Republicans at the state level. The national group has given more than $500,000 to the state committee, which was formed this year. It also received $20,000 from the pro-real estate Neighborhood Preservation Political Action Fund, which has also given to the state Senate Republican Campaign Committee and Gaughran. Good Government New York has spent about $400,000 on TV and digital ads, as well as on text-banking, to oppose Metzger.
Balance New York
The Good Government Coalition is among the supporters for this committee – having donated $400,000 to it – which also counts the Rent Stabilization Association, the Neighborhood Preservation Political Action Committee and Ronald Lauder among its donors this year. With apparent ties to real estate interests, this committee is exclusively supporting Republican state Senate candidate Rob Astorino, who is challenging Harckham in the Hudson Valley. It has so far spent more than $300,000 on television ads to help Astorino.
New Yorkers Together
This committee has ties to the Communications Workers of America, one of the state's most politically powerful unions that almost always support Democrats. The union recently donated about $150,000 to help fund the committee's activities leading up to the election. It has so far spent over $73,000 opposing Astorino.
New York State Association of Realtors Fund
This committee belongs to the New York State Association of Realtors. It has currently spent on four races, supporting Democrats Hinchey, Gaughran and Elijah Reichlin-Melnick in the Lower Hudson Valley, and in favor of Republican state Sen. Sue Serino, who is facing a tough challenge from Democrat Karen Smythe. The committee has spent over $750,000 on the four candidates, with the most on Serino and the least on Reichlin-Melnick.
NYIC Political Action Fund
This is the independent expenditure committee of the New York Immigration Coalition, which advocates for immigrant and refugee rights. It has spent about $55,000 on direct mailings to support Gounardes, Harckham, Brouk and state Senate candidate Jacqualine Berger in Western New York.
Powered By
NEXT STORY: What's uniting political left and right?