New York City
A new generation of leadership on Staten Island's North Shore
Council Member Debi Rose was the borough's first Black lawmaker, and she opened the door to a growing, diverse seat of political power.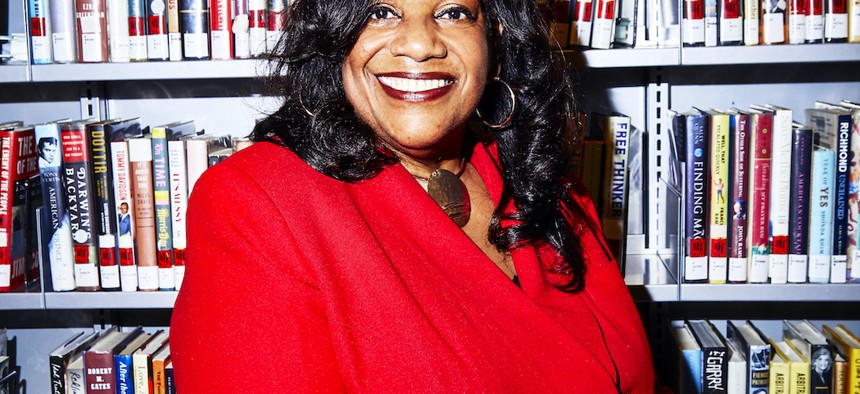 When New York City Council Member Debi Rose decided to run for the City Council seat on Staten Island's North Shore in 1999, there were no other politicians in the borough who looked like her.
Rose had been on the North Shore's Community Board 1 for about 18 years, and she was frustrated that the city kept denying the board's funding request for a library in Mariners Harbor and a community center in Park Hill, both predominantly communities of color. So, she decided to chase what was considered a political pipe dream at the time on Staten Island: to run for City Council as a Black woman.
Then-Council Member Jerome "Jay" O'Donovan, a Democrat, held the seat. At the time, about 50% of the North Shore's population was white, 21% of the population was Black and 19% was Hispanic. The rest of the borough, which is more heavily white and conservative, favored Republicans.
Though the North Shore has long been the most racially and ethnically diverse part of Staten Island – it's the birthplace of the legendary hip-hop supergroup Wu-Tang Clan – white Democratic politicians have served as the leaders in the area's politics and decision making.
When the Democratic Party county committee heard about Rose's plans, they tried to talk her out of running, she recalled. They told her she didn't have enough money to run and that the Black community didn't vote. She said the party did not think she would be able to win against a Republican opponent and did not want to lose a Democratic-held seat. "They didn't think people other than Black and brown people would vote for me," she said.
She ran anyway in the 2001 Democratic primary, but Michael McMahon – who is now Staten Island's district attorney – won that race. Rose lost a second time, by just 350 votes, in a 2009 special election against Kenneth Mitchell, another white man, to fill McMahon's vacant Council seat when McMahon was elected to Congress.
Rose was determined to break the white monopoly on political representation, so she ran a third time, in the regularly scheduled primary that occurred the same year as the 2009 special election. This time, she defeated Mitchell in the primary and won in the general election, making her the first African American politician to ever win political office on Staten Island.
"We were fighting what they call 'conventional wisdom' that it had to be a white male. We hadn't had anyone of color in anything, not even a dog catcher over here." – City Council Member Debi Rose
"I really believe that they did not think that a person of color could represent all of the different constituencies that lived on the North Shore, and we were fighting what they call 'conventional wisdom' that it had to be a white male," Rose told City & State in early November. "We hadn't had anyone of color in anything, not even a dog catcher over here."
Staten Island was also slow to embrace female candidates. "There had only been Elizabeth Connelly, before me, and Mary Codd," Rose recalled. Connelly was the first woman elected to public office on Staten Island, in a 1973 special election, serving as a Democrat in the North Shore's 61st Assembly District seat. Codd was the first Staten Island woman on the City Council, serving as a Democrat in an at-large seat from 1977 to 1983. More recently, former Republican Rep. Susan Molinari and Democratic state Sen. Diane Savino have represented Staten Island. Nicole Malliotakis, a Republican who is the daughter of Greek and Cuban immigrants, was elected in 2010. This month, she defeated Rep. Max Rose for the congressional seat that encompasses Staten Island and part of southern Brooklyn, and will be the first person of color to represent Staten Island in Congress.
Nine years after Rose was elected, the North Shore elected Charles Fall to the 61st Assembly District in 2018. The son of immigrants from Guinea and the first Black person and first Muslim elected to the state Legislature from Staten Island, he was reelected to serve a second term this month.
But Rose's reign as a council member is coming to an end next year, when she will be term-limited out of office. With the borough about to lose its trailblazing leader, voters of color on Staten Island wonder: Who will become their new voice in city government? 
There are currently seven Democratic candidates in the running for Rose's seat, according to the New York City Campaign Finance Board. All of them are Black. Rose said that is the most candidates of color she has ever seen run for a single political seat at once on Staten Island.
Two candidates, political operative Selina Grey and high school teacher Troy McGhie, have worked for Rose. Grey worked on her reelection campaigns, and McGhie is her community liaison. Two other candidates have attempted to challenge Rose in the past: Kamillah Hanks, a youth program CEO and founder of the Historic Tappen Park Community Partnership, challenged Rose in the 2017 primary. Candidate Phil Marius, who works for Assembly Member Richard Gottfried, also tried to challenge her that year, but didn't make it on the ballot. Legal Aid Society attorney Kelvin Richards, and Ranti Ogunleye, who directs a Staten Island Jewish Community Center branch, and city Education Department college access center director Amoy Barnes have also joined the race to replace Rose in 2021.
"The North Shore needs a leader that understands the whole picture," Hanks said, pointing out that neighborhoods on the North Shore are so different from one another, they are almost like "sovereign nations."
Unlike some districts, the North Shore spans an array of ethnicities and nationalities, making assembling a winning coalition and keeping every constituency satisfied more challenging. The Park Hill neighborhood of the North Shore is predominantly Black and is home to the large Section 8 apartment complex called the Park Hill Apartments. In Park Hill, 30% of residents live in poverty, compared to less than 10% of residents in Westerleigh, a southern portion of the district that is predominately white. One of the borough's largest public housing complexes, the Stapleton Houses, is in the neighborhood of Stapleton. A growing number of Latino residents live in Port Richmond. St. George, located at the tip of the island near the ferry terminal, is racially mixed. Randall Manor is an affluent more suburban enclave.

"The North Shore is very, very diverse, but you need that leader that understands the intimate details of those neighborhoods," Hanks said.
Barnes, who previously worked as a borough director in New York City Mayor Bill de Blasio's office, said she was disappointed at how the de Blasio administration failed to complete local projects, such as the long-stalled renovations on the Mariners Harbor community center, and wants to make government work for the North Shore community. "I'm a big believer that government does work when it is utilized the right way," Barnes said.
Some candidates have been the target of racism. Vandals wrote racial slurs on fliers from Richards and Ogunleye. Richards said he wants to use that experience to heal the rift between communities if he is elected to the City Council. "If you build bridges between the North, the Mid Island and the South Shore, Staten Island won't have the reputation that it has, that we're the most racist borough, we're the least progressive borough," Richards said.

Twenty years ago, Black residents accounted for just 9% of the borough's population, Asian Americans just over 5% and Hispanics 12%, many of them living on the North Shore. Those numbers have slowly grown over the past two decades, driven in part by new immigrants coming to Staten Island. Today, close to 12% of residents in the borough are Black.
Often referred to as the "Mason-Dixon Line," the Staten Island Expressway essentially serves as a racial divider between the North Shore and the rest of the borough. 
From 2000 to 2017, the number of immigrants to Staten Island increased by 57%. Many of those immigrants came from Europe, West Africa, Asia and Latin America and settled on the North Shore.
A large community of West Africans live in the Park Hill and Clifton area. There is a large Latino community in Port Richmond and a Southeast Asian community in the Tompkinsville area.
Since Rose first ran, the North Shore has continued to grow more diverse. The white population is still the plurality in the area represented by Staten Island Community Board 1, accounting for more than 37% of the population. More than 21% of the residents are Black, more than 29% are Hispanic and more than 10% of the population is Asian American.
"It's never going to be easy, however, the demographics are slowly changing on the North Shore, so regardless of whether a Black person runs, or a Hispanic person … it's always going to be a difficult seat to get," Fall said.
Fall told City & State it is too early to say who he plans to support in the North Shore City Council race. 
Often referred to as the "Mason-Dixon Line," the Staten Island Expressway essentially serves as a racial divider between the North Shore and the rest of the borough.
Staten Island saw a population and housing boom after the opening of the Verrazzano-Narrows Bridge in 1964, making it one of the fastest-growing boroughs, as New Yorkers from the other boroughs flocked there to buy houses and flee rising crime.
While the North Shore is densely populated, racially diverse and resembles parts of Brooklyn, the Mid Island and South Shore are overwhelmingly white. They look and feel like the suburbs.
"If we are not organized, our issues would never be addressed." – Mohammed Karim Chowdhury, the secretary of the Alliance of South Asian American Labor National and leader in the North Shore's Southeast Asian American community
With the exception of Rose, Fall and Malliotakis, the rest of Staten Island is represented by white political leadership. Half of Staten Island's elected officials are Republicans, including Borough President Jimmy Oddo, council member and one of the Trump campaign's honorary state chairs Joe Borelli, Assembly Member Michael Reilly, state Sen. Andrew Lanza and Council Member Steven Matteo. Republican Michael Tannousis, a former prosecutor in the Bronx and Staten Island, won the race to replace Malliotakis and take over her seat, which encompasses the east shore of Staten Island and a part of southern Brooklyn.
Staten Island's white Democrats tend to be among the most conservative of their party in New York City. Assembly Member Michael Cusick, who chairs Staten Island's Democratic Party, voted against a bill that codified abortion protections under Roe v. Wade into state law, and he has run on the Conservative Party line numerous times. State Sen. Diane Savino, a Democrat who represents parts of the North Shore and southern Brooklyn, is a former member of the Independent Democratic Conference, which shared power with Republicans.
While Staten Island as a whole has the second-highest median household income of any borough, after Manhattan, about 1 in 5 residents on the North Shore lives in poverty, according to a report from the Citizens Committee for Children.
But it's the southern two-thirds of the borough that dominate it politically and shape its broader image. In the past two presidential elections, Staten Island has thrown its support behind Donald Trump.
The island's politics have been best known in recent years for Republicans who have made national headlines, usually for the wrong reasons. Former Rep. Vito Fossella did not seek reelection in 2008 after a drunken driving arrest led to the revelation that he had fathered a secret child outside of his marriage. McMahon picked up the seat in that year's blue wave, but lost it in 2010 to Michael Grimm, who in turn resigned from Congress after he pleaded guilty to felony tax fraud in 2014. Grimm was succeeded by Dan Donovan, who won a special election to replace Grimm after he served as the borough's district attorney, where he oversaw the investigation into the choking death of Eric Garner, for which a grand jury did not indict any of the NYPD officers involved. 
Even though Republican politicians have often taken center stage in Staten Island politics and gained notoriety both on and off the island, the borough has historically had more registered Democrats, and they are the stronger political party on the North Shore.
Rose grew up living between West Brighton and Port Richmond when both were racially diverse, working-class neighborhoods. In the 1960s, African Americans living on the North Shore knew they could not venture into certain white neighborhoods, such as Rosebank, on the island's northeastern corner. "You could have issues if you visited," Rose said.
According to Rose, the North Shore had lacked comprehensive community planning, especially in the majority-nonwhite neighborhoods, and those underserved areas needed an advocate. She said the schools were overcrowded, there was no access to the waterfront in Mariners Harbor or West Brighton, and the area lacked parks."We were able to get five schools," Rose said. "That hadn't happened before. ... Now we have Heritage Park in West Brighton, across from where I grew up, where my grandparents lived, because we never had access to our waterfront or even parks."
In the 1990s, when there was no Black representation in Staten Island politics, Marjorie Garvin of Park Hill and other Black leaders on the North Shore formed the Staten Island African American Political Association to incorporate the borough's Black community into local politics. At the time, Garvin said African Americans on the North Shore often felt like their voice didn't matter. "They had nothing to vote for," Garvin said, explaining the difficulty in getting out the Black vote on Staten Island. "It wasn't Black candidates running, and I think it wasn't people talking about anything that (Black voters) wanted to hear about."
 "Democratic Party failed miserably in this election because they did not engage the immigrant community." – Jennifer Gray-Brumskine, chair of the board of directors for the Staten Island Liberian Community Association
Rose later headed the organization as its president, and she has helped to develop a rising cohort of Black politicos on Staten Island, including candidates Grey and McGhie, who have both worked with her for several years. Garvin said she will support Grey. Grey told City & State she plans to "continue to move Staten Island forward and build on the work and the legacy that (Rose) laid the foundation for."
Just as the Staten Island African American Political Association was created in the 1990s to involve the Black community in Staten Island politics, advocates representing emerging immigrant communities on the North Shore, communities who are often Democrats, are also trying to bring their communities into politics.
College of Staten Island political science professor Richard Flanagan said he is interested to see which other ethnic group will step up to enter North Shore politics. "Debi broke the ceiling on that, and people are following behind her, so certainly Charles Fall is part of that movement, where really, the Irish of Westerleigh (a North Shore neighborhood) have been displaced, and that's over," Flanagan said of the diversity in candidates coming forward to claim Rose's seat. "It's just a classic case of ethnic succession. I think the question now is if other ethnic racial challengers might emerge to the new hegemon here, eventually. I think the North Shore communities are such a reflection of New York immigration right now."
Staten Island Republican Party Chair Brendan Lantry said the party has received inquiries from Black and Hispanic candidates about running for seats in 2021. However, he did not specify which seats. "We are open to people of all colors, all creeds, of all genders to come join the Republican Party," Lantry said. We are always open to running diverse candidates."
Jennifer Gray-Brumskine, chair of the board of directors for the Staten Island Liberian Community Association and a vocal advocate in the African immigrant community, is currently working with Mohammed Karim Chowdhury, secretary of the Alliance of South Asian American Labor and a leader in the North Shore's Southeast Asian American community, to form an immigrant caucus within Staten Island's Democratic Party to help their communities gain influence within the party. "They now understand that if we are not organized, we do not have an organized voice, our issues would never be addressed," Chowdhury said of the North Shore's immigrant and first-generation American community.
But some say the Democratic Party on Staten Island has to do a better job in its outreach to immigrant communities and did not do sufficient outreach ahead of the 2020 election.
There are currently seven Democratic candidates in the running for Rose's seat, and all of them are Black. 
"The information from the county committee … those who are on the county committee, it's not centralized, it's more of a little club and a little clique, if you're not part of the clique, if you're not part of their club, then they're not going to serve you," Gray-Brumskine said. "So those of us who are immigrants, we're just watching and learning and seeing them fail, because the Democratic Party failed miserably in this election because they did not engage the immigrant community."
Gray-Brumskine said the African immigrant community is now a unified voting bloc, which helped elect Fall in 2018. She believes this bloc will also be instrumental in electing the next North Shore City Council member and that Richards and Ogunleye, who is the son of Nigerian parents, could have a shot at winning with the help of the bloc.
Cesar Vargas, an attorney and community activist who heads the Staten Island Dream Action Coalition, also said he was disappointed in the Democratic Party not engaging the North Shore's Latino community ahead of the election. "As we start getting more organized at the very district level both in terms of local communities and neighborhoods, we will see that Latino representation and candidates who are going to be running for office, and it's going to be sooner than people expect," Vargas said.
The Staten Island Democratic Party did not make itself available for comment for this story at press time. But Fall defended the party, saying it did engage in outreach in diverse communities before the election.
Rose registered a campaign committee with the state Board of Elections in 2019 but has been mum about her plans after she leaves office and who she will support to replace her on the council. Right now, she is mulling a run for borough president.
She told City & State the door is open for a borough president run, but admitted she has concerns about having support from all of Staten Island in a boroughwide seat, after seeing how Rep. Max Rose's participation in peaceful racial injustice protests following the death of George Floyd may have cost him the race. There are currently three candidates in the running to replace Oddo as borough president: Matteo and another Republican, Leticia Remauro, Staten Island's former Republican Party chair, and Democrat Tom Shcherbenko. Council Member Rose would be the only candidate of color thus far.
Now Rose has to decide whether she wants to try to break another glass ceiling on Staten Island. "I am weighing whether or not I want to throw my hat into the ring for borough president, because if it was a matter of just having to convince the North Shore that I have the skill set and the ability to be a productive, effective borough president, I would have jumped in there when you first asked me," Rose said. "But that's not the reality, the reality is that it's a boroughwide effort, and when you look at how polarized Staten Island is, how they reacted to Black Lives Matter, to criminal justice reform, and some progressive issues that I've been a part, it makes it more difficult.
"The race issue becomes a greater factor when you factor in a boroughwide contest as opposed to a districtwide contest," she said.