Bill de Blasio
De Blasio waits on Cuomo for new COVID-19 restrictions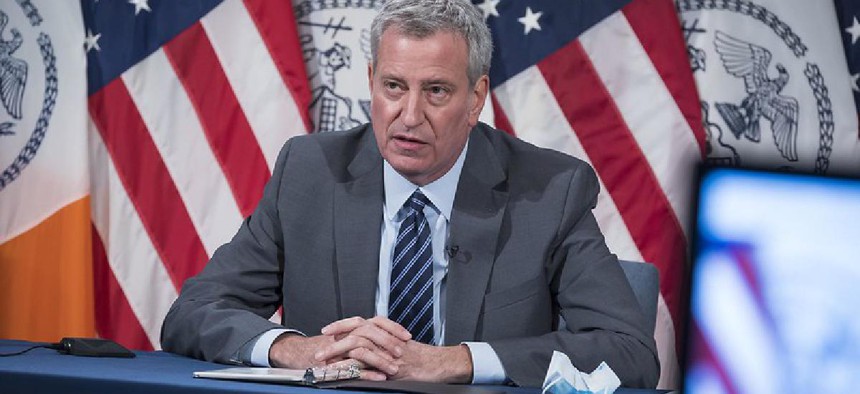 As COVID-19 infections rise across New York City, as well as the rest of the state, many are wondering why New York City Mayor Bill de Blasio has yet to shutter indoor dining, bars and gyms. However, that decision is up to Gov. Andrew Cuomo.
Two weeks ago, a group of health organizations and doctors sent de Blasio and Cuomo a letter warning them that they're taking too long to implement necessary and inevitable restrictions in the city. The group, which calls itself the Covid-19 Working Group-New York, similarly wrote de Blasio, as well as Council Speaker Corey Johnson and then-Health Commissioner Oxiris Barbot in March, advising them to begin imposing social distancing measures and restrictions for similar reasons. 
"As we warned in our previous letter, non-pharmaceutical interventions can only save lives and preserve hospital capacity if the city acts early," the group's most recent letter stated. "If we wait too long to implement these interventions, as the city did in March, we will suffer the same economic and social costs, but many more New Yorkers will die."
Dr. Thomas Frieden, the former head of the Centers for Disease Control and Prevention and former commissioner of the New York City Health Department estimated that had New York had adopted social distancing measures such as shutting non-essential businesses, schools and workplaces a week or two earlier that the death toll seen during the peak of the first wave would have decreased by 50% to 80%. 
As research has indicated, time spent unmasked indoors, especially when talking and eating is involved, puts people at a much higher risk of contracting COVID-19. But unlike school closures, the governor has not delegated the authority to decide on those indoor-dining restrictions to local governments. De Blasio has stated that indoor dining and bars, as well as gyms, will undoubtedly close as the city's infection rates rise, but the decision is up to Cuomo. The mayor has previously stated that indoor dining and gyms would be forced to close once the city's infection rate hit 2%. The governor, however, appears to be waiting for certain metrics to be met before reinstating restrictions in the city, in addition to other areas throughout the state. 
To make matters more complicated, the city and state have been using two different methods to compute daily COVID-19 positivity rates. The rates represent the percentage of positive coronavirus tests out of the total amount of tests conducted during a particular day. The city reports positivity rates from two days ago, while the state reports the rate from the previous day. Experts have varied opinions on which method of reporting positivity rates is preferable but feel it's probably best to monitor both as cases rise.
While de Blasio may not have the ability to implement restrictions, some have suggested that he could still encourage New Yorkers to work from home and avoid indoor dining and gyms, in an effort to dissuade risky behavior. "I've been struck by the lack of harm-reduction language," Denis Nash, a former health department official and professor of epidemiology at the City University of New York's School of Public Health, told The New York Times, referring to the need for better public health messaging.
Regardless of who has the final say in closures, public health officials are concerned that history is doomed to repeat itself if New York's elected officials do not begin taking matters more seriously. "I'm shocked that City Hall seems to have learned so little from what happened in March," James Krellenstein, a member of the Covid-19 group who recently penned a letter to de Blasio and Cuomo, told the Times. "We don't have time in an epidemic to dither."