New York City
Lou Puliafito falls short of upsetting Rebecca Seawright
A Republican Manhattan doorman's Cinderella story ends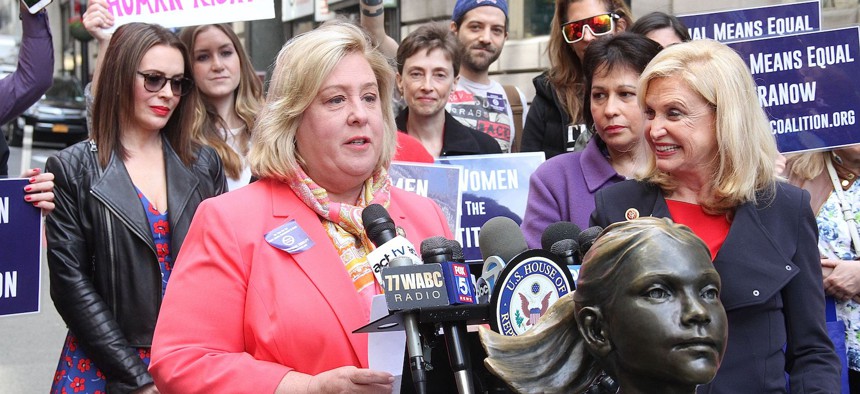 Few 2020 candidates had an easier time positioning themselves as a political outsider than Republican Assembly candidate Lou Puliafito, who works as a doorman on the Upper East Side of Manhattan. His candidacy lent credence to the idea that any average Joe could compete at the semi-highest level of politics – especially once he received an unexpected advantage in his race against the three-term Democratic incumbent.
The political neophyte normally would have stood no chance against Democratic Assembly Member Rebecca Seawright, but she got kicked off the Democratic and Working Families Party ballot lines after she messed up some paperwork in the early Spring. Suddenly, Manhattanites had a chance of electing their first Republican to the state Legislature since the liberal Roy Matz Goodman at the turn of the 21st Century.
"I have to work doubly hard to earn everyone's respect," Puliafito told the New York Post in the spring. "I'm focusing on what I can do for my neighborhood, my city and state."
His pitch to voters largely consisted of arguing that he would bring a common-sense approach to politics without the political baggage associated with sending a political insider back to the state Capitol for another term. While other Republican candidates ran under the banner of President Donald Trump, Puliafito had ways of showing how he was a completely different kind of GOP candidate.
"I work as an essential worker as a doorman," he told Our Town New York in the final weeks of the campaign. "I wear the mask even at home."
But fundraising in the low four digits as well as his partisan identity and working-class occupation made him an unlikely fit for the "silk stocking district," which typifies the limousine liberal archetype. In the end, it was not to be. 
Seawright got her name back on the ballot under the Rise and Unite Party after she gathered the 1,050 signatures she needed from voters. Democratic heavy hitters like presidential nominee Joe Biden and former Secretary of State Hillary Clinton got involved in the effort to remind voters that there was a Democrat running for the Assembly in all but name. Early election results show her leading Puliafito by a significant margin with all precincts reporting.
There are still mail-in ballots to be counted, but those are expected to skew even further towards the Democrat. Shortly before midnight on Election 2020, it appeared this political Cinderella story was coming to an end. 
But that does not mean that his candidacy was in vain. Not only did Puliafito significantly outperform the 3.5% he received against Seawright while running as a Reform Party candidate in 2018 – he is doing better than any other Republican running for Assembly in Manhattan this time around.
Powered By
NEXT STORY: No unrest on Election Day