New York State
Open Assembly chairs could enhance diversity
People of color chair only two out of 39 Assembly committees – but that could change in 2021.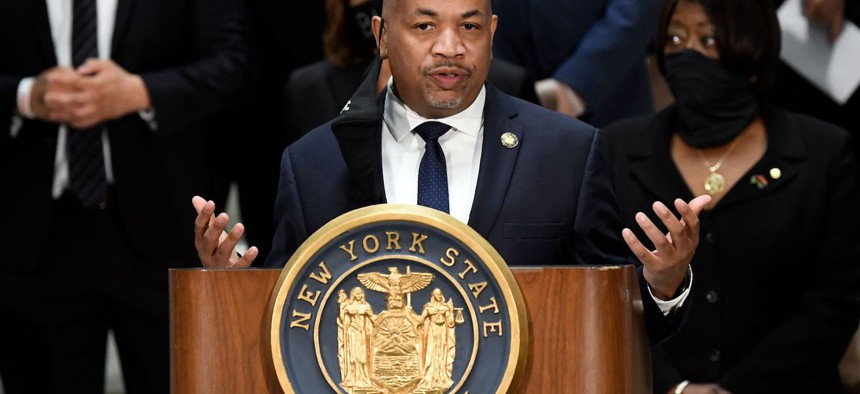 People of color have broken a lot of barriers in New York politics in recent years. Carl Heastie became the first Black Assembly speaker in 2015. Letitia James became the first woman, first person of color and first woman of color to be elected attorney general in 2018. Andrea Stewart-Cousins took over the state Senate, becoming the first Black woman to lead the state Senate as majority leader, in 2019. Black candidates, such as Rep. Antonio Delgado and Reps.-Elect Mondaire Jones and Jamaal Bowman, have picked up suburban and rural seats. "There is a sense that our elected offices should look more like the Democratic Party and the population as a whole," said state Democratic Party Chair Jay Jacobs, who as a white man represents the historical face of party leadership. "Are we there yet? No, but I think we're on our way."
Committee leadership in the state Senate became much more inclusive of women and people of color, once Democrats took over the chamber in 2018. But the state still has some catching up to do in one area: Assembly chairs – owing to the seniority system, which slows demographic turnover, as some chairs serve for decades – have remained overwhelmingly white and male. There are currently just two people of color who hold chairs overseeing any of the 39 total committees in the chamber: Gary Pretlow of Westchester oversees Racing and Wagering, and Heastie, as speaker, leads the Rules Committee. Men also dominated chairmanships, with just 10 women currently leading committees.
But that could start to change next year, now that spots have opened up on the committees overseeing criminal justice, labor, economic development, child welfare, consumer affairs and libraries and remote technology. 
Given the ways that 2020 has highlighted issues like police reform and cash bail, Joe Lentol of Brooklyn – who is ending a 28-year tenure as chair of the Codes Committee that oversees criminal justice issues after losing his primary to Emily Gallagher in June – told City & State that the time has come for a different type of person to succeed him. "It might be good to have somebody who is a minority member chairing the committee." The next most-senior Democrat on the committee, Vivian Cook of Queens, did not respond to a request for comment by publication time. Other members of color on the committee include Pretlow, as well as two lawmakers from Brooklyn, N. Nick Perry of Brooklyn and Latrice Walker.
Lentol is not the only committee chair who is leaving the chamber because he or she lost their reelection bids this year. Consumer Affairs and Protection Chair Michael DenDekker lost to left-wing challenger Jessica González-Rojas in the Democratic primary to represent his Queens district. Children and Families Committee Chair Ellen Jaffee of Rockland County lost a close election to a Republican challenger. Longtime Economic Development, Job Creation, Commerce and Industry Committee Chair Robin Schimminger of Western New York is retiring. Libraries and Education Technology Chair Sean Ryan got elected to a state Senate seat representing the Buffalo suburbs. Former Labor Chair Marco Crespo, who is Latino, resigned his post earlier this year to take a job in the private sector. A replacement for Crespo has not yet been named.
The speaker has the ultimate say in who will chair these six committees, with selections expected in December. Heastie has named several Black, Latino or female lawmakers to top posts in recent years, including Crystal Peoples-Stokes of Buffalo as majority leader, Crespo as Labor Committee chair and Helene Weinstein as chair of the fiscally powerful Ways and Means Committee. Several people of color also lead subcommittees in the 107-member Assembly majority, which has had far more members competing for the same number of committee chairs as the 40-member strong Democratic state Senate conference. 
Yet, the opportunity to bridge the existing racial gap among committee chairs is not lost on the speaker, according to spokesperson Mike Whyland. "The Speaker has always been committed to diversity by making glass ceiling-shattering appointments to high level leadership positions and committee chairmanships," Whyland wrote in a statement. "He is keenly aware that there is currently one committee led by a person of color. Every two years there is a process of choosing committee chairmanships, but make no mistake – this speaker has made it a point to elevate women, people of color, LGBTQ members as well as staff into significant roles and that commitment will never change."
There are a few criteria that Heastie and former speakers have used to select committee chairs, according to political insiders. They should have some degree of seniority. They should have some relevant experience for the task at hand. A familiarity with the finer points of the law is considered prudent for leading the Codes Committee. Lower profile assignments can come down to demonstrating enthusiasm for the more mundane aspects of legislative politics. "I'm willing to serve in any capacity that is given to me," Assembly Member Michaelle Solages of Long Island, who was first elected in 2013. She became the senior lawmaker on the Libraries and Education Technology Committee after outgoing Chair Sean Ryan of Buffalo got elected to the state Senate this November. Having a good relationship with the speaker definitely helps lawmakers move up. 
While Solages and other lawmakers told City & State they have yet to lobby Heastie for any positions, the low-key race for committee posts is just getting started. But being publicly coy is part of a committee chair candidate's subtle campaign playbook, as it would be embarrassing to lose out after making a high-profile push. 
Lentol said Assembly Members Phil Ramos of Long Island and Jeffrion Aubrey of Queens would make good picks as his successor, although he added that Ramos is not an attorney and Aubrey might be happy enough as the speaker pro tempore in the chamber that allows his booming voice to preside over floor proceedings. Walker, who did not respond to a request for comment, is an attorney who had a significant role in recent criminal justice reforms, such as reducing the use of cash bail. 
Lawmakers do not have to currently sit on a committee to be named as chair of it the following year. That gives young Assembly members such as Yuh-Line Niou of Manhattan a shot to become chair of the labor, though Niou told City & State she would not mind a chance to move up in the Consumer Affairs Committee, on which she served this past term. "It depends," said Assembly Member Rodneyse Bichotte of Brooklyn, when asked if she was interested in becoming a committee chair. Bichotte already has made history as the first woman to serve as chair of the Kings County Democratic Committee and the first Black woman to lead any county committee in New York City. 
While Bichotte may already have a lot on her plate as a party boss, many legislators are attracted to the power of running a committee, which can mean making big ideas a reality. It can also help kill legislation. Chairs have been known to simply take over as the sponsor of a bill and then let it die like an unwatered houseplant. Even gubernatorial pet initiatives can get held up for years by a powerful committee chair. Schimminger, who reportedly objects to public drinking, stood in the way of legalizing beer sales in movie theaters, for example. Speakers can be wary of even discussing issues before clearing it with their chairs. Longtime Speaker Sheldon Silver of Manhattan, a former Codes chair, learned the wisdom of that approach the hard way when he almost got ousted in a legislative coup after meddling too much in committee work. Heaste is widely seen to give his legislative deputies the type of leeway they have historically enjoyed.
Committee chairs in the state Legislature are not like the all-powerful committee chairs of the U.S. Senate, who could thwart party leaders and presidents indefinitely, back in the early 20th century. But leading a committee undoubtedly gives some legislators sway in the halls of power. "I've had the opportunity in my tenure to negotiate several important bills with the governor," said Lentol, who played key roles in recent years in passing reforms to cash bail, criminal discovery laws and keeping children under 18 years-old out of adult prisons. Longevity, however, depends on working well with others, according to one of the longest-serving chairs in history. "You have to be loyal to two entities," Lentol said. "The first one is the members … the second one is of course the speaker." 
Besides big leverage in the legislative process, chairs also get plenty of ego boosts. Lobbyists court their influence. Campaign donations are easier to raise. Legislative leaders can argue they are not just one of the crowd in the 150-seat chamber. While legislative leaders do not get the "lulus" of old that added thousands of dollars in stipends to their pay, they sometimes get access to a state-funded car and always a fancier title before their names. 
Who exactly Heastie appoints remains to be seen, but some lawmakers say the time has come for more people of color to get these prestigious posts. "I sure hope so," Niou said. "We have zero committee chairs who are women of color."