NYPD
NYC pols want to change NYPD's role at polling sites
The proposal follows cops' forceful presence during the election.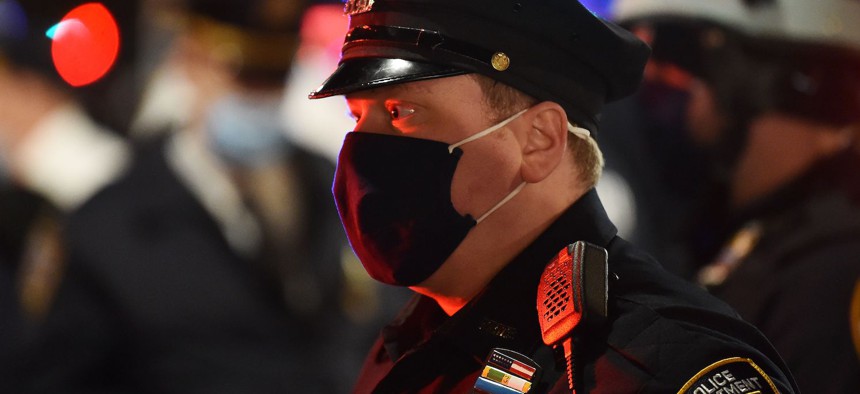 A series of recent incidents in Brooklyn has some lawmakers from New York City worried that police are not impartially guarding polling locations – and bills intended to address the perceived problem are being developed at both the city and state level. 
On Election Day, an NYPD officer allegedly accused a poll worker of electioneering in front of voters and fellow poll workers at a poll site in Brownsville. Cops also threatened a Brooklyn resident with arrest for standing too close to a polling site in Bushwick, while he was wearing a Black Lives Matter T-shirt. 
And on the first day of early voting in Red Hook, Brooklyn cops seized personal protective equipment community activists were handing out to voters in front of a polling site. During early voting, an on-duty officer repeatedly declared "Trump 2020" on a loudspeaker in Flatbush, which prompted the NYPD to suspend the officer.
These controversial events come after the Police Benevolent Association, the largest union of NYPD officers, and the Sergeants Benevolent Association endorsed President Donald Trump for reelection, which some say emboldened officers to favor the Republican during this year's elections. 
Now, two New York City lawmakers told City & State they are exploring legislation that would rethink the NYPD's role at poll sites during elections. "A polling site is very sensitive, when it comes to police activity, especially this election, when it was quite an awareness that a lot of police officers were supporting Donald Trump and opposed to Black Lives Matter and the politics of all of that," said Democratic state Assembly Member Nick Perry, who represents part of Brownsville. Perry is now working on legislation that would require police officers to follow a specific code of conduct when they are providing security during elections and prohibiting them from intervening when it comes to matters concerning voting. 
City Council Member Carlos Menchaca – whose district includes Red Hook and who is running for mayor – told City & State he is also exploring legislation that would remove police officers from being stationed at polling sites during elections and instead have other officials oversee the sites. Menchaca, also a Democrat, suggested that peace officers, which are officials who provide security and are appointed by different city agencies, could be assigned to monitor polling stations instead of cops. 
Menchaca's decision to work on the legislation comes after police officers confiscated masks being distributed by him and other community activists outside of the Joseph Miccio Community Center in Red Hook. "I think that because the NYPD, through the unions, have endorsed Trump … they've become a political entity, and I think it's time for us to remove them from these polling sites," Menchaca said.
State lawbans electioneering within 100 feetof the entrance to a poll site. Under state law, during primaries, general, special and school board elections,at least one police officer or peace officeris assigned by the local police department to each polling site from the opening until closing of the polls. Other police officers or peace officers may also be assigned, as it is deemed appropriate by the police commissioner.
Perry said the exchange between an officer and poll worker at the site in Brownsville showed that protocols did not appear to be clear to officers. At the Brownsville site, Assembly District Monitor Ronnette Cox and the polling site coordinator she was supervising said a white police officer got up and accused a table inspector of electioneering from across the room, in front of voters. Table inspectors are responsible for checking in voters, answering any questions from voters and helping with ballot issues. The police officer allegedly made the accusation after he witnessed the inspector help a voter understand they needed to vote down the ballot vertically to vote for each office. 
Cox said the officer's accusation was "baseless" and that the officer escalated the situation when he turned on his body-worn camera, called for police backup and for the New York City Board of Elections to intervene, which in turn allegedly sent three officials from the BOE's legal team to the site. 
The incident led to the poll coordinator, who manages the poll site and staff during elections, being asked to leave for allegedly arguing with cops about the incident, as she tried to explain that the table inspector had done nothing wrong. The poll worker and Cox believe officers wanted to intimidate poll workers and voters in the predominantly Black community.
"NYPD shouldn't be at poll sites and they certainly do not have a role in telling poll workers what to do," said Cox, who also works as a communications coordinator at Communities United for Police Reform Action Fund. "Coupled with everything that's happened currently in the city, where you have a police union's endorsement (of Trump), you have an officer on a loudspeaker trying to give support to a presidential candidate and, just again, the history of the over policing in Brownsville and the relationship of this community, that police presence alone creates unnecessary conditions for intimidation." 
The NYPD did not respond to requests for comment about the incident in Brownsville at press time. And the New York City BOE had "no comment" when asked about the exchange at the site. 
The state BOE said that in general if a poll worker is found to be electioneering, it should be addressed by the inspectors or the poll site coordinator. Only if the poll worker fails to comply with the inspector or coordinator and causes a disturbance can police be asked to intervene and remove the person from the site. "He accused her of electioneering and I think that was inappropriate for the police officer to do that," Perry said. "That only served to raise tensions." 
On the issue Menchaca raised at the polling site in Red Hook, the NYPD said community activists' PPE was removed after they refused to comply when officers asked them to move at the request of election officials. Once they agreed to relocate, the PPE was returned, the NYPD said. 
As New York City grapples with defunding the police, Menchaca said rethinking whether police should be at polling sites is just another example of how police do not need to be deployed for certain tasks. "I think it's time that we begin to talk about non-police solutions to things that communities need, like poll support," Menchaca said. 
Powered By
NEXT STORY: For the coronavirus, it's 10 p.m. somewhere