Campaigns & Elections
Andrew Yang expected to file for NYC mayoral race this week
Former presidential candidate's campaign plans to enter the Democratic primary field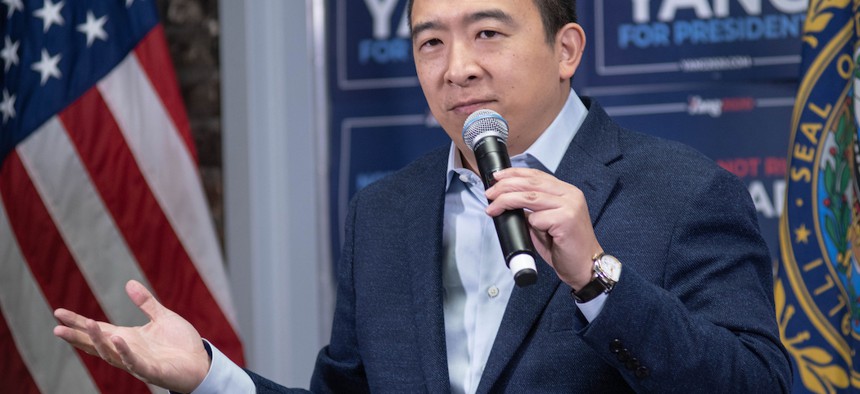 Andrew Yang isn't just the newest addition to the Democratic primary field in the race for mayor of New York City – he's a new addition to city politics and government, whose experience doesn't even extend to voting for mayor. 
But Yang will have to learn fast, with six months to go until the June 2021 Democratic primary. A source close to Yang exclusively told City & State that he plans to file with the New York City Campaign Finance Board this week, formally entering the race for mayor, but declined to comment further. However Yang is not expected to actively raise money or launch his campaign until sometime after January 5, when voting is completed in the U.S. Senate runoff in Georgia. The one-time presidential candidate has temporarily relocated to the state to help support the two Democratic candidates whose victories would be key to control of the Senate. 
The entrepreneur entered the 2020 Democratic presidential primary as a political unknown, but came to prominence based on his political outsider persona and his proposal to give every American adult a universal basic income of $1,000 a month. He developed an enthusiastic online following, and did well enough in polls and fundraising to qualify for a number of debates. He garnered few votes overall before dropping out and endorsing Joe Biden, but outperformed and outlasted far more experienced opponents, including U.S. Sen. Kirsten Gillibrand, former New York City Mayor Michael Bloomberg and current mayor Bill de Blasio. 
Yang will enter the mayoral race in a very different situation than when he entered the presidential race. Two recent polls both showed Yang in first place, leading even candidates like Brooklyn Borough President Eric Adams and New York City Comptroller Scott Stringer, who have held elected office for years. A poll from Slingshot Strategies had Yang in the lead, as 17% of likely voters' top choice, with Adams and Stringer tied for second at 11%. That poll was commissioned by Tusk Strategies, the political consulting firm that has been advising Yang as he tests the waters. The other poll, conducted by Public Policy Polling and commissioned by a pro-charter school advocacy group, had Yang in the lead with 17% of likely voters supporting him. Adams was in second with 16%. 
Other major Democrats in the race include Maya Wiley, former counsel to de Blasio; Shaun Donovan, director of the Office of Management and Budget under President Barack Obama; Rep. Max Rose, former Citigroup Vice Chair Ray McGuire; former city Sanitation Commissioner Kathryn Garcia; City Council Member Carlos Menchaca; former nonprofit executive Dianne Morales; and former city Veterans Services Commissioner Loree Sutton.
Insiders speculated that Yang's success in the polls had more to do with his high name recognition than anything else, but political observers are taking him quite seriously. Yang has a proven ability to fundraise and has fiercely loyal supporters both in the city and around the country. 
But Yang is also a total newcomer to the world of city politics. The son of Taiwanese immigrants was raised in Westchester County and has lived in New York City since 1996, when he started at Columbia Law School. In the 24 years since, the Hell's Kitchen resident has never worked in city politics or government. He has donated to a handful of campaigns at the city level, most of them for unsuccessful candidates, such as tech entrepreneur Jack Hidary's 2013 mayoral run. Records from the New York City Board of Elections suggest he has never once voted in a mayoral election, in either the primary or the general. 
So his likely entry to the race has been greeted with derision from some members of the political class. "(B)eing the mayor of the greatest city in the world isn't a consolation prize," tweeted Oliva Lapeyrolerie, a political consultant who once served as de Blasio's first deputy press secretary, referring to both Yang and Rose, another mayoral candidate who lost a race this year. And Michael Lambert, a political consultant who once worked in the comptroller's office under Stringer, questioned whether Yang's experience building companies could translate to running the largest city in the country. "It's one thing to run an organization that you've built, that you've nurtured, like your own child, versus now inheriting a whole host of children from an orphanage that you were never familiar with." he said. "Running and winning is the easy part. Governing and legislating, that's when work becomes challenging."
Some Yang supporters might counter that Michael Bloomberg also came from outside the world of politics and is widely regarded as having been a capable manager of the city. Unlike Bloomberg, Yang is not switching parties to run, although Yang reportedly conducted a poll to assess his viability as a third-party candidate. 
Political insiders and power players are more likely to be bothered by Yang's lack of government experience than typical New York City voters, said political consultant Michael Oliva. "If you look at most polling trends these days, experience just doesn't rank high. It's not what people are really looking for," he said. "They're looking for fresh ideas, bold ideas… People are frustrated, they're looking for something different."
Powered By
NEXT STORY: Nothing special about Tuesday's Bronx election