New York State
With many voters looking for a progressive mayor, Morales says 'no labels'
And more coverage of key 2021 races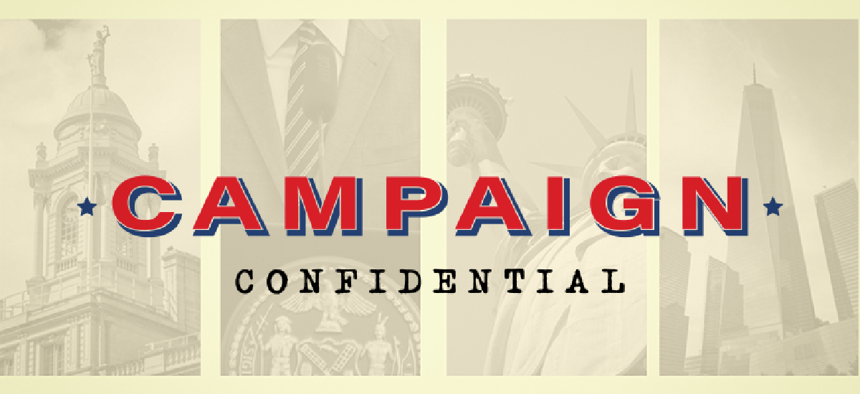 6 months and 3 weeks until the 2021 Democratic primaries
Welcome to City & State's Campaign Confidential newsletter, where Senior Reporter Jeff Coltin is covering the run-up to New York City's hugely consequential 2021 municipal elections for mayor, City Council and more.
Weekly, on Tuesdays. Sign up here.
With many voters looking for a progressive mayor, Morales says 'no labels'
New York City is at its lowest point in Dianne Morales' lifetime, the 53-year-old Bed-Stuy native told City & State. And the mayoral candidate is hoping that Democratic primary voters agree with her that this isn't a moment for political caution, but an opportunity for major change. That means pitching big ideas like defunding the New York City Police Department, implementing "community control" of the New York City Housing Authority and letting neighborhood residents have more of a role in the development of affordable housing – even if she admits some of the proposals aren't yet fully fleshed out.
If you think it sounds like Morales, the former executive director and CEO of social services nonprofit Phipps Neighborhoods, is the most progressive candidate in the race – well, you might be right. But she wasn't exactly eager to claim the title in an interview last week with City & State. "I've been really reluctant to label myself in any way, shape or form, or try to talk about claiming a lane, or fitting in a box. I think my positions speak for themselves," she said. "If being someone who really believes that centering the safety and the well-being of communities that have been historically not represented or reflected or prioritized in government and leadership means that I am the most left, or the most progressive or a socialist, that's fine."
Related: Dianne Morales' NYC mayoral campaign theme: 'power to the people'
By the numbers
4
The number of mayoral candidates who have gone to the Lucerne Hotel to show their support for allowing homeless residents to remain at the Upper West Side site. Maya Wiley, Dianne Morales, Shaun Donovan and Scott Stringer have all appeared as well as many other candidates for borough president, district attorney and City Council. After months at the Lucerne, the homeless residents may move to a Financial District hotel as soon as this week following an appeal.
Adams nets Brooklyn backers
State Sen. Roxanne Persaud and Assembly Member Jaime Williams are endorsing Eric Adams for mayor, his campaign exclusively tells City & State, which gives Adams his first announced supporters in the state Legislature. Both are moderate Democrats of Caribbean heritage representing Canarsie and nearby areas of southeastern Brooklyn with lots of homeowners. "Eric is our candidate for mayor because his priorities are our priorities," Williams said of her district. The endorsements aren't a surprise – Williams was spotted on Adams' campaign launch Zoom last month – but these are the kind of expected endorsements that practiced pols know to lock down early to show momentum – and before an opponent tries to woo them.
"Mystery figure" reappears
Why is a real estate agent who lives on the Upper West Side trying to run for City Council in two separate districts, in two different boroughs? Michael E. Brown filed to run for the special election for Andy King's old seat in the northeastern Bronx, but got kicked off the ballot before the Dec. 22 election. He's now filed petitions to run in the Feb. 2 special election for Rory Lancman's seat in eastern Queens. Why? Reached by phone on Sunday, Brown said, "I do have ties to the community. I have family in both areas." And while an opponent said his "signatures" appeared to be fake, written in his own handwriting, Brown denied the charge. But this isn't Brown's first unorthodox campaign. He ran for public advocate in 2005 and got 9% of the vote despite being "a mystery figure" utterly absent from the campaign trail.
Try, try again
Will she still go by MCC? Former CNBC anchor Michelle Caruso-Cabrera, who moved to Queens and adopted the nickname to challenge Rep. Alexandria Ocasio-Cortez in the 2020 Democratic primary is now "seriously considering running" for city comptroller. But MCC is just following other 2020 House candidates looking for a second chance in 2021. Badrun Khan, who got just 5% of the vote in the primary against AOC and MCC, is running (with 18 others) for Jimmy Van Bramer's City Council seat. Lindsey Boylan, who took on Rep. Jerry Nadler, is now running for Manhattan borough president. While Mel Gagarin, who challenged Rep. Grace Meng, isn't running, his wife, Aleda Gagarin, is, hoping to win Karen Koslowitz's council seat. And don't forget Rep. Max Rose, who's still taking calls from people pushing him to run for mayor and getting lunch with consultants. But not everybody's got the bug. Rep. Carolyn Maloney's opponent Suraj Patel says he isn't running for anything. And Council Member Chaim Deutsch says he's no longer thinking about Brooklyn borough president.
Can Holden hold on?
We're getting way ahead of ourselves, but the Working Families Party's endorsement of Juan Ardila, who's challenging Council Member Bob "Common Sense" Holden, raises some interesting third-party questions. In 2017, Holden lost the Democratic primary to incumbent Liz Crowley 64% to 36%. But the conservative Democrat Holden tried again in the general on the Republican line and won by just 137 votes – or fewer than the 147 votes he got on the "Dump de Blasio" line alone. Long story short, the race was decided by third parties, and an actual push by the WFP could help Ardila win the November general, even if Holden gets the Republican line again. Then again, it's a relatively conservative district, and Holden has the power of incumbency, so Ardila might not even win the primary.
Endorsement Watch
The New York State Court Officers Association backed Eric Adams, the first law enforcement union to endorse in the mayoral race … "Billions" actor and "Empire" producer Danny Strong, and former founding editor of Gawker Elizabeth Spiers, are fundraising for Scott Stringer's mayoral campaign … VOCAL-NY Action Fund endorsed Tiffany Cabán, Sandy Nurse and Lincoln Restler for City Council … The Working Families Party unveiled eight more endorsements for City Council: Adolfo Abreu, Juan Ardila, Aleda Gagarin, Mino Lora, Lincoln Restler, Felicia Singh, Althea Stevens and Marjorie Velázquez … Rep. Carolyn Maloney is backing her former deputy chief of staff, Tricia Shimamura, for City Council … Maloney is also backing Neeta Jain in the February council special election … Rep. Adriano Espaillat is endorsing Eric Dinowitz for City Council … Black Lives Matter of Greater New York endorsed Arthur Schwartz for City Council … and Alejandra Caraballo is dropping out of the race in the 35th City Council District and endorsing Michael Hollingsworth.
Poll Sight: The MTA is not OK
The Metropolitan Transportation Authority shut down overnight subway service in May for the first time in the history of New York City's subway system – and most of New York's political insiders don't expect overnight subway service to come back anytime soon, according to the latest City & State/Honan Strategy Group survey.
An even larger majority expect the agency to significantly reduce subway and bus service in order to help close a multibillion-dollar budget gap. A full 75% of respondents didn't think the MTA was bluffing with its plans to cut service and lay off workers. Only 10% thought the MTA wouldn't significantly reduce service.
Read the full results – including whether a financial control board should make decisions for the city – here.
[EMBED GRAPHS]
Staffing Up
Keisha Sutton-James – Percy Sutton's granddaughter – is campaign manager for Alvin Bragg's Manhattan district attorney campaign … Red Horse Strategies is on Rafael Salamanca's newly announced Bronx borough president campaign … Sharon Devonish Leid and former de Blasio aide Kicy Motley are working on Khari Edwards' campaign for Brooklyn borough president … Trip Yang is consulting on Lindsey Boylan's Manhattan borough president campaign … Christian Amato, who recently led Andom Ghebreghiorgis' House race, is the campaign manager for Elisa Crespo's City Council campaign.
Got tips? Email JColtin@CityandStateNY.com or dm me @JCColtin.
District Data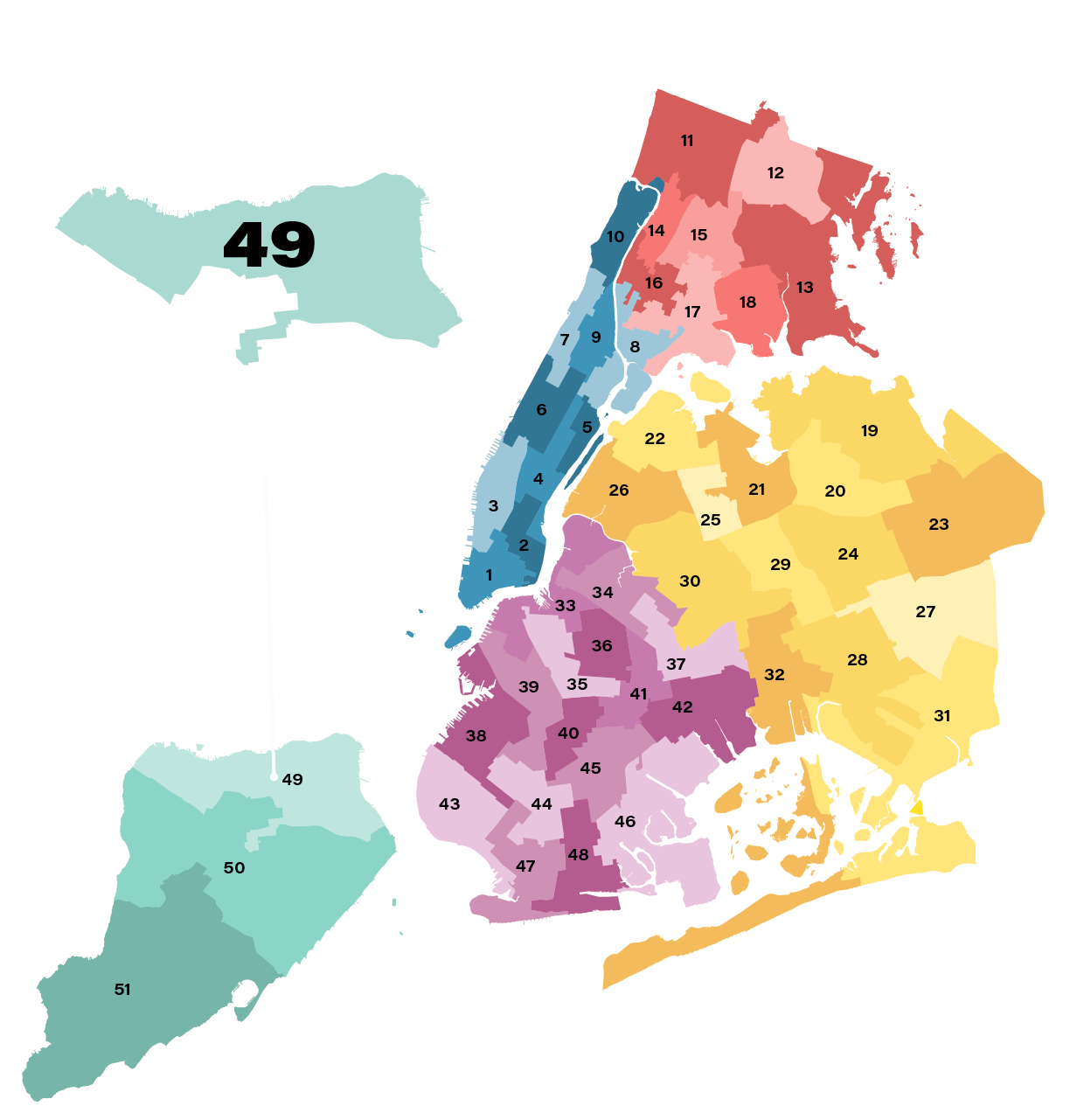 City Council District 49, on the North Shore of Staten Island, covering neighborhoods including St. George, Tompkinsville and West Brighton
Current council member: Debi Rose, who is term-limited at the end of 2021
2010 census demographics: 38% white, 29% Hispanic, 23% Black, 8% Asian
Housing: 50% renter-occupied, 50% owner-occupied
2017 Democratic primary election results: Rose: 69%, Kamillah Hanks: 30%
2017 general election results: Rose (D): 59%, Michael Penrose (R, C): 35.5%, Hanks (Reform): 5%
Who's running: Amoy Barnes, Selina Grey, Kamillah Hanks, Phil Marius, Troy McGhie, Ranti Ogunleye and Kelvin Richards. Seven candidates are in for the Democratic primary so far, but others may still run, such as Rep. Max Rose's district director Kevin Elkins or New York Road Runners VP Mike Schnall. All announced candidates so far are Black, and leading candidates to represent the racially diverse North Shore include Amoy Barnes, de Blasio's former borough director, and Kamillah Hanks, a nonprofit leader who challenged Rose in 2017.
Twitter Posting
Just a reminder that you can run a successful fundraising program without coming up with fake deadlines!

— Saul (@SaulFKahn) November 29, 2020
Powered By
NEXT STORY: What is the DSA?