Labor
A who's who of the elected officials at the Hunts Point strike
The strike at the Hunts Point Produce Market in the South Bronx brought out a lot of political star power.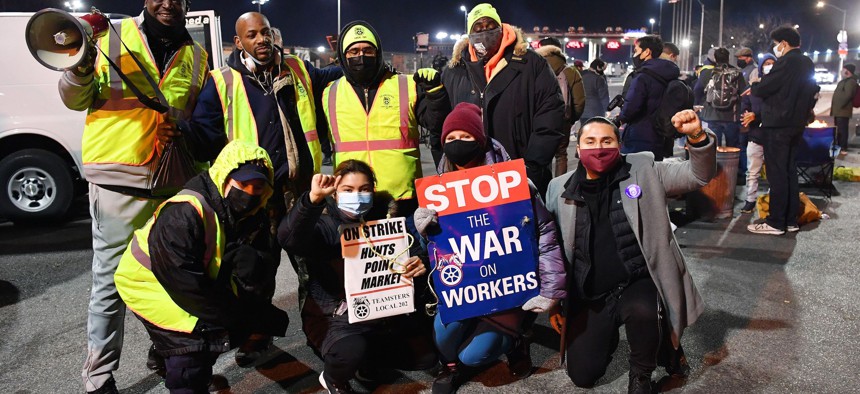 The first strike in over 30 years at the Hunts Point Produce Market in the South Bronx was a resounding success. On Jan. 23, after organizing outdoors in the cold for almost a full week, workers at the distribution center represented by Teamsters Local 202 were able to celebrate a new contract with hourly raises, better health benefits, and forthcoming one-time bonuses. Before the agreement, the strike had also evolved into a place to see and be seen for many New York City politicians. A crowd of elected officials flocked to support the workers, and add their star power to the existing infamy of Scabby the inflatable rat. 
These were some of the high-profile visits:
Armed with Bustelo, hot chocolate and hand warmers, Rep. Alexandria Ocasio-Cortez brought national attention to the Hunts Point strike, and on Inauguration Day, no less. On another night, she gave out pizza next to Scabby the rat.
Another night on the picket line with @TeamstersJC16 and you never know who you're going to meet 

HUGE thank you to @PadmaLakshmi who showed up in solidarity with produce workers and delivered pizza to keep the party bumping. Happy to help hand it out! https://t.co/f7FuD7aPyz

— Alexandria Ocasio-Cortez (@AOC) January 23, 2021
Rep. Ritchie Torres showed up in the congressional district that just elected him, with his preferred mayoral candidate Andrew Yang. 
At Hunts Points with @RitchieTorres supporting striking Teamsters asking for a $1/hour raise - essential workers deserve more. pic.twitter.com/cX3OidUF9O

— Andrew Yang(@AndrewYang) January 18, 2021
Other mayoral candidates, including Dianne Morales and Maya Wiley, also made appearances. 
Here at Hunts Pt with @Teamsters Local 202 fighting for the right to strike, and for our essential workers to be paid a fair wage! pic.twitter.com/UB1nTNECaJ

— Maya Wiley (@mayawiley) January 19, 2021
Assembly Member Amanda Septimo was there every day of the strike in her Assembly District, and she reached out directly to Governor Cuomo's Deputy Secretary for Legislative Affairs and Policy, Dana Carotenuto Rico. Septimo told City & State that she's "really grateful to the governor's office for getting involved, because he brought both sides back to the table." 
The daily fight alongside the @Teamsters made me feel inspired, exhilarated, & so hopeful.

Thank you Danny Kane & every single worker for your courage in the face of great uncertainty. We are all better because of you.

Congratulations @TeamstersJC16 Local 202! We did it fam!! pic.twitter.com/4ZUSLhGtPI

— Amanda Septimo (@AmandaSeptimo) January 23, 2021
Other sources on background agreed that calls from the governor's office were essential in getting management to settle with the workers, and Rafael Salamanca even shouted out Cuomo in a victory tweet. 
Along with representing its City Council district, Rafael Salamanca has a personal connection to Hunts Point Market: his father used to work there, and was a member of Local 202. 
Just arrived at the @TeamstersJC16 picket line at Hunts Point Market pic.twitter.com/BFIWKYP9F6

— claudia irizarry aponte (@clauirizarry) January 23, 2021
The New York City chapter of the Democratic Socialists of America were all over the strike, catering breakfast and serving hot pizza to hungry workers on the picket line. DSA-endorsed Assembly Members Zohran Mamdani of Queens and Marcela Mitaynes of Brooklyn, and state Sen. Jabari Brisport of Brooklyn joined Septimo on the fifth night to hand out some New York slices. 
Who needs bread and roses when you can have pizza and roses?@JabariBrisport , @marcelaforny , @amandaseptimo, and I got some food for our @TeamstersJC16 family on Tuesday night.

Today marks their 5th day on strike... pic.twitter.com/Lg7k2SPGEb

— Zohran Kwame Mamdani (@ZohranKMamdani) January 22, 2021
We've included a more expansive list of elected officials we've confirmed joined the strike, but it was a large demonstration, and odds are there are more we haven't identified yet. Others, like state Sen. Alessandra Biaggi (who represents Hunts Point Market) didn't attend in person but did show their support online.
Congress:
Carolyn Maloney 
Alexandria Ocasio-Cortez
Ritchie Torres 
NY Senate:
Jabari Brisport
Diane Savino
NY Assembly:
Khaleel Anderson
Kenny Burgos
Robert Carroll
Nathalia Fernandez
Jessica González-Rojas
Zohran Mamdani
Marcela Mitaynes 
Victor Pichardo
Karina Reyes
Amanda Septimo
City Council:
Vanessa Gibson
Brad Lander
Farah Louis
Rafael Salamanca 
Powered By
NEXT STORY: How Cuomo wants to raise revenues