Max Rose
Why Max Rose didn't see a path to City Hall
Democratic activists, even in his district, may have backed him for Congress but not mayor.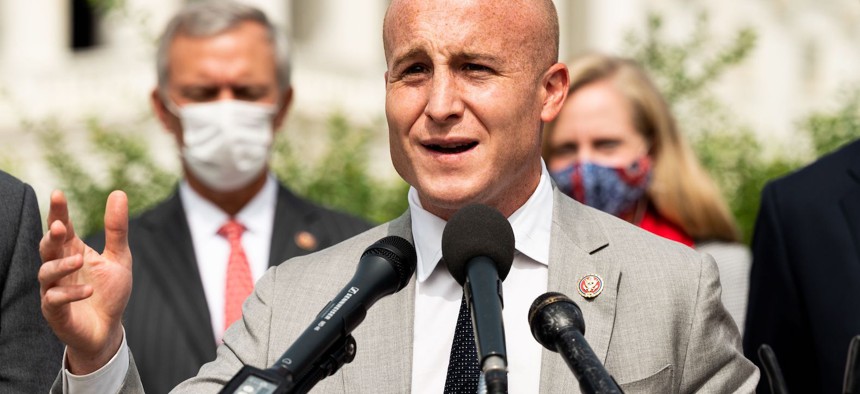 Roxanne Mustafa, one of the founders of the progressive grassroots group Staten Island Women Who March, voted for centrist Democratic Rep. Max Rose in his first run for Congress in 2018 and again when he ran in 2020, each time also volunteering on his campaign. But asked if she would have voted for Rose had he jumped into the Democratic primary for mayor of New York City, Mustafa said, no, because she plans to back a candidate with more experience. 
After Rose conceded to former Republican Assembly Member Nicole Malliotakis in the contentious race for his House seat, more than a week after election night, he started exploring a campaign for mayor in mid-December, following weeks of speculation. But on January 3, Rose abruptly announced he would not run for mayor after all, saying he and his wife planned to adopt another baby and would use the time to spend with their infant son. In announcing his departure, Rose assured New Yorkers he was "not going anywhere in the fight to make our city and country live up to their promise." 
This left politicos to speculate as to whether Rose may have tested the waters and found them too cool. Certainly, among the activists in and near his district, that may be the case. 
Bob Olivari, a longtime Democratic operative on Staten Island, who also voted for Rose in 2018 and 2020, said he would not have voted for the former member of Congress in a Democratic primary for mayor because he thinks Rose is more suited to be a legislator, not govern as an executive in local government.
Mustafa and Olivari said the decorated Army veteran did a good job at representing the conservative-leaning 11th Congressional District as a centrist Democrat. The district combines Staten Island and a portion of southern Brooklyn, which includes a loyal Republican voting base, moderate Democrats and a growing number of progressive Democrats. Those progressive local activists and donors played a crucial role in getting Rose elected in 2018. Mustafa and Olivari said they would be open to supporting and voting for Rose again if he were to run in 2022 for his old seat, depending on who jumps into the Democratic primary race for Congress by then.But they and other Democrats familiar with the area's politics think it would have been difficult for Rose to garner support from Democrats in his district for a citywide race with so many other candidates already running in the Democratic primary for mayor. 
"I did feel like support on the progressive side was definitely waning across the North Shore of Staten Island and Brooklyn," Mustafa said, pointing to more liberal leaning voters' disenchantment with Rose for beingslow to support the impeachmentof President Donald Trump, voting against Nancy Pelosi as House speaker andconstantly bashing fellow DemocratNew York City Mayor Bill de Blasio. 
Mustafa thinks some left-leaning Democrats may have only voted for Rose in 2020 because they had no other option and would have rather had him represent them over a Republican. "I think that there's so many great (mayoral) candidates, Max would have had to rely on his solid base, and it was surprising to see him opt in because that base was waning." 
There are nearly a dozen viable Democratic candidates across the party's political spectrum already in the running to succeed New York City Mayor Bill de Blasio. If you're looking for a moderate candidate, there are a handful to choose from, including Brooklyn Borough President Eric Adams, who is a former police officer, Shaun Donovan, the former U.S. secretary of Housing and Urban Development and Ray McGuire, who was until recently vice chair of Citigroup. Other major candidates include New York City Comptroller Scott Stringer; former Department of Sanitation Commissioner Kathryn Garcia; Maya Wiley, a former MSNBC legal analyst and counsel to de Blasio; Brooklyn City Council member Carlos Menchaca; former New York City Veterans' Services Commissioner Loree Sutton; former social services nonprofit executive director Dianne Morales; former presidential candidate and nonprofit founder, Andrew Yang; and Zach Iscol, the founder and CEO of a digital media company.
"I do think that while he would have gotten support in [Southern Brooklyn] if he was to run for mayor, I don't think it would have been enough to really take him over the edge," said Krysten Copeland, a political consultant and former communications director for Rep. Yvette Clarke. " I think he realized that. From what I understand, he also hadn't begun to fundraise for his mayoral run."
An elected official from Brooklyn, who asked to not be identified to speak freely about Rose, said the Democratic primary may have been too crowded for Rose's message to shine through. "It's such a crowded race, so I don't know that he would have had a message that would have stood out and maybe part of his decision not to run for mayor was because he wasn't getting support from the other elected officials in his area," the Brooklyn politician said, who would not say whether they would have supported Rose in the Democratic primary.
In recent history, Congress to City Hall was a successful path for former mayors Ed Koch, John Lindsay and Fiorello La Guardia. Even though former Rep. Anthony Weiner ended up conceding in the 2013 Democratic primary for mayor after he earned just 5% of the vote, he was a leading frontrunner in the polls before revelations of a second sexting scandal surfaced and he almost won the nomination in 2005. A little over a week after Rose announced he was exploring a run for mayor, Yang, who came in first in the Democratic primary in recent polls, dominated the headlines when he filed with the New York City Campaign Finance Board to open a mayoral campaign account. 
Olivari pointed out that Koch and Lindsay had a larger voting base from their districts in Manhattan and Weiner had a Brooklyn base. But Staten Island politicians often insulate themselves from the rest of New York City and do not "look beyond local politics," Olivari said. "The electorate on Staten Island doesn't provide a base for someone to run citywide like Anthony Weiner could have, Ed Koch did successfully, John Lindsay did as a Republican before he became a Democrat," he said. 
Rose could not be made available to elaborate on his plans post Congress, but his longtime advisor and former district director, Kevin Elkins, insisted any concerns about his ability get the support of Democrats in his former district or securing the matching funds needed to mount a successful Democratic primary bid would not have been a challenge for Rose, who won more than 137,000 votes in his 2020 House race. "He raised $10 million in two years. Matching funds would not be a hurdle," Elkins told City & State. "Considering he secured more votes than any Democrat in NY-11's history, I don't think an objective person could imply he would not have support in his own district." 
In order to qualify for the city's matching funds program, mayoral prospects must raise $250,000 receiving contributions of no more than $2,000 from 1,000 New York City residents. The program aims to get candidates to engage with small local donors and not only focus on courting large donors. 
Though Elkins denies fundraising would have been an issue for Rose, some think that although Rose has been a savvy fundraiser in his House races, securing smaller donations at the citywide level may have been a challenge. "He's used to courting big donors, getting good checks and then having a percentage of his money come in from small contributions, I think this time, having to get more than normal grassroots support would have posed an issue for the viability [of a potential campaign]," said Randall Franklin, the founder of grassroots political consulting firm Elevation Strategies, who worked on Rose's 2018 campaign. 
A Brooklyn resident who held local fundraisers for Rose's 2018 congressional campaigns said there was "fatigue" among local donors to donate to Rose's potential mayoral run, but noted that might have changed had Rose followed through on running. "I wasn't really necessarily ready to blindly go into raising more money for that run, but I think if he had perhaps waited a little bit longer, there could have been some energy that could have congealed," the fundraiser said. 
Though it is unclear exactly what Rose will do next professionally, some think he will likely run for his seat again in 2022, and may even announce sooner following Malliotakis' vote objecting to certifying the presidential election after an attempted coup on the U.S. Capitol led by a mob of President Donald Trump's supporters. Since the attack on Congress, Rose and Elkins have been highly active on Twitter calling Malliotakis out for her vote. Richard Flanagan, a professor of political science at the College of Staten Island, thinks their social media activity might mean Rose is eyeing an announcement about a rematch soon, just as Malliotakis filed with the Federal Election Commission to explore a potential run against Roseless than a month after he was sworninto his first term in Congress. 
Staying out of the mayoral race may have been a political calculation to avoid risking harming his chances in a rematch with Malliotakis if he performed poorly or made gaffes this year, Flanagan said. "The House race is easy money on the table, and to jeopardize that with this long-shot mayoral run on its face, doesn't make any sense, it's trouble," Flanagan said. He also pointed out that Rose potentially jumping into the House race early may give him an advantage over other Democrats who are considering a run.
Come 2022, Rose's former congressional district could look very different thanks to redistricting. With Democrats in control of the redistricting process and New York set to lose congressional seats, the district could gain more Democratic voters when the lines are redrawn. 
For now, Mustafa said progressive Democrats in his old congressional district are focused on actively looking to run a more liberal candidate for 2022, but said it was too early to provide any names. "They're looking for that progressive candidate and they're doubling down," Mustafa said. "I think the waning of support in 2020, it might be trending in that direction for progressives, meaning they're not going to vote for a centrist again." 
Powered By
NEXT STORY: Progressives slam state Senate Finance secretary pick